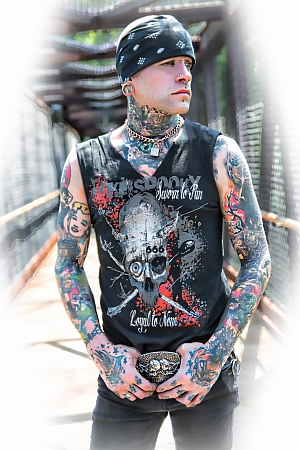 When we are saying that we are looking for new artists for our project around the world it's not only beautiful worlds. Today I am very happy to present our first guest from the USA. Johnny is author of horror novels and filmmaker. His first book, 'Neverlasting', was published in July 2016 and has collected many excited reviews. First time since we are running our project, we have a person being tattooed from head to toe. So let's look into his story.
Reflections of Darkness [RoD]
: When did you get your first tattoo and what was it? Did it take much time until you decided to get it done?
Johnny Daggers:
I am actually much older than I am perceived to me. It makes me feel so old to admit, but over twenty years ago. I grew up as a 'punk-rocker' from a very early age. I recall wanting my first tattoo when I was six or seven. I remember that my father had bought the Stray Cats 'Built For Speed' on vinyl (of course), and I would stare at these cool 'rockabilly' guys, with their cool tattoos, old cars, and pin-up girl artwork. I said to my dad, "I am going to get a Stray Cats tattoo someday". I am sure that he thought I was joking, but I wasn't. I had a serious love for tattoos at a young age. Back when it wasn't the mainstream and when you were more or less viewed as trash or a pariah if you had one.
RoD
: How many tattoos do you have? Could you please tell us their story?
Johnny Daggers:
I am literally covered head to toe, so at this point, I am just one big tattoo. I lost count years ago. I can tell you that they all have their own story. I remember exactly what was going on in that particular time in my life each time I got one.
RoD
: Have you already got all the tattoos that you wanted or will you get some new ones in the future?
Johnny Daggers:
I am always getting new tattoos. I will never be done. There is always old ink that can be re-coloured or perhaps expanded upon. Sadly, I moved a state away from my tattoo artist, Jason Kollar of SIC-INC, so now don't get inked as often, but I still try to get back at least once a year.
RoD
: Have all your tattoos been done by one tattoo artist or by different ones? How do you choose the tattoo artist? In addition, who draws your sketches?
Johnny Daggers:
I think that the majority of the old school cats have had many tattoo artists tattoo them over the years. People who are just now getting in to the scene, perhaps not so much. Ink seems to be much more planed out these days than when I started. When I started, tattoos were a "right of passage". It took you years and sometime your entire life to be covered head to toe. And we didn't plan out fancy, elaborate themes. You got what you liked, so essentially your body was riddled with hundreds of random tattoos of things that you loved and what defined you. These days people walk in to a shop with a few thousand dollars and get a full sleeve in a weekend. The industry and the demand has just changed over the years. About seven or eight years ago I settled on one tattooist. Again, Jason Kollar. He is an incredible artist and painter so I give him an idea and let him run with it when he sketches it out. You have to have 110% trust in who you are going to.
RoD
: Getting tattooed hurts, how do you cope with the pain during the sessions?
Johnny Daggers:
Honestly, I have a high pain tolerance. I am not trying to be "macho". My tattooist can attest to it. When I get a tattoo, I just lay there and let him do his thing. It is therapeutic. When I am having a bad day, one of the first things that I want is a new tattoo. The feeling of the needle, the sound of the machine, it's soothing. It is definitely my therapy.
RoD
: Do you regret getting tattooed sometimes?
Johnny Daggers:
I do not regret any tattoos, ever. If you think that you may regret a tattoo then you should never get it in the first place. Every tattoo, no matter how good or bad, reminds me of who I am and where I came from. I remember watching a tattoo show with Lars Frediksen of Rancid. The interviewer asked if he has any 'bad tattoos'. He response was more or less, "yes". He essentially said that "when you are completely covered with tattoos that there will be some bad ones here and there", and it is true. You deal with it, and you embrace it. I have had some cover-ups, mostly not because the tattoo was bad, but because I get the itch to get something different.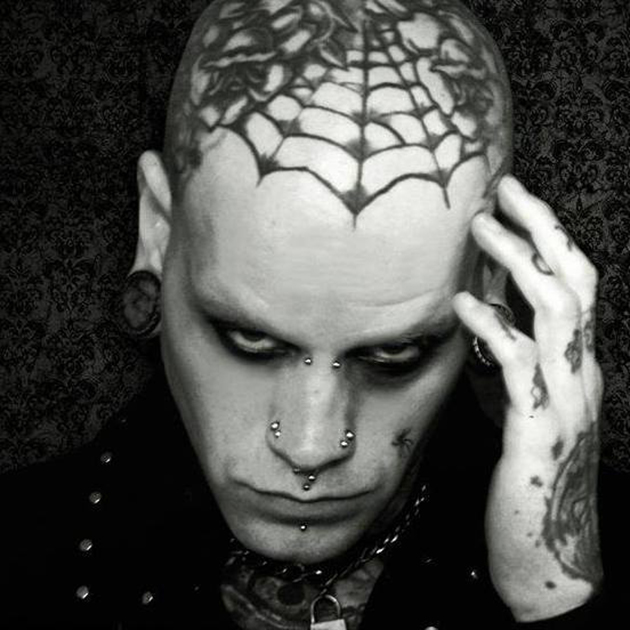 RoD
: What is your taboo in terms of tattoos? What kind of tattoo would you never get done and don't like to see on other people?
Johnny Daggers:
It's not really up to me to decide about other people and their choice of ink. You have to get what represents you. I would never get a pink bunny because that doesn't represent me, but I couldn't judge if someone else does. I am not a fan of tribal tattoos, but I don't belong to a "tribe". If I did, that may be appealing. For me, I love horror and I love rockabilly. Those are the things that I tend to gravitate to. Old cars, pin-up girls, movie starlets, traditional tattoos, those are what appeal to me.
RoD
: Some people say that the drive to acquire body art is addictive while others say it fails to meet the true definition of an addiction, simply calling it a passion. Is it really impossible to stop?
Johnny Daggers:
For some it may be a hobby. For others like myself, it is a passion and an addiction. I will have you know that when I got my first tattoo I said that I would only get one and that was it. Now twenty plus years later, I am covered head to toe. As mentioned, I love the feel, I love the sound, the smell. Everything about it really. I truly is a part of my life.
RoD
: Last Year's tattoos are a new trend; many people do not care about the meaning, they just want to have something coloured on the skin, to be in trend. Those people often just go into a tattoo salon and ask which drafts they have. Tattoo artists are not artists any more, they produce consumer goods. Not all of them, of course. How do you feel about this situation?
Johnny Daggers:
I think that that "new" mentality is terrible. Tattoos are a story and a true representation of who you are. I would not want to walk in and pick out random flash that a hundred people already had tattooed on their body. It's absurd to me. Most true tattoo artists won't even touch you if that is how you are. Where I come from, they would send you to another shop for wanting something so generic.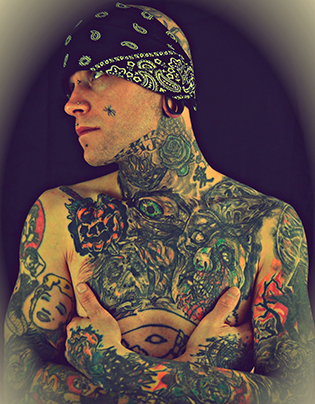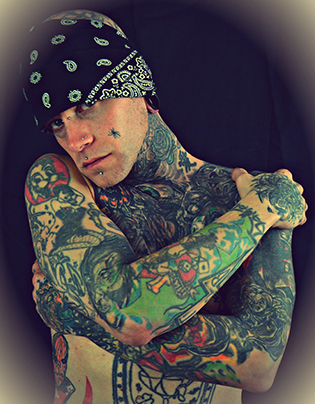 RoD
: I would like to talk about the social aspect of tattoos, too. Previously, many people believed that if you have a tattoo, you will be never be successful and will not find a "good" job. Have this state of mind and people's perceptions changed or are these prejudices still alive?
Johnny Daggers:
I remember back in 1993, I was walking down the street. Shaved head, combat boots and tattoos. People would literally cross the street to not walk down the same side of the road as me. That has changed, but there is still a stigma is the 9-5 work force. Luckily, I am an author and film-maker, so I have the luxury of working for myself and looking how I want to look, but the stigma still exist.
RoD
: Which advice would you give to people who are going to get their first tattoo? How to choose a tattoo artist? Colour or black and white? Any practical advice?
Johnny Daggers:
As for colour or black and white, that is a personal preference. When I got my first tattoo, I only wanted black. Later on I went back and got colour added to it. My advice for the first timer is to not walk in wanting to get a tattoo on the spot. People have choices now that I didn't have growing up. And as we discussed, it was such a different scene back then. I would suggest visiting a few shops and asking to see the artists portfolio. Any reputable and talented artist will be happy to show you his portfolio. Also ask to see some sketches that he or she has done. A good tattoo artist should be able to draw and not just trace from flash.
Social media links:
www.JohnnyDaggers.com
/
www.facebook.com/johnnydaggersofficial
Project by Daria Tessa and Daniela Vorndran, Interview by Daria Tessa
Pictures by Mike Hearse, Randall Roberts and Jake Forsyth