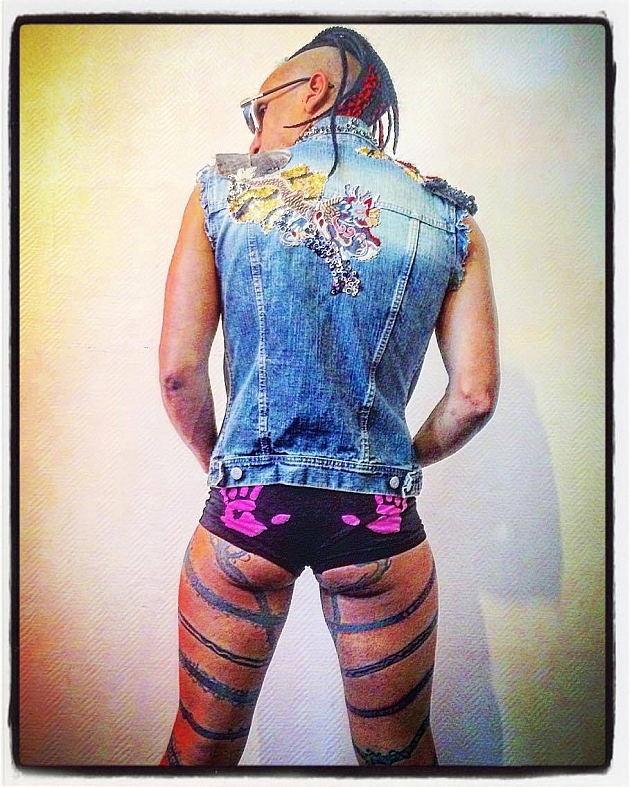 In our search for interesting people for our project this time we have reached France and Paris. Loki Lonestar is singer, performer, wizard and owner of many beautiful tattoos, so enjoy his story.
Reflections of Darkness [RoD]
: When did you get your first tattoo and what was it? Did it take much time until you decided to get it done?
Loki:
My very first tattoo… Oh, it's a funny thing to remember… Because it was a long year ago… I was not 18 by the way & my parents (and friends of the family) were with me. And not only they paid for it for me (my parents) but also I convinced them all to get one too. At least they only get one tattoo but that was great experience…
RoD
: How many tattoos do you have? Could you please tell us their story?
Loki:
How many tattoos… Fuck, I don't know… about sixty or ninety-six may be! For sure, each of them has its private story to tell; let me try to narrate one: It's a 3 years project with an artist called Nicolas Marlier (a friend of mine). We created this so called 3d tattoo which goes from my feet to my D… (let you feel the blank)!! It's a phoenix with 6 tails… unfortunately, this story is private and I cannot tell you more… may be in a next interview?
RoD
: Have you already got all the tattoos that you wanted or will you get some new ones in the future?
Loki:
I think that tattoos may be the most dangerous drug of our century… does it answer to your question? May be yes or may be no!!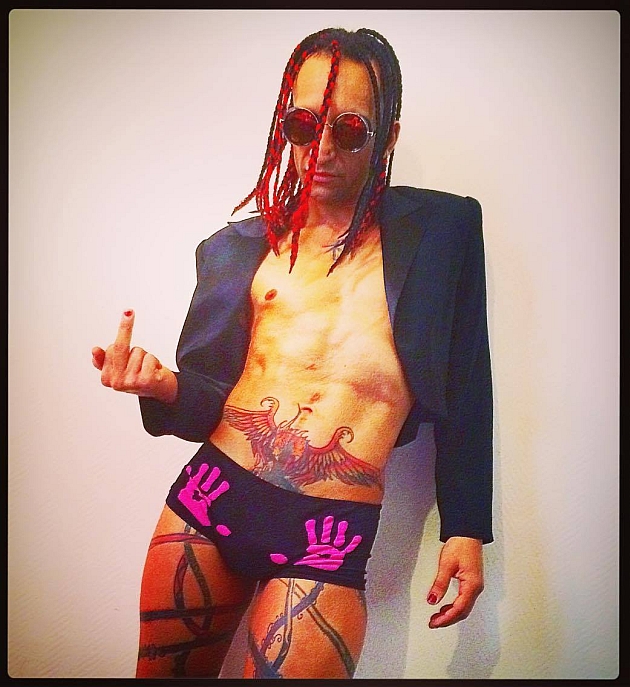 RoD
: Have all your tattoos been done by one tattoo artist or by different ones? How do you choose the tattoo artist? In addition, who draws your sketches?
Loki:
All my tattoos are made by different artists but a lot of them now have been drawing by my friend Nicolas Marlier. I think that it's important to know the person well behind the artist to get inked…
RoD
: Getting tattooed hurts, how do you cope with the pain during the sessions?
Loki:
The pain really matters in the process of doing something like that to your body… the pain means that a great change is coming from inside and the artist who "magically" acts on your body is like some kind of a wizard… so it hurts but it's a rebirth… the aim… it's a key...
RoD
: Do you regret getting tattooed sometimes?
Loki:
No! No!! & 3 times No… Another question??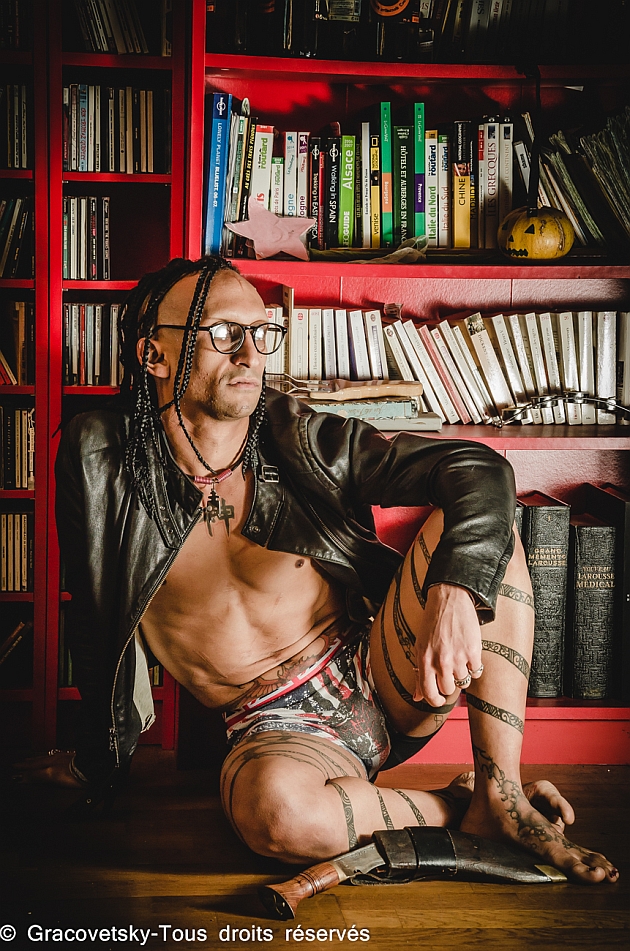 RoD
: What is your taboo in terms of tattoos? What kind of tattoo would you never get done and don't like to see on other people?
Loki:
No taboo… people do what they want to do… it's a choice… with the good and the bad things that come with a great choice… The choice of the tattoo artist only matters for me to not do "stupid things".
RoD
: Some people say that the drive to acquire body art is addictive while others say it fails to meet the true definition of an addiction, simply calling it a passion. Is it really impossible to stop?
Loki:
No… just like K's Choice used to sing: "I'm not an addict"
RoD
: Last year's tattoos are a new trend; many people do not care about the meaning, they just want to have something coloured on the skin, to be in trend. Those people often just go into a tattoo salon and ask which drafts they have. Tattoo artists are not artists any more, they produce consumer goods. Not all of them, of course. How do you feel about this situation?
Loki:
Fuck… it's a long, very long question… I don't fucking care about what people say! Do what you want to do!! That's it… Be yourself… or (more precisely) "Become the one you are" [NIETZSCHE]. If you're cool, you'll be cool… if you only want the fashion side of a tattoo you will get it... but the fashion someday will turn to "old-fashioned". Fuck… it's a too long answer too…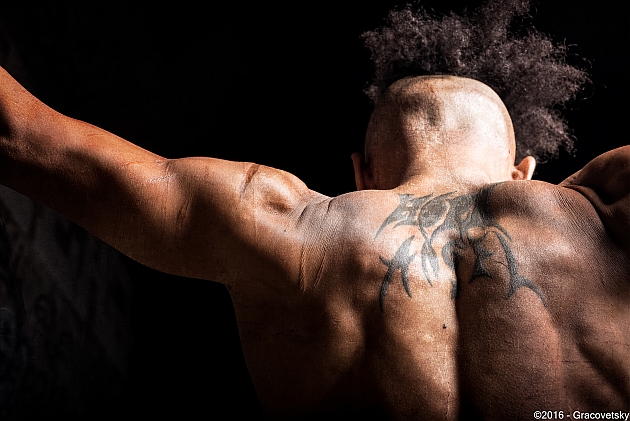 RoD
: I would like to talk about the social aspect of tattoos, too. Previously, many people believed that if you have a tattoo, you will be never be successful and will not find a "good" job. Have this state of mind and people's perceptions changed or are these prejudices still alive?
Loki:
Still alive? We gonna fucking "Kill them all", METALLICA (a small band from Texas I think nobody will never listen to)… that's my job on earth with Tyler Baby & Carrie Circus (from my band TRICKSTERLAND), we come from space & we are here to help people understand that THE ONLY THING THAT COULD SAVE MANKIND FROM EXTINCTION IS… THE DIFFERENCE!!
RoD
: Which advice would you give to people who are going to get their first tattoo? How to choose a tattoo artist? Colour or black and white? Any practical advice?
Loki:
Unfortunately I'm not good at giving advice… even practical advice… just one word… TEST… it hurts but if it doesn't kill you it will make you better… or worst… it depend on the choice you make… Thankxxx for your questions! It's great to stop for a while and trying to answers questions about this oh so private things… hope you will enjoy reading it… you…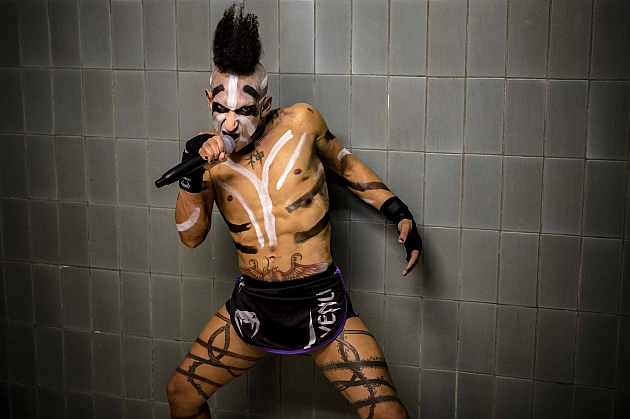 Links to his work:
Loki Lonestar:
https://www.facebook.com/lokilonestar
/
https://soundcloud.com/loki-lonestar
TRICKSTERLAND:
https://www.facebook.com/Tricksterland
/
http://youtu.be/cO_WrEy7Ta0
(Not Me VIDEO CLIP)
HeYs:
https://www.facebook.com/HornyelegantYuppies
MICROPOINT:
https://youtu.be/o6dPBIgBuwU
Project by Daria Tessa and Daniela Vorndran, Interview by Daniela Vorndran
Pictures by
Picture 1-2: Tyler Baby
Picture 3-4: Gracovetsky
Picture 5: Emmanuel Selva