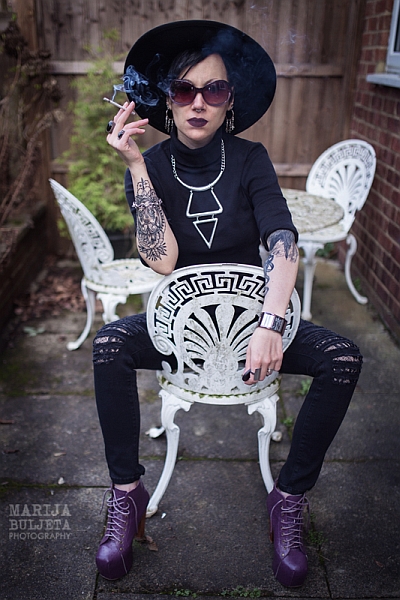 Today we go for a small stay in London. Today's guest understands beauty – beauty of the people and moments, beauty of jewellery and last but not least – beauty of tattoos. So let's listen to the story of this wonderful woman.
Reflections of Darkness [RoD]
: When did you get your first tattoo and what was it? Did it take much time until you decided to get it done?
Marija
:
It was ten years ago, I was 30. Pretty old for a first tattoo. I didn't get one before because of my formal education and my jobs. I wasn't allowed to have any. I always liked tattoos... seeing them on other people. I was on holiday. Didn't know any tattoo artists there, so I asked around. A few people I knew suggested one tattoo parlour and I just walked in, told what I was after and got a sketch, made the appointment and that was it. It was a fairy. I doubt I would tattoo that today. :D LOL
RoD
: How many tattoos do you have? Could you please tell us their story?
Marija
:
I don't know if I can count them, because my arm tattoos will turn into sleeves eventually, so it's work in progress. It's going slow since one of my tattoo artists is in Germany, another one in Croatia and I am in the UK. It will take a while, but I am not in a hurry. If I really must count them as separate ones, I would say 8, but that will change into 4, I guess. Stories behind all 8? The one I get asked a lot about is the masked woman with no eyes on my left arm. I am obsessed with masks. I would need a visit to a shrink to understand the masks obsession, I own quite a few. My masked woman is not an earthly creature. It's a mix of mythology and fantasy. She's a warrior and a sorceress. Something like that. I imagine her waving a sword and riding a horse. She can do anything really. But, is she real? There is nothing behind the mask. Or she doesn't need eyes to see... you choose. I don't know the answer, but it's done exactly how I asked. I have a sorceress and a fairy on my back... all female figures. Even the tribal cat tattoo on my ankle is in fact my female cat :D The key on one arm and keyhole on the other... that has a meaning to me... wouldn't want to explain, and no, it has nothing to do with male/female symbols. The raven... I guess I had to have something that can fly. If I don't count a couple of butterflies on my back :D The latest one I did on my right arm is again a cat with some stylised roses. Cats are also awesome. Independent, strong minded and graceful creatures. I live with two. They let me share their home with them. :)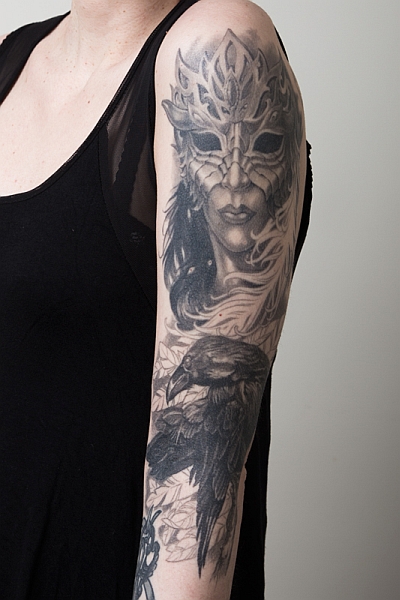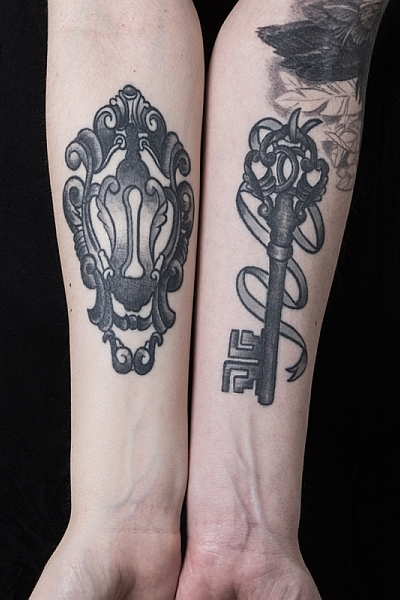 RoD
: Have you already got all the tattoos that you wanted or will you get some new ones in the future?
Marija
:
Of course I haven't. :D I will be a lot more tattooed than I am now. There's time. My tattoo artists are unfortunately not in the UK and I rarely visit them, but I'm not in a rush.
RoD
: Have all your tattoos been done by one tattoo artist or by different ones? How do you choose the tattoo artist? In addition, who draws your sketches?
Marija
:
I have been tattooed by five different tattoo artists. I knew the artists in the city I lived in. It wasn't difficult. All are good. I mean, all that I know. Sketches were done by them. It wouldn't have been good if I had done them. :D
RoD
: Getting tattooed hurts, how do you cope with the pain during the sessions?
Marija
:
I think I cleverly chose places I assumed wouldn't hurt. :D I am highly tolerant to pain. It doesn't hurt as much as people think or as some people make it look like. I endured 8 hours in one go, until the artist couldn't concentrate any more. I think I could have endured at least 4 hours more. It's just a tad uncomfortable for the first few minutes, then you can bring the bulldozer in. Visiting a dentist is far, far worse.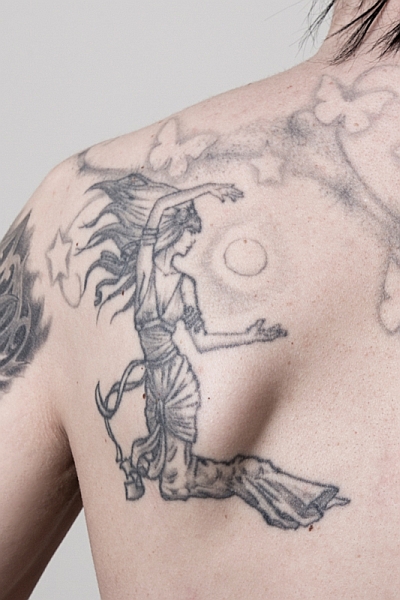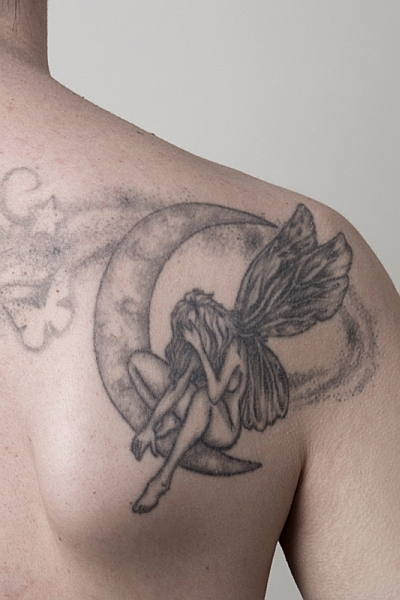 RoD
: Do you regret getting tattooed sometimes?
Marija
:
Yeah, I made a mess of my back. No one to blame but me. Now I have to do a cover up. That will happen too... eventually :D But generally I don't regret anything. I would regret it more if I hadn't done any.
RoD
: What is your taboo in terms of tattoos? What kind of tattoo would you never get done and don't like to see on other people?
Marija
:
Tattoos of genitals? Haha. I don't know. I would never tattoo a symbol or lettering. There is no thought I can stick to for a lifetime. I don't like symbols representing anything really. Or logos... But I like seeing them on other people, as long as it's not McDonalds :D
RoD
: Some people say that the drive to acquire body art is addictive while others say it fails to meet the true definition of an addiction, simply calling it a passion. Is it really impossible to stop?
Marija
:
I do know a few people with only one and I wonder if there's something terribly wrong with them. :D Yes, it comes close to an addiction. I am not even thinking about stopping. I like it. But, if I think about it more seriously, the most desperate need for some new ink usually comes with my inner urge to change something in my life. If I can't change the circumstances I desire to change myself. Maybe it's a kind of a coping mechanism. Don't know really. I think it may be different for everyone. I'm speaking for myself. If you asked any psychiatrist about it, you would be surprised. But even they are nowadays accepting it isn't usually a sign of some disorder. We can't all be crazy, can we? And what about the history of body modifications?! Google is our friend. :)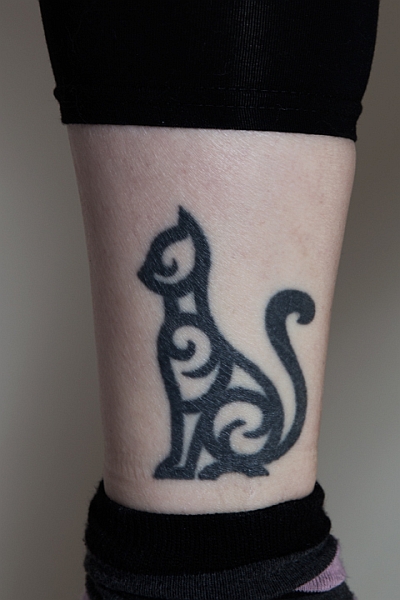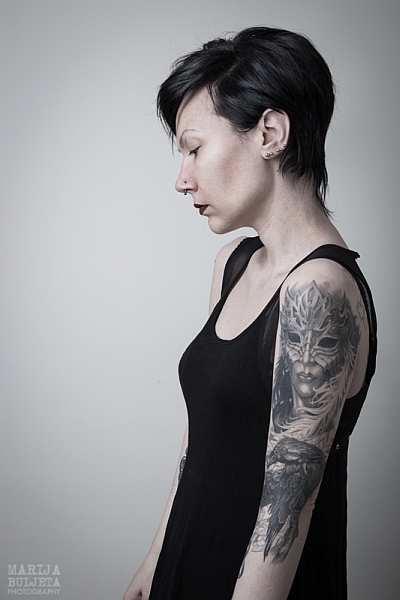 RoD
: Last Year's tattoos are a new trend; many people do not care about the meaning, they just want to have something coloured on the skin, to be in trend. Those people often just go into a tattoo salon and ask which drafts they have. Tattoo artists are not artists any more, they produce consumer goods. Not all of them, of course. How do you feel about this situation?
Marija
:
Haven't heard about this trend. Possible though. It is also possible you get the tattoo that means something to you at the time, but you don't care about it so much or not at all after a while. However, you don't need to stick to the same tattoo on your body for life any more thanks to laser treatments and cover ups. I don't take tattoos too seriously. Possibly some people tattoo motives without any meaning to them, and that is nice too. As long as they are happy with what's on them, I think all is fine.
RoD
: I would like to talk about the social aspect of tattoos, too. Previously, many people believed that if you have a tattoo, you will be never be successful and will not find a "good" job. Have this state of mind and people's perceptions changed or are these prejudices still alive?
Marija
:
Depending where. Here in UK there are more people with tattoos than without and tattooed people work as bank clerks, nurses, managers. However, I come from Croatia where you really can't get a decent or any kind of job if your potential employer knows you are tattooed. It doesn't even have to show. So it's not the time, it's the place.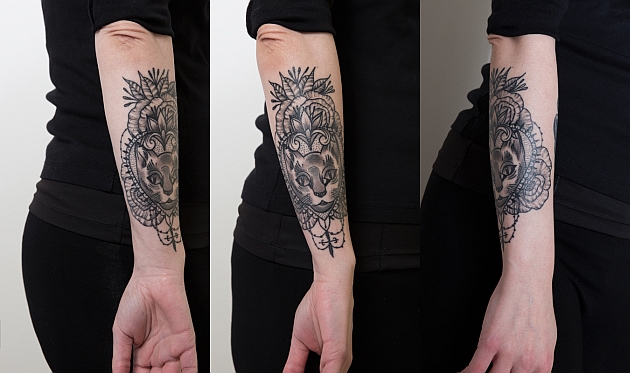 RoD
: Which advice would you give to people who are going to get their first tattoo? How to choose a tattoo artist? Colour or black and white? Any practical advice?
Marija
:
Choose a respectable and CLEAN tattoo parlour. If you wouldn't lick the floor there, turn around and don't look back. Check the artist's portfolio. Word of mouth also helps. Colour or black and white? It depends on your preferences, but make sure your tattoo artist's good in the desired technique. Don't show up hungry. Listen to the aftercare instructions and follow them. And don't show up drunk or you won't be getting your tattoo that day. :D
Project by Daria Tessa and Daniela Vorndran, Interview by Daria Tessa
All Pictures by Marija Buljeta