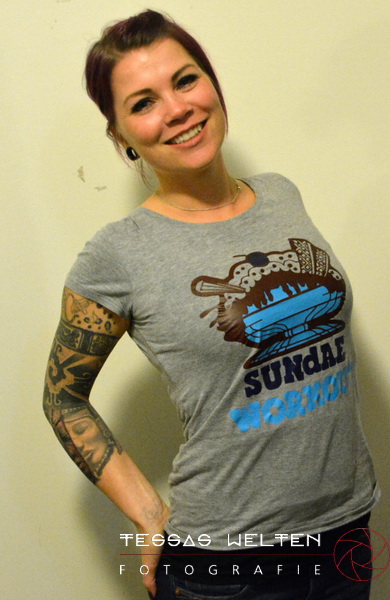 Today we have already our 23rd interview and our first Interview with an tattoo artist. Sabine is not only a good artist, but she is making also wonderful sketches. So, let's see how it looks like from the different point of view of a tattoo artist.
Reflections of Darkness [RoD]
: When did you get your first tattoo and what was it? Did it take much time until you decided to get it done?
Sabine
: I was 20 and it was during my first long stay in Mexico. It took not much time to decide. I had discovered the motive (a prehispanic motive from the Maya mythology) and wanted to have it soon.
RoD
: How many tattoos do you have? Could you please tell us their story?
Sabine
: Meanwhile, I do not see them anymore as "single" tattoos. I have tattoos on arms and one on the upper thigh and one on the abdomen. Most of them have a very personal meaning. A major theme is the duality we experience in life - sad / serious, high / low, the shadow and sunshine of life. I have one tattoo dedicated to my profession and one to my little daughter.
RoD
: Have you already got all the tattoos that you wanted or will you get some new ones in the future?
Sabine
: I still have some ideas and plans :)
RoD
: Have all your tattoos been done by one tattoo artist or by different ones? How do you choose the tattoo artist? In addition, who draws your sketches?
Sabine
: Most sketches were made by me, all tattoos are from different tattoo artists from different countries which I had visited and from people which I have worked with.
RoD
: Getting tattooed hurts, how do you cope with the pain during the sessions?
Sabine
: Nevertheless try to relax and do not focus too much on the pain but on other things.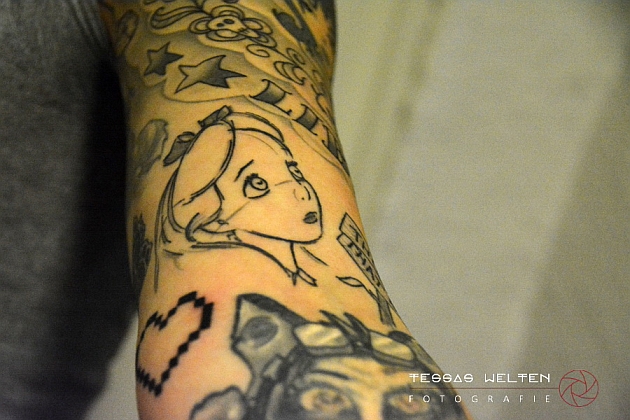 RoD
: Do you regret getting tattooed sometimes?
Sabine
: Yes, on one side because the tattoo did not turn out as I wanted, on the other side because my life circumstances have changed. But that's ok - I will get them covered and changed.
RoD
: You are also a tattoo artist yourself. How did you come to this?
Sabine
: It was in Mexico because of a good friend of mine, one who has a studio there and who has done my first tattoo. I was a tour guide in Mexico and started to make tattoos at the same time.
RoD
: When did you do your first tattoo as tattoo artist?
Sabine
: 2008.
RoD
: Which is your style as a tattoo artist?
Sabine
: All-rounder but also very graphic and free, sketchy things.
RoD
: What is your taboo in terms of tattoos? What kind of tattoo would you never get done to you and will never do as tattoo artist?
Sabine
: There is a kind of codex that we try to stick to. We never tattoo the hands, fingers or the neck at first. Otherwise everything that has politically incorrect, racist or somehow radical background.
RoD
: Some people say that the drive to acquire body art is addictive while others say it fails to meet the true definition of an addiction, simply calling it a passion. Is it impossible to stop?
Sabine
: In my opinion, this comes from the fact that you already have one and notices how fast it will be a part of you. And you have also made the experience that it hurts, but in most cases, is good to endure :)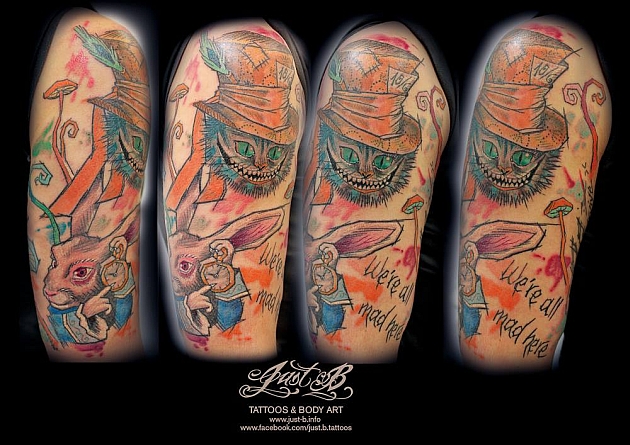 RoD
: Last Year's tattoos are a new trend; many people do not care about the meaning, they just want to have something coloured on the skin, to be in trend. Those people often just go into a tattoo salon and ask which drafts they have. Tattoo artists are not artists any more, they produce consumer goods. Not all of them, of course. How do you feel about this situation? Also from the point of view as a tattooed person and as tattoo artist?
Sabine
: I like to create something unique. If you do not have your own idea or rough direction, what you want, you should go. Of course, I can make suggestions but to do something without own ideas of the customer, I will not do this. Even if a tattoo will be "only" jewellery I would never simply want to make a copy of some google image. Tattooing is also about creativity and about expressing yourself - this applies to both, customer and tattoo artist.
RoD
: I would like to talk about the social aspect of tattoos, too. Previously, many people believed that if you have a tattoo, you will be never being successful and will not find a "good" job. Have this state of mind and people's perceptions changed or are these prejudices still alive?
Sabine
: Both. There are still these people who still exhibit string stereotyped thinking. On the other hand, there are successful business people who are completely tattooed under the suits. Tattoos say nothing about the competence at the workplace or about the character of a human being. After all, you can see more and more people who also do not hide their tattoos at the working place.
RoD
: Which advice would you give to people who are going to get their first tattoo? How to choose a tattoo artist? Colour or black and white? Any practical advice?
Sabine
: Think a lot about this in advance! What do you want and why, what does tattoo mean to you? What style do you like? The best way is to collect pictures and ideas and talk to the tattoo artist. The person who will ink an important picture under your skin forever should be at least likeable to you and can implement the idea how you want to have the tattoo. Whether colour or black-grey it's up to you :)
Project by Daria Tessa and Daniela Vorndran, Interview by Daria Tessa
Pictures of tattoos of Sabine by Daria Tessa (https://www.facebook.com/tessaswelten/)
Pictures of works of Sabine by Sabine Hannak
Studio: http://just-b.info/