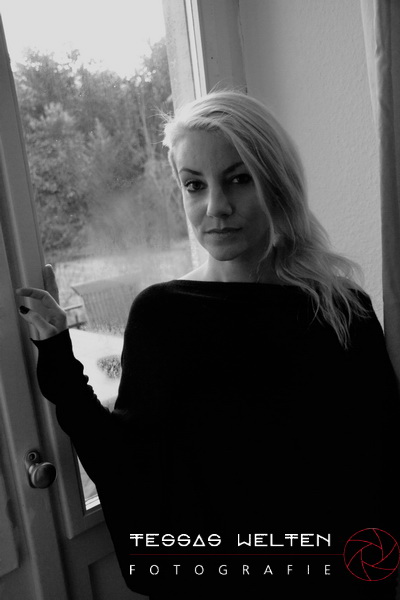 Today, Denise Müller has agreed to answer our questions. I have always admired her work as a designer - angel wings, masks, jewellery and accessories she creates. But, even more, I was fascinated from the motives and text of the tattoos that I saw on her arms. Therefore, I was very happy when Denise agreed to become a part of our project. I hope you like it too.
Reflections of Darkness [RoD]
: When did you get your first tattoo and what was it? Did it take much time until you decided to get it done?
Denise
:
I was 17. It was a stylized vermouth leaf, in black, on the upper arm. I wanted to have a tattoo already at the age of 8 years, and I always painted myself. As I became 17, I finally convinced my mother to give me a permit for my first tattoo.
RoD
: How many tattoos do you have? Could you please tell us their story?
Denise
:
I have a large cohesive tattoo, from the wrist, over the arm, shoulder, across the chest, on the sides, back and stern. Then one on the neck and one on the hand. Each motive has a meaning for me.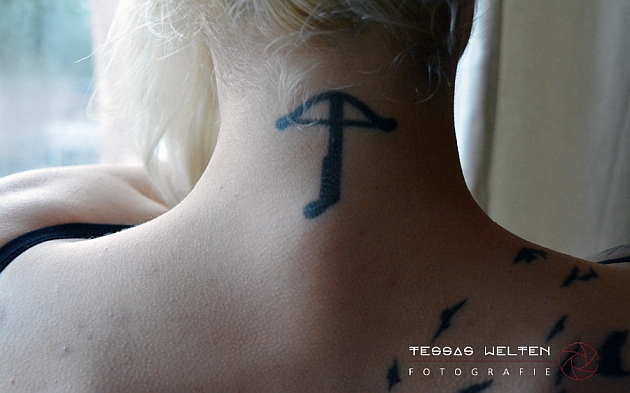 RoD
: Have you already got all the tattoos that you wanted or will you get some new ones in the future?
Denise
:
At the moment, I have nothing planned. Nevertheless, there is certainly something to do in the future.
RoD
: Have all your tattoos been done by one tattoo artist or by different ones? How do you choose the tattoo artist? In addition, who draws your sketches?
Denise
:
I have had five different tattoo artists so far. When I got my first tattoos 20 years ago, I just wanted to find a reputable tattoo artist, and I had found him. I had drawn the sketches myself. My big cohesive tattoo was made of two tattoo artists from the same studio. I found the Trash-polka style very good for me, and the two had a free hand and were allowed to arrange and complete the given motives, as they wanted. The sketches for my neck and hand was made again by me and being tattooed relatively spontaneously since there was just a chance for it.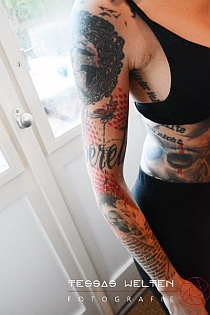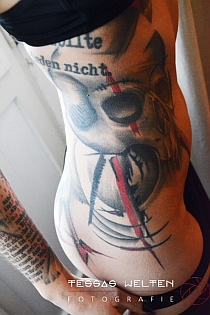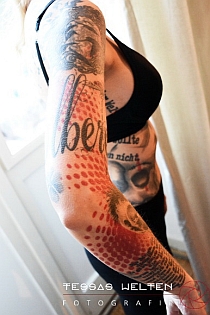 RoD
: Getting tattooed hurts, how do you cope with the pain during the sessions?
Denise
:
I always try to breathe calmly and breathe the pain away. It is a kind of meditation, which I have learned by yoga lessons. However, it does not always work ;)
RoD
: Do you regret getting tattooed sometimes?
Denise
:
Yes
.
RoD
: What is your taboo in terms of tattoos? What kind of tattoo would you never get done and don't like to see on other people?
Denise
:
I would never get a tattoo where I do not have any relation to.
RoD
: Some people say that the drive to acquire body art is addictive while others say it fails to meet the true definition of an addiction, simply calling it a passion. Is it really impossible to stop?
Denise
:
Tattoos are not an addiction, otherwise it would be a disease.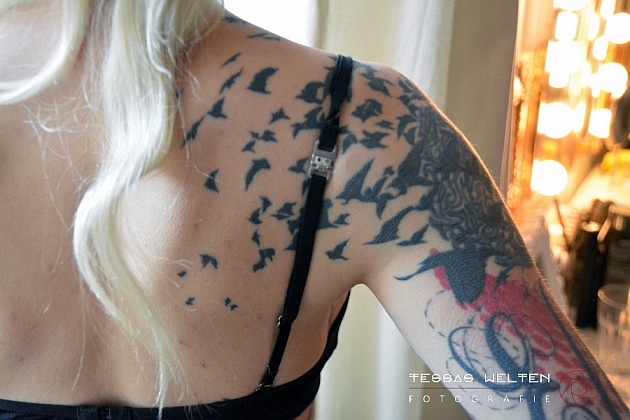 RoD
: Last Year's tattoos are a new trend; many people do not care about the meaning, they just want to have something coloured on the skin, to be in trend. Those people often just go into a tattoo salon and ask which drafts they have. Tattoo artists are not artists any more, they produce consumer goods. Not all of them, of course. How do you feel about this situation?
Denise
:
In the end you need to know what you want to get done. However, I think that many people forget that it is for the entire live. I think that people making tattoos without meaning will regret it later.
RoD
: I would like to talk about the social aspect of tattoos, too. Previously, many people believed that if you have a tattoo, you will be never be successful and will not find a "good" job. Have this state of mind and people's perceptions changed or are these prejudices still alive?
Denise
:
I have had no bad experiences with my tattoos so far. Once, an older woman saw my arm and asked if she is allowed to touch it and then she was quite amazed at how fine and good that was made. Also work-related, I never had any problems. Depending on the business, sometimes tattoos are also asked for.
RoD
: Which advice would you give to people who are going to get their first tattoo? How to choose a tattoo artist? Colour or black and white? Any practical advice?
Denise
:
I would think about the motive very well, why do I want this motive, what stands behind it and where should it be placed. A good tattoo artist also helps with the decision and advises what looks good and fits to your body. For the first tattoo I would take a lot of time and look at different tattoo artists.
Project by Daria Tessa and Daniela Vorndran, Interview by Daria Tessa
Pictures by Daria Tessa (
https://www.facebook.com/tessaswelten
)
See also (all categories):