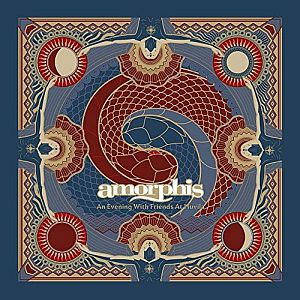 Artist: Amorphis
Title: An evening with friends at Huvila
Genre: Death Metal
Release Date: 24th February 2017
Label: Nuclear Blast
Album Review

AMORPHIS - Finnish Metal at its finest, but still the band surprises their fans with every new album. The band started as a Death Metal group but among the years they started to add elements of Progressive and Symphonic Metal combined with folkloristic elements. AMORPHIS is a fantastic live-band and most people associate their music with hard guitar riffs, this album is different. To be precise it is their album 'Under the red cloud' which includes a recorded live-session as a bonus. If you already have the album, you can purchase and download the bonus-material only.
AMORPHIS invited their friends Sakari Kukko, Pekko Käppi and Anneke van Giersbergen. In the first songs, percussion, flutes, piano and saxophone replace the e-guitars and give you the feeling to sit with the band and their friends at a fireplace in the Finnish forests. And when you hear Tomi Joutsen fantastic perform the first lyrics you know: This is AMORPHIS at its finest. But the band doesn't stick to the strictly acoustic setting for the whole album. Starting with 'Silver-Bride', the e-guitars find their way into the acoustic setting. This is a bit disappointing for the songs sounded fantastic without them.
The final song, a duet of Tomi-Joutsen, shows that a female voice does no harm to a Metal song and saxophone-solo can be called unrivalled in a Metal set. Even for fans of their live-shows there is something new, as 'Far from the sun' is performed live, a song that has not been performed for more than 10 years. All in all you should really think about adding this CD to your collection.
Tracklist

01. Enigma - 5:33
02. Far From The Sun - 5:00
03. Silent Waters - 5:53
04. My Kantele - 5:09
05. Silver Bride - 4:56
06. Sampo - 6:54
07. Alone - 6:57
08. The Wanderer - 4:54
09. Her Alone - 7:46
Line-up

Tomi Joutsen - Vocals
Esa Holopainen - Guitars
Niclas Etelävuori - Bass
Jan Rechberger - Drums
Tomi Koivusaari - Guitars
Santeri Kallio - Keyboards
Website

www.amorphis.net
Cover Picture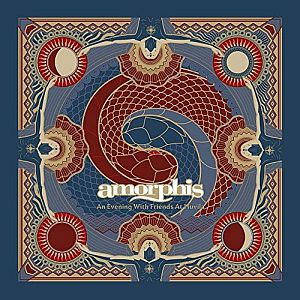 Rating

Music: 10
Sound: 9
Total: 9.5 / 10