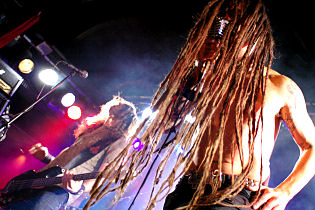 Colos-Saal, Aschaffenburg, Germany
21st October 2009
Amorphis, Before the Dawn, Amoral

A three-course meal of Finnish Metal was served at the Aschaffenburg Colos-Saal on 21st October and should attract a lot of attendees who impatiently entered the venue and gathered in the lobby shortly after the admission had been started. Obviously, anyone was looking forward to the promising line-up consisting of headliner AMORPHIS and the supporting bands BEFORE THE DAWN and AMORAL.
Many listeners took the opportunity and had a stop at the merchandise stand offering the usual fan stuff at very reasonable prices. Thus, the folks had got their money worth even before one of the three metal bands appeared on stage. Since there wasn't any photo pit, I decided to prefer a standing room in the first row again. Time flew like an arrow due to the fact that I had some nice conversations and when I took a glance to the back I noticed that the hall had already been crowded with many long-haired guys and some girls, most of them dressed in black. At 8 pm, it was time for the first formation called AMORAL.
Amoral

AMORAL from Helsinki was originally a cover band that focussed on playing other trash metal formation's material. Since 2000, they have been writing own death and trash metal songs. Meanwhile, the guys have released four albums: `Wound Creations´ (2004), `Decrowning´ (2005), `Reptile Ride´ (2007) and `Show your Colors´ (2009). Last year, Ari Koivunen - who had won the Finnish idols talent show and himself had released double platinum selling debut album - joined AMORAL and helped them to increase their popularity.
http://www.myspace.com/amoralweb
/
http://www.amoralweb.com/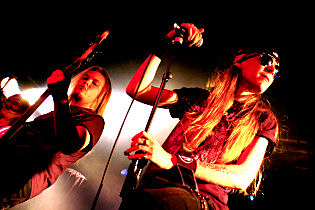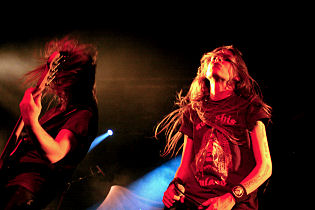 Music & Performance

Accompanied by the listeners´ friendly applause, the five-piece consisting of Ari Koivunen (vocals), Ben Varon (guitar), Silver Ots (guitar), Juhana Karlsson (drums) and Pekka Johansson (bass) came on stage. There was a wind machine that was placed right in front of them making their long hair flying around - a nice effect that fitted well to the energizing performance and the powerful and melodic death metal songs. Though their style was harder and every now and then garnished with growls, it strongly reminded me of hard rockers SKID ROW which may also be basing on the fact that the constellations and outer appearances were pretty alike. Guitarists Ben Varon and Silver Ots were striking big poses as well as bassist Pekka Johansson whereas front man Ari was screaming, shouting, growling and singing at the top of his lungs. Considering his young age, the guy really has got an exceptional voice and a lot of charisma he was able to convince with the listeners. Therefore, AMORAL left a satisfied audience when they made room for BEFORE THE DAWN.
Rating

Music: 8
Performance: 8
Sound: 7
Light: 7
Total: 7.7 / 10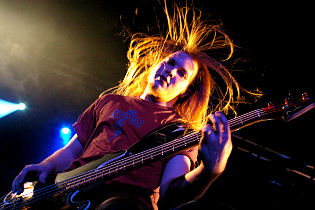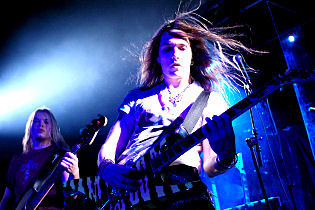 Before the Dawn

Finnish dark metal formation BEFORE THE DAWN consists of Tuomas Saukkonen (guitars, vocals), Lars Eikind (bass, clean vocals), Juho Räihä (guitar) and Atte Palokangas (drums). Formed in 1999, firstly the band had been a solo project of front man Tuomas Saukkonen. Up to now, BEFORE THE DAWN has released the debut album `My Darkness´ four years later followed up by `4:17 AM´ (2004), `The Ghost´ (2006), `Deadlight´ (2007) and `Soundscape of Silence´ (2008); the latter one hit the Finnish charts at #14.
http://www.myspace.com/btdofficial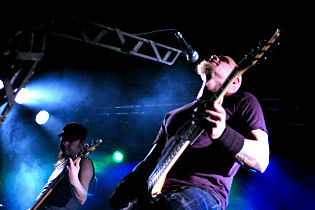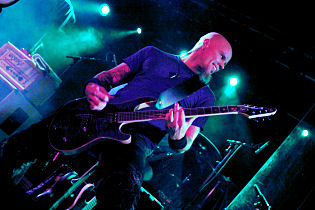 Music & Performance

It was getting darker and tighter when the band members of BEFORE THE DAWN appeared on stage to present all in all 12 songs - a pretty long list regarding the fact that they were a supporting act in that evening. The audience welcomed them with excited applause making obvious that they had already heard about, respectively witnessed the quartet. The bald lead singer Tuomas announced each and every song before he and his colleagues started playing the melodic and rather melancholic pieces. Bassist Lars Eikind often added his clean singing to the mostly growly vocals of the front man resulting in a duet-like performance that was completed by the powerful guitar and drum playing. Particularly, Juho Räihä showed kind of acrobatic head banging while Atte Palokangas was doing some tricks with his drum sticks displaying a big smile on his face.
Setlist

01. Unbreakable
02. Faithless
03. Dying Sun
04. Disappear
05. Monsters
06. Exile
07. Morning Sun
08. Scar
09. My Darkness
10. My Room
11. The Black
12. Deadsong
Rating

Music: 7
Performance: 7
Sound: 7
Light: 7
Total: 7 / 10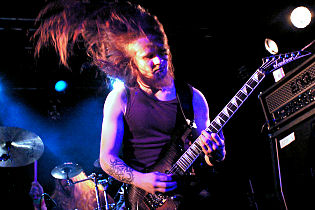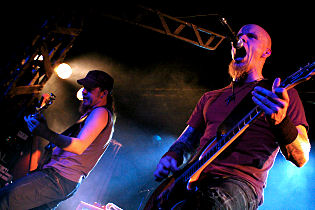 Amorphis

The Helsinki-based metal formation AMORPHIS was founded in 1990 by Jan Rechberger (drums), Esa Holopainen (guitar) and Olli-Pekka Laine (bass). In 1992, the band released its debut album `The Karelian Isthmus´. Over the years, there were some line-up changes resulting in the today's cast of Tomi Joutsen (vocals), Tomi Koivusaari (guitar), Esa Holopainen, Jan Rechberger, Niclas Etelävuori (bass) and Santeri Kallio (keys). At the beginning of their career, they played death metal that was enriched by progressive metal devices later on. Furthermore, the band added some Arab and Finnish folk elements. Not for nothing, guitarist Esa Holopainen suggested that suitable band name, as it was derived from "amorphous" which is another word for "shapeless". AMORPHIS can look back on all in all nine long-players such as `Am Universum´ or `Eclipse´ (2006). In May 2009, AMORPHIS released its ninth long-player `Skyforger´ that reached the top of the official Finnish charts and made it to #55 in Germany.
http://www.myspace.com/amorphis
/
http://www.amorphis.net/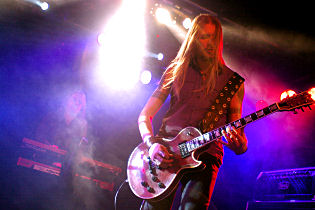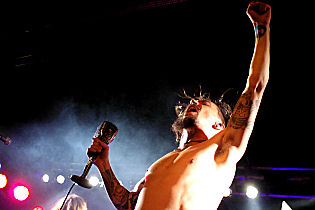 Music & Performance

It was very hot in the meanwhile crowded hall and I was glad that the listeners treated each other with respect. Though I'm not a person you might call a metal head, I enjoy those concerts in particular because of the friendly audience and the powerful performances that are well-suited to take expressive photos. While the staff was doing the changeover, I took a look around and noticed that there must have arrived some further attendees who queued up in the rear part of the venue. The average age of the fans was about 30 years which meant that I wasn't the youngest or the eldest one. Finally, everything had been prepared for the headliners and there was a certain kind of excitement among the listeners.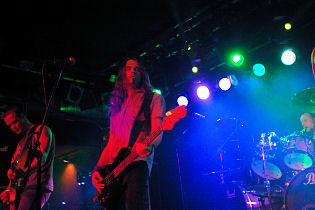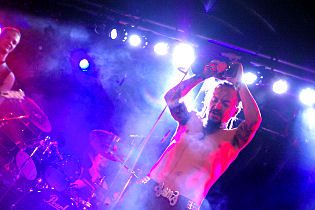 When the lights went off and the band members walked on stage, everyone started to bang the head. Topless lead singer Tomi Joutsen grabbed his golden old-fashioned microphone and shook his extremely long dread locks while he was intonating the opener `Silver Bride´. As I stood right in front of him, I needed to take one step back to not to be hit by his hair while the folks next to me were going wild and chanting along. The well-chosen set included older stuff such as `The Castaway´, `My Kantele´, `House of Sleep´ and the frenetically celebrated `Black Winter Day´ as well as pieces like `Sampo´, `Majestic Beast´ (which came as a real bombshell), `Sky is Mine´ or `From the Heaven of my Heart´ taken from the most recent album ´Skyforger´.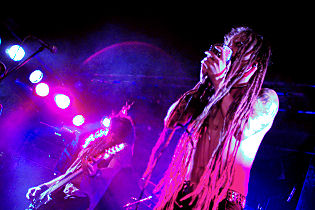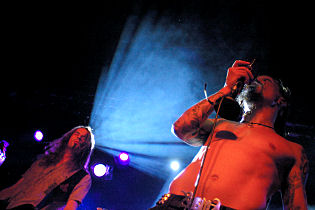 The set's middle section also contained a rousing medley of `Against Widows´, `On Rich and Poor´ and `Better Unborn´ that was presented in a virtuoso way leaving everyone screaming for more.After 13 songs, the musicians left the stage to be back with three additional pieces demanding the crowd's body exertion again. Therefore, AMORPHIS convincingly proved that the new stuff also works amazingly live on stage.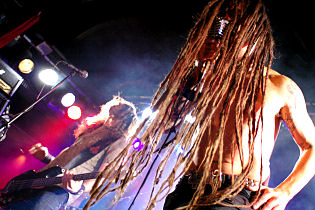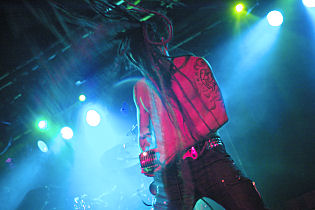 Setlist

00. Intro
01. Silver Bride
02. Sampo
03. Towards and Against
04. The Castaway
05. Smithereens/ The Smoke
07. Majestic Beast
08. Alone
09. Silent Waters
10. Against Widows / Cares / On Rich and Poor / Against Widows / Better Unborn (Medley)
11. From the Heaven of my Heart
12. Sky is Mine
13. Black Winter Day
---
14. Sign
15. House of Sleep
16. My Kantele
Rating

Music: 8
Performance: 8
Sound: 8
Light: 8
Total: 8 / 10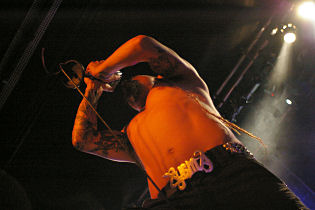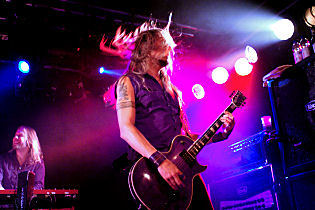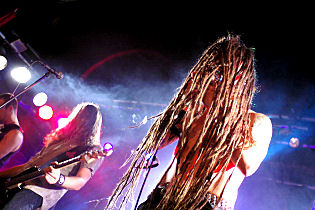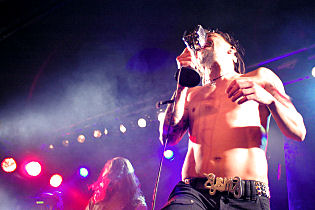 All pictures by Katrin Renner (
http://www.creavision-webdesign.de/
)
{jos_sb_discuss:17}
See also (all categories):