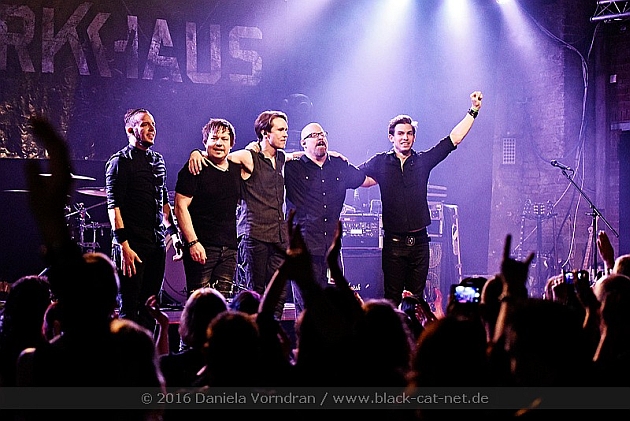 Kulttempel, Oberhausen, Germany
23rd October 2016
Darkhaus & Hell Boulevard

A dark night at Kulttempel in Oberhausen is lying ahead of me. The venue, a small rock club, is just perfect for the two bands HELL BOULEVARD and DARKHAUS who are going to rock the stage tonight. Somewhere between people in black and pentagrams waits the road to Hell and it offers energetic music. I am waiting for the first band to show up and shake the club's ground. It is the last tour date and I am expecting a terrific show.
Hell Boulevard

HELL BOULEVARD is Matteo Fabbiani's new band. The former LOST AREA singer, better known as vDiva, founded the band in 2014. Playing goth and roll with electro as well as heavier influences, the band of four has just released their debut album 'Inferno' on 28th September this year. "The road to Hell is paved with bad intentions," says their Facebook page
https://www.facebook.com/hellboulevard/
and you can be sure it is. Check their Facebook page or have a look at HELL BOULEVARD's official website and store
http://www.hellboulevard.com/
to experience their music.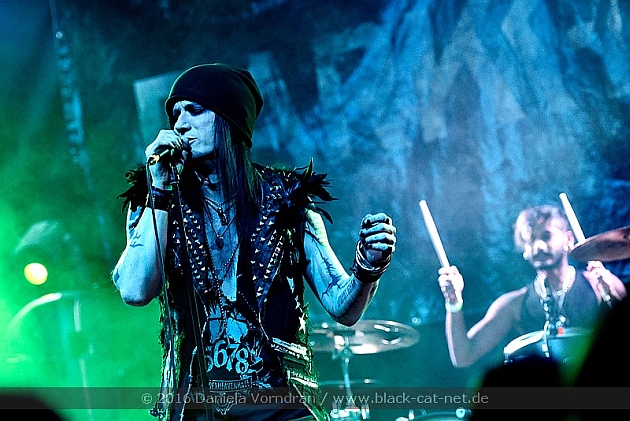 Music & Performance

HELL BOULEVARD are a perfect opener for a dark rock night. They start with their first single 'Love Is Dead' which is a powerful rock hymn with heavy guitar riffs and just the right amount of synthesizers. The small crowd catches up instantly and starts to rock. The four members of HELL BOULEVARD are clearly enjoying themselves, playing a set of ten songs ranging from rock hymns to ballads and including a guest performance by Gary Meskil from DARKHAUS. HELL BOULEVARD are a dark pleasure, great to look at with their dark eye make-up and black fingernails. Their energetic show is pure fun, covering dark themes with songs like 'A Lesson in Pain' or the forceful 'All I've Lost'. The most remarkable aspect is that vDiva reminds me of Ville Valo from HIM as soon as he starts to sing. His voice is low and husky at times, carrying much emotion and energy. I'm driven by the music and very pleased when HELL BOULEVARD end their performance with thanking the audience and their crew.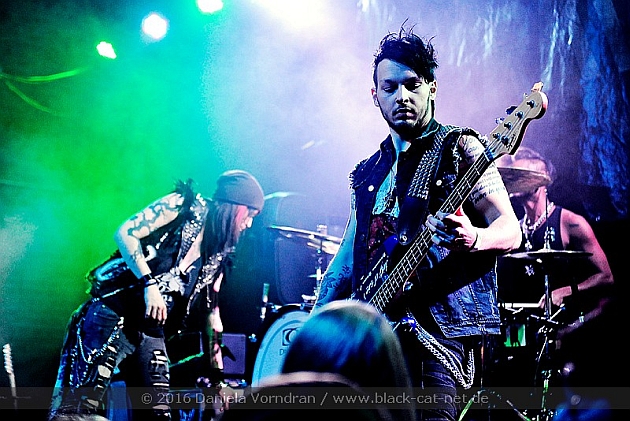 Setlist

01. Love Is Dead
02. Bad Boys Like Me
03. 5678
04. A Beautiful Ending
05. Love Me
06. Living Dead Lover
07. A Lesson in Pain
08. Freak Parade
09. All I've Lost
10. Hangover from Hell
Rating

Music: 8
Performance: 8
Sound: 8
Light: 8
Total: 8 / 10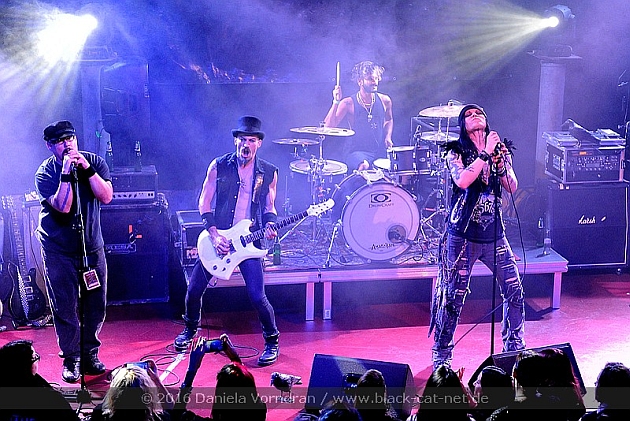 Darkhaus

DARKHAUS are an international rock band of five cantered around Scottish singer Ken Hanlon and founding member Gary Meskil who plays the bass and started the journey in 2011. Since then, DARKHAUS have released their debut 'My Only Shelter' in 2013, followed by the EP 'Providence' in 2015. This year, they have released their sophomore album 'When Sparks Ignite', setting up the theme for their fall tour. DARKHAUS play dark rock with influences of dark wave and metal. Make sure you check their website
http://www.darkhausmusic.com/
and their Facebook page
https://www.facebook.com/DarkhausOfficial
to keep up with these talented musicians.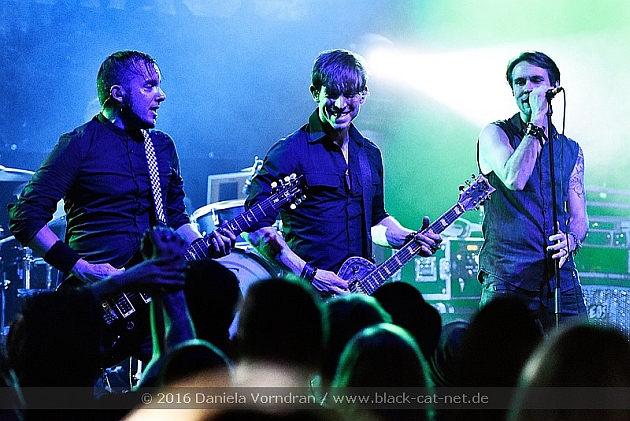 Music & Performance

After a great opening act, the audience is ready for DARKHAUS. When the five musicians enter the club stage, people cheer. The atmosphere is vibrating as the first chords of 'All of Nothing' fill the venue's air. The first track of 'When Sparks Ignite' immediately catches me. It is a heavy song, energetic and raw, and it underlines Ken Hanlon's strong voice perfectly. Heavy riffs played by Rupert Keplinger on lead guitar as well as Marshall Stevens on second guitar meet Gary Meskil's diligent hands on the bass. Paul Keller hits the drums as if there was no tomorrow—which might easily be the case.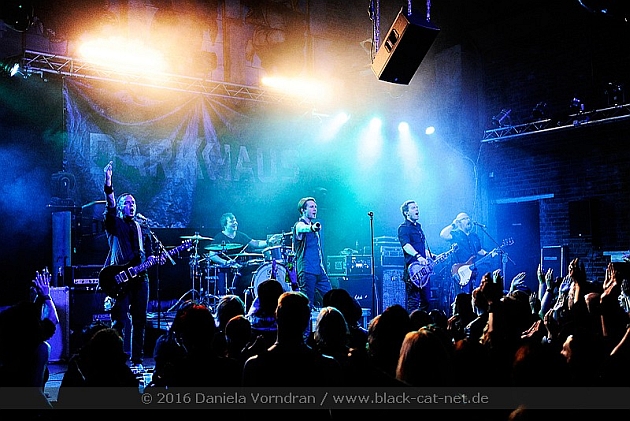 Heating up the crowd with the first song of the night, DARKHAUS continue their travel through a set of fifteen songs, engaging the audience with remarks about their music, their songs. Singer Ken Hanlon is a sympathetic musician whose passion for music is delivered with every line he sings. Impressive guitar solos turn the performance into powerful dark art, leading the crowd into abysses where they can lose themselves. The energy is fantastic and DARKHAUS never lose their drive, turning ballads into heavy rock anthems, for example 'After the Heartache' from their now album or 'Hour of Need' from their debut. Sparks of pop music ignite when DARKHAUS play 'Bye Blue Skies' and still, their guitar driven energy sets the tone and atmosphere.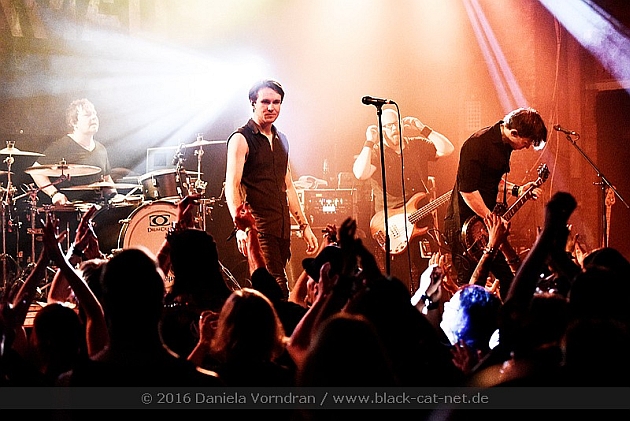 As we near the end of the regular set, DARKHAUS perform 'Oceans', which is dark and beautiful and unfolds into a most noteworthy piece of music that makes me want to bang my head while getting carried away by the waves of dark passion. The crowd is rocking with DARKHAUS until they play their last chords, only to return with an encore of two more songs, the first being 'The Last Goodbye' which is exactly what people in the audience do not want to hear. After about ninety minutes of heavy tunes, sweat, and deep pleasure, DARKHAUS do say their final goodbye, ending their tour in a storm of applause by people who are visibly more than satisfied with the experience. I can only recommend seeing DARKHAUS on stage and buying their albums and EP, as these musicians deliver a distinct drive which is hard to resist.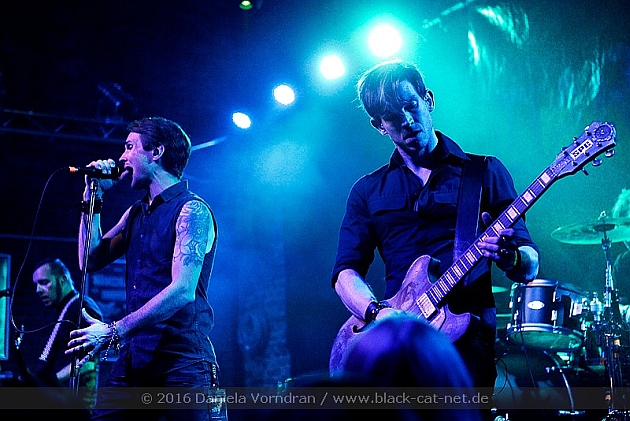 Setlist

01. All of Nothing
02. After the Heartache
03. Grace Divine
04. Devil's Spawn
05. Side Effect
06. Second Change
07. Providence
08. Break Down the Walls
09. Ghost
10. Hour of Need
11. Bye Bye Blue Skies
12. Life Worth Living
13. Oceans
14. Drive
15. Breaking the Silence
---
16. The Last Goodbye
17. Don't Close Your Eyes
Rating

Music: 9
Performance: 9
Sound: 8
Light: 8
Total: 8.5 / 10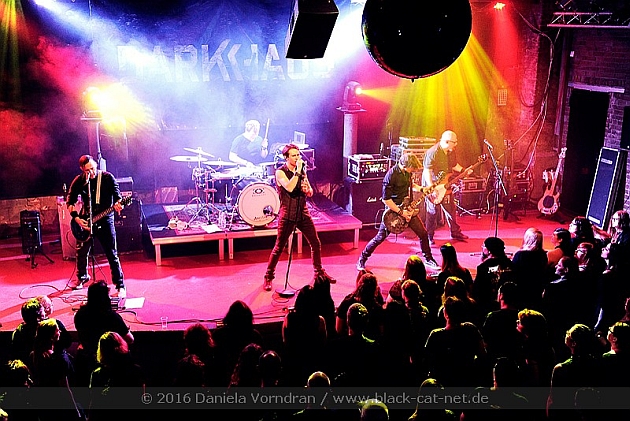 All Pictures by Daniela Vorndran (
http://www.vorndranphotography.com
/
http://www.facebook.com/blackcatnet
)