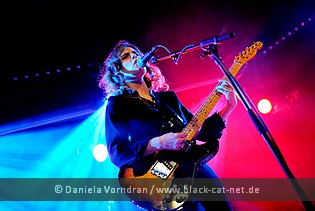 Die Kantine, Cologne, Germany
25th March 2014
Anna Calvi & We Were Evergreen
The venue were the concert took place was on this evening
Die Kantine
(The canteen) in Cologne. For more than twenty years, all kind of concerts of different genres and events took place, so to name ALANIS MORISSETTE, DIE ÄRZTE, FANTA4, MARILYN MANSON and many more. This place has a capacity for approximately 1,000 people. On this evening, around 600 fans came to see ANNA CALVI.
We Were Evergreen

Started in 2008 unfortunately you will not find much information about the band. It is a trio, originally coming from Paris, France, and now actually living in London, UK. The members are Michael Liot (vocals, ukulele, acoustic guitar, charango, banjo, trumpet), Fabienne Débarre (backing vocals, synths, xylophone, harmonica) and William Serfass (backing vocals, percussions, rhythm loop, bass, electric guitar). There musical genre is described as French Pop, Alternative Indie-Electro-Pop but I would add that they remind me a bit of the music of MATT BIANCO, STYLE COUNCIL and the like of the mid-eighties. The band blends Indie "Poptronica" with equatorial rhythm loops and vocal harmonies. They were supporting act for several bands and musicians and performed at several festivals, mainly in the UK. Until today they have released 3 EPs and their first album will be released on the 5th May 2014.
http://www.wewereevergreen.com
/
https://www.facebook.com/wewereevergreen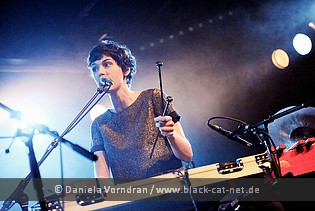 Music & Performance

Roughly 300 people had gathered when the band appeared on stage. With an easy going Pop sound they created a nice atmosphere of relaxed summer evenings. It is kind of music that brings you in a good mood. Impressive was that they all played different instruments during the concert, underlined with very harmonic singing. We learnt that soon in May their first album will be released. For the last song they all performed at their percussion instruments and sang a cappella which brought some more action and excitement into their performance. A nice opening act for sure.
Setlist

01. Tambourine like a crown
02. Daughters
03. Antlers
04. False start
05. Best thing
06. Belong
Rating

Music: 7
Performance: 7
Sound: 7
Light: 7
Total: 7 / 10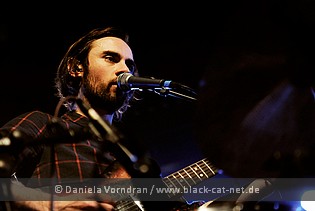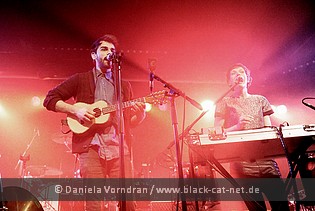 Anna Calvi

The British musician started to learn playing violin and later guitar in her early childhood. In early 2000 she studied music at the University of Southampton with a focus on violin and guitar. She graduated with honours with a Bachelor of Arts in Music in 2003 and worked as a guitar teacher, giving private lessons in order to help to finance her musical career until 2010. Since 2006 she started to perform, first with some bands, amongst others CHEAP HOTEL, later as solo artist. Later she met multi-instrumentalist Mally Harpaz and drummer Daniel Maiden-Wood who are now part of her band, as well as Alex Reeves on keyboards and bass guitar for the live shows. In meeting the music legend BRIAN ENO she found a mentor. Though she started early to learn playing instruments, she began singing not before her early twenties as she didn't like to hear her own voice and thus was quite shy about it. But finally she started to train her vocals to the songs of EDITH PIAF and NINA SIMONE.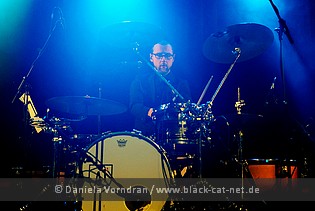 In 2010 she was supporting act for INTERPOL and THE ARCTIC MONKEYS at several shows in the UK and was invited by NICK CAVE to support GRINDERMAN across Europe. Her European tour in 2011 was filmed as a two part serial 'Somewhere along the line'. At the end of 2013 she did a short headline tour in France, Spain and Portugal. Her first, critically acclaimed, self- titled album was released in 2011 and in 2013 her second album 'One breath' which also got very positive feedbacks. Her first album as well as her shows were so positively reviewed that it is no surprise that she was nominated for several awards like the Mercury Prize, Brit awards and the like and won the Eurosonic Noorderslag award. It is a bit hard to describe her music as it does not really fit into one genre. Some say it's a kind of Alternative/ Indie Rock but there are some Blues elements in it, too. It's dark, romantic and atmospheric.
http://annacalvi.com
/
https://www.facebook.com/annacalvi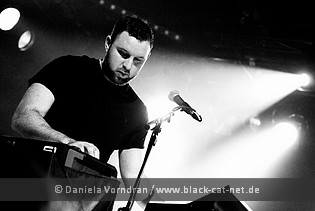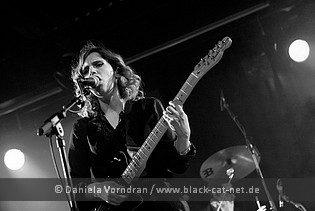 Music & Performance

Just before ANNA CALVI and her band appeared on stage the venue was filled up. Interestingly the proportion of men dominated the audience. I would say it was two out of three. While ANNA CALVI appeared with a tight plait a couple of years ago on stage, which reminded you of the guitar playing ladies in the video of ROBERT PALMER's 'Addicted to love', she now looked a bit like Hermione Granger of 'Harry Potter' with her cute curly hairdo and a shocking-red lipstick, which is a great contrast to her androgyny outfit of a male flamenco dancer. She is definitely eye- candy, too. The second song, 'Eliza', started only with her singing and guitar playing before the band joined into the song and once more you got an intense impression how amazing ANNA CALVI's talent is. And of course later there was a guitar solo as well, where ANNA CALVI let her guitar speak to the audience. But surely her band mate Mally Harpaz impressed the audience as well with all the instruments she was playing during the concert, as there were: xylophone, reed organ, percussions, tambourine, keyboards and guitar.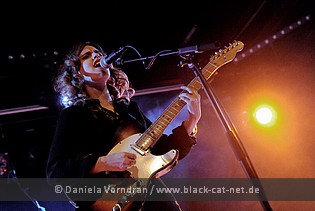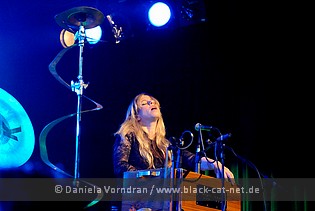 During the performance it was so quiet that you could hear a pin drop. No one talked and everybody listened attentively. This phenomenon you don't experience very often at concerts, only if you have a musician with incredible skills in playing an instrument combined with a heavenly voice. The way she plays guitar makes me think that it surely was good that she started much later to train her vocals. Thus she perfected her skills to let the guitar express her emotions. Nevertheless she really has a beautiful voice which partly reminds me of PATTI SMITH for her soulfully singing. Unfortunately the sound was not really perfect. At the beginning it was partly too loud for the venue and later on there was a disturbing buzzing but that was sorted out soon by the sound engineer. Though I was not familiar with the music of ANNA CALVI, I definitely enjoyed the concert very much like all her enthusiastic fans. Surely no music to dance to, but it is a great pleasure to listen to it and admire the virtuous guitar playing and the beautiful voice of ANNA CALVI.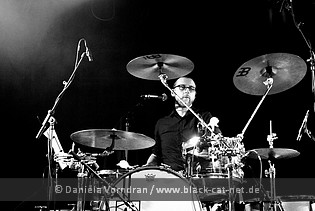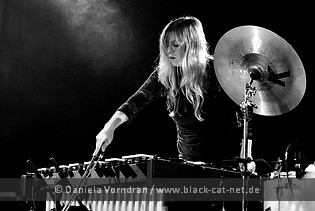 Setlist

01. Suzanne & I
02. Eliza
03. Sing to me
04. Cry
05. Rider to the sea
06. First we kiss
07. I'll be your man
08. Love of my life
09. Piece by piece
10. Suddenly
11. Carry over me
12. Bleed into me
13. Wolf like me
14. Fire (BRUCE SPRINGSTEEN cover)
15. Desire
16. Love won't be leaving
---
17. A kiss to your twin
18. The Devil
19. Jezebel (FRANKIE LAINE cover)
Rating

Music: 9
Performance: 8
Sound: 7
Light: 7
Total: 8 / 10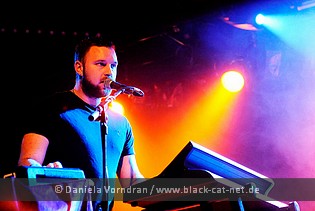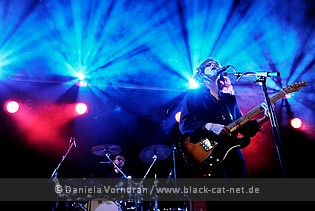 All pictures by Daniela Vorndran (
http://www.black-cat-net.de
/
http://www.facebook.com/blackcatnet
)
See also (all categories):