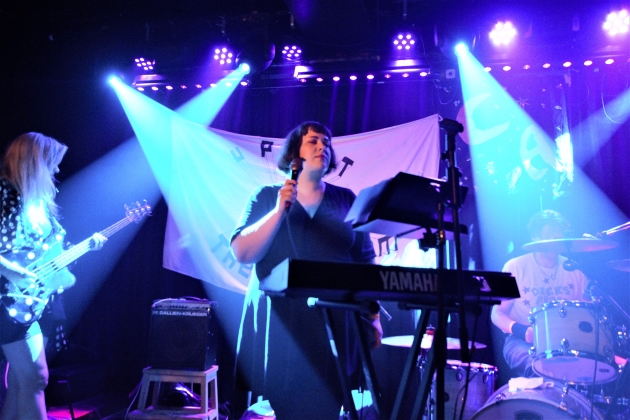 The Lexington Pub, London, United Kingdom
27th July 2023
Current Affairs

Ok, so after a busy day doing a different job, I trundled up to The Lexington Pub in Islington for a bit of musical entertainment. I arrived at the venue in the pouring rain and went upstairs to the arena of sonic sustenance. The place was already full so I had to fight my way down to the front where a pocket of space opened up for me to get my camera ready.
A band was on stage, I know not who, I did not find out and I didn't really care to be honest. From what I heard I am glad I hadn't done any research or arrived earlier. I wasn't here for them anyway. It was Glasgow / Berlin based CURRENT AFFAIRS who had inculcated all this effort to travel. They comprise of bassist Gemma Fleet (THE WHARVES, ORDER OF THE TOAD and DANCER) Andrew Milk on drums (SHOPPING, PINK POUND), Sebastian Ymai (COMIDILLO TAPES, PISSY & ANXIETY) on guitars and finally Joan Sweeney (AGGI DOOM, ROYAL WE) on vocals. So, there's a nice mix of musical experiences here that came up through the Glasgow DIY scene, the band first emerging around five years ago and releasing the 'Object and Subject' EP. This tour which takes in Sheffield, Nottingham, Glasgow, Cardiff and London to name a few places is to promote their debut album called 'Off The Tongue' which I reviewed a few weeks ago. It's a very good album. It's well produced and hits the spot in many ways. LetÄs see what Current Affairs do to me in the live context…
https://currentaffairs.bandcamp.com/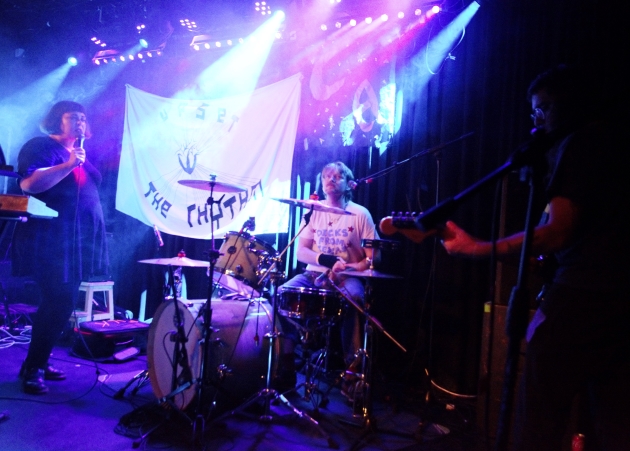 Music & Performance

Anyway, the band I had no interest in finished their set, packed up, and left the stage whilst the members of CURRENT AFFAIRS set up their instruments in turn. I set up my camera, bantered with a punter and then the CURRENT AFFAIRS set commenced. It was a good set. Full of tracks from the aforementioned brand-new album which I reviewed a few weeks ago. 'No Fuss' was there in its jingle jangly B52's glory. The foot stomping 'Reactor' was there also with its Teutonic undertones. 'Right Time' was at the beginning of the set and the more I listen to it the more familiar sounds ooze out like I'm squeezing out the last remnants from a condiment bottle. It's a scattergun of sounds gyrating and twisting and bouncing in a lightly dark manner.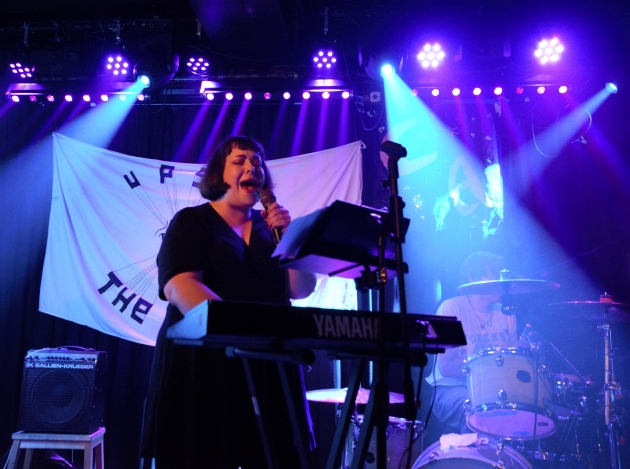 I hear BALAAM AND THE ANGEL in this, another Scots band from the 80s. Just listen to the guitar parts. 'Regardless', think Belinda Carlisle twisting like Wednesday Addams... 'Cahoots' is bass fronted and spits and flicks sound out. I noticed that 'Her Own Private Multiverse' got the crowd entranced and swaying. A simply constructed track that is full of hypnotic sway and swagger, SIOUXIE at her finest... love this track and its atmosphere. All of this was delivered with workman-like precision, simple and effective basslines linked to cohesive and on-the-money drums played by a chap who looks like a pedophile hipster. And then there are the self-focused and effects-driven guitars that create layers of sparkling sounds, topped off by slightly dissonant vocals that add to and not subtract from the whole.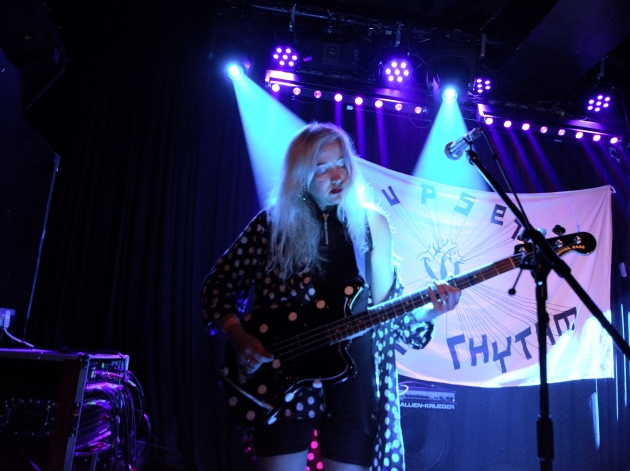 Delivered in an Anje Huwe / Clair Grogan crossed with Siouxie Sioux-like manner but with less movement. They aren't as visually appealing, in my opinion, as the bands I've used for reference. They certainly don't come across as exotic or otherworldly. I'd say they are less charismatic in that area but they certainly make up for that with the music. The audience movement was enthusiastic and focused so overall the CURRENT AFFAIRS effect on this London crowd was a good one.
Setlist

01. Riled
02. Right Time
03. Regardless
04. Cahoots
05. World In Crisis
06. Casual Radicals
07. Her Own Private Multiverse
08. Reactor
09. No Fuss
10. Breeding Feeling
11. Buckle Up
Rating

Music: 8.5
Performance: 6
Lights: 6
Sound: 8.5
Total: 7.3 / 10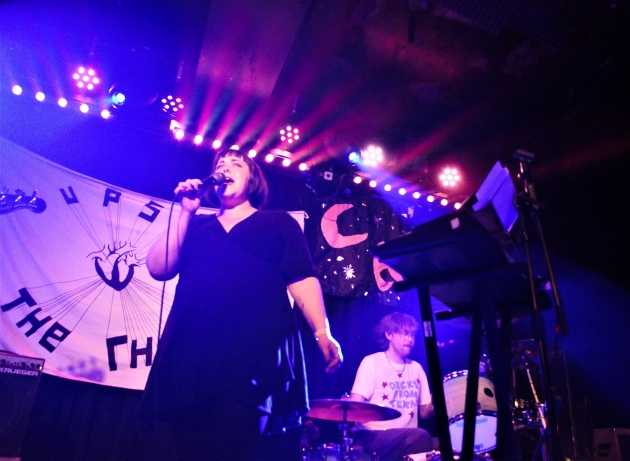 All Pictures by Claudia Black (Cimmerian Photography)
See also (all categories):