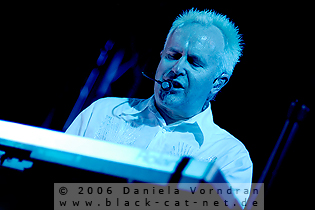 Zeche, Bochum, Germany
18th June 2006
Howard Jones

It was in 1983 when Howard Jones released his first single 'New Song' in the UK. The expectation was that it might sell a few thousand copies and introduce his fresh new music to an unsuspecting world. The reality was quite different. The single steadily climbed the UK chart to peak at No. 3. Then came the second single 'What Is Love?' which reached No. 2 in the UK and the third single …the enigmatic 'Hide and Seek' which showed the spiritual side of Howard Jones' writing. This was followed by the first album 'Human's Lib' which came straight in at No. 1 in the UK in April 1984, eventually going platinum and which took the synthesizer and Howard to a new plateau. This success spread across the globe with 'Human's Lib' going gold in USA, Japan, Germany, Italy and Australia.
In October 2005 Howard Jones released his first new studio electronic album in six years. Titled 'Revolution of the Heart' it's a tour de force of state of the art technology and contemporary sounds combined with a strong lyrical message calling for inner human change.... in fact a revolution of the heart. Jones is regarded as one of the true godfathers of electronic music, particularly in the dance world, and this album sees a return to his electronic roots.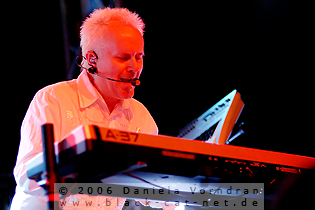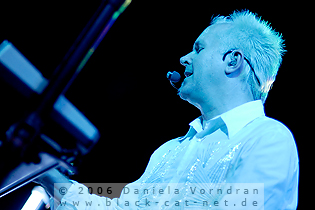 The 18th June was one of those evenings when you got the feeling you're gone straight back into your youth - at least when you are near or over 30 years old. The day before, Howard was part of an 80-ies festival in Dortmund with some other stars who had their biggest hits during 1980-1989 like Sandra, Limahl or Alphaville. Anyone of them is still an active musician. At the 18th June, about 100 people came to the Zeche to celebrate the past and the present - because Howard Jones didn't write only great songs years ago, he is still doing that today. Howard and his band: Howard Jones (vocals, keyboards, programming), Robin Boult a.k.a. The Itch (guitars) and Robbie Bronnimann (programming, live mixing and sonic sound manipulations).
http://www.howardjones.com
Luckily we arrived early enough at the venue for the beginning of the show – according to the website the show was supposed to start at 8 p.m., but Howard entered the stage already about 7.15p.m.
Music

Howard is still writing wonderful electronic music. While the old stuff has more just the synth parts, you can hear more dance beats with the newer versions. Howard was also joined by a guitarist, so we got the great combination of keyboards and guitars. The mixing sound engineer had also enough to do. But don't think it was most of the time something like "press the button" and the music is on – oh no Howard was the hero of the keys! The set started with "Conditioning" and with "Hunt the self" and "Pearl in the shell" he played two jewels from his first album. Guitar riffs like in a James Bond movie were the start of "You know I love you". The first time we got a bit of a Caribbean feeling was at "Life in one day" and we had already this beautiful weather outside. Where were the cocktails? When he played "New song" you could imagine that another important song couldn't be far away – "What is love". I don't know how the other people felt, but this is a song when I felt a bit sentimental and realized once again how fast time passed by. I loved this song in 1983 and I still do. The first break followed and then after it "Hide and seek" was presented. Howard surprised with a wonderful piano session. It was just him at the piano singing and guitarist Robin playing. They sat in the front corner of the stage and it was really funny to see suddenly everyone with a camera got over to this place to take photos of that. Howard showed many different faces of his musical talent and it was very impressing. After the absolutely beautiful "Someone you need", the last song was "Everlasting love" which he dedicated to Paul McCartney and he was also singing a part of "Twist and shout".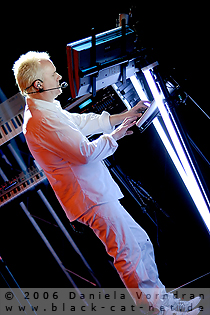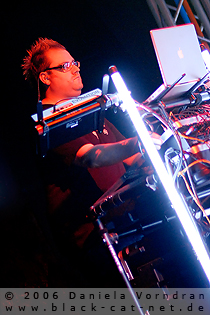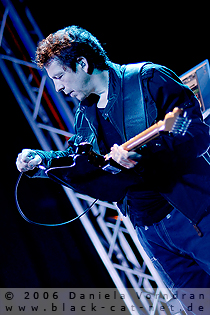 Performance

The stage looked a little bit cold somehow. Two big steel columns in the background with blue neon tubes and the rest was just electronic and technique. Many synthesizers, the mixing desk and every gadget stood on a metal stand. It was like we were the visitors in Howard's recording studio. Howard still with light blond hair was dressed completely in white clothes. His keyboards and electronic machines he was using were built in a circle around him and he was acting in the middle. He was also wearing a head set, so that he could also leave this circle and to dance outside or play a keyboard at the front of the stage while he was singing. With this one he did some kind of acrobatics - he played it in different positions and twisted and turned it. Sometimes he was dancing next to the guitarist. Whatever he did, you could feel that he enjoyed what he was doing and so did the people. They were dancing, clapping hands and enjoyed themselves; there was not one boring minute. The show ended at about 9 p.m. which is quite early for a concert, and we thought Howard wanted to watch a football game, but as we recognized later, there was no game that evening.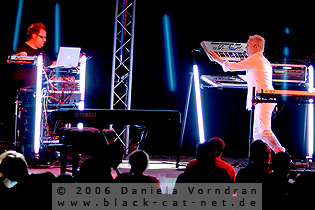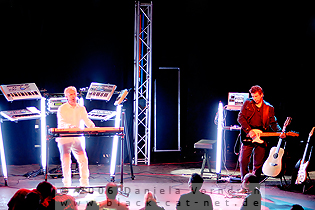 Setlist

01. Conditioning
02. Revolution of the heart
03. Like to get to know you well
04. Hunt the self
05. Pearl in the shell
06. You know I love you
07. Life in one day
08. New song
09. What is love?
---
10. Hide and seek
11. No one is to blame (Piano session)
12. Tomorrow is now (Piano session)
13. Things can only get better (Piano session)
--
14. Someone you need
15. Everlasting love
Rating

Music 9
Performance 7
Sound 7
Light 8
Total 8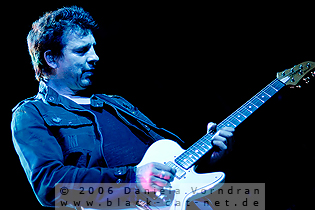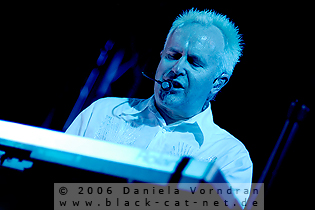 More pics on Black-Cat-Net
{jos_sb_discuss:18}
See also (all categories):