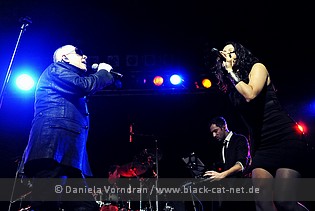 Live Music Hall, Cologne, Germany
13th December 2014
Holly Johnson & DJ

In order to promote his new album 'Europe', HOLLY JOHNSON had also some dates in Germany. The show at the Live Music Hall in Cologne with a capacity of 1,300 people was sold out. A great part of the audience was more of my age and thus danced already to the sound of FRANKIE GOES TO HOLLYWOOD in the discotheque once. I also maintain that on this evening the audience was dominated by men. The evening was opened by a DJ who played mixes of songs mainly from the eighties. Surely a nice attunement but of course we all waited impatiently to finally see HOLLY JOHNSON
Hailing from Liverpool, UK, he was amongst others a member of the Punk band BIG IN JAPAN but he got famous as singer of the Pop band FRANKIE GOES TO HOLLYWOOD in the 80's. As there were some differences of opinions about the further musical development of the band, HOLLY JOHNSON left in 1987 the band in order to pursue his solo career. His debut album was launched in 1989. Despite many other musicians in the eighties he never hid his homosexuality. He even announced 1993 that he is HIV positive. Thus he is one of the few long-time survivors. Besides making music he is also a painter since the early eighties and wrote his biography. HOLLY JOHNSON released five albums including the new one 'Europe' which was just launched this year. Nowadays he lives in London.
http://www.hollyjohnson.com
/
https://www.facebook.com/MrHollyJohnson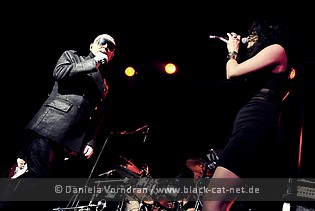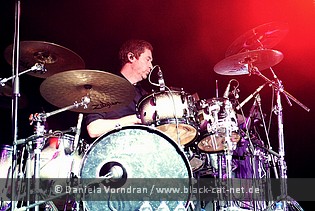 Music & Performance

Right from the first tunes HOLLY could not impress with his vocal quality. But we learnt after the second song that he really got a bad cold and it is only thanks to the University hospital in Cologne that he could perform nevertheless. With this information we all were able to overlook the weakness of his voice. Inexcusable for me was the bad sound in general but the Live Music Hall is notorious for sound issues. Anyway HOLLY was accompanied by his fantastic background singer Kristin Hosein who did a pretty good job. And after a few songs when the vocal chords were warm HOLLY's singing sounded even better than his speaking. Every now and then he addressed in a very charming and funny way to the audience and even impressed with some phrases and words in German language. My favourite expression, which made us all laugh was "arsekalt" (actually meaning our colloquial expression "arschkalt" = arse cold = freaking cold). Though he had to take his meds between the songs so that he was able to continue the show, he performed professionally, dancing every now and then and interacting with the audience which was rewarded with massive applauses after each song.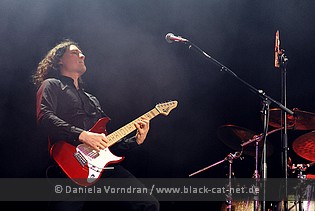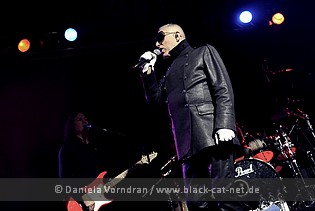 Between songs of the FRANKIE GOES TO HOLLYWOOD era and his older songs, he performed some songs of the new album. Though the audience apparently enjoyed the show already, they freaked out when 'Relax' as last song was performed. Now really everybody was singing along and dancing. Then HOLLY JOHNSON and his band left the stage. And yes, we were all shouting for an encore although I somehow thought that it is asked too much regarding his bad cold. My deepest respect that he really returned and performed two further songs, both hit singles of FRANKIE GOES TO HOLLYWOOD, the first 'Two tribes' to get the people dancing once more and then closing the concert with 'The power of love' which was introduced with a little speech where we learnt that he loves "Reibekuchen mit Apfelmus" (potato pancakes with apple puree) but also Frankfurter (a sort of sausages) but most of all he likes love. Anyway this song was the perfect last song as everybody was singing along happily, I saw many friends and couples embraced each other while dancing and actually only the sparklers were missing to top the atmosphere off.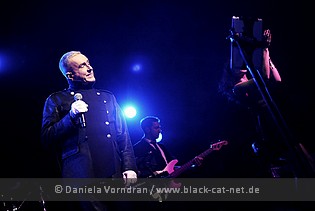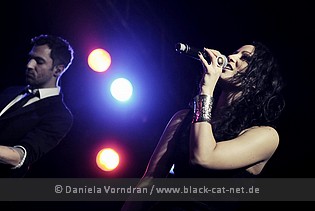 Setlist

01. Warriors of the wasteland (FRANKIE GOES TO HOLLYWOOD song)
02. Atomic city
03. Welcome to the Pleasuredome (FRANKIE GOES TO HOLLYWOOD song)
04. Rage hard (FRANKIE GOES TO HOLLYWOOD song)
05. Love train
06. In and out of love
07. Heaven's here
08. Americanos
09. Europa
10. Dancing with no fear
11. Penny arcade
12. So much it hurts
13. Watching the wildlife (FRANKIE GOES TO HOLLYWOOD song)
14. Relax (FRANKIE GOES TO HOLLYWOOD song)
---
15. Two tribes (FRANKIE GOES TO HOLLYWOOD song)
16. The power of love (FRANKIE GOES TO HOLLYWOOD song)
Rating

Music: 9
Performance: 8
Sound: 8
Light: 7
Total: 8 / 10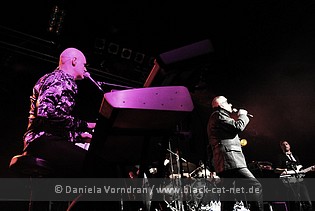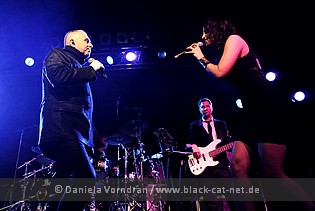 All pictures by Daniela Vorndran (
http://www.vorndranphotography.com
/
http://www.facebook.com/blackcatnet
)
See also (all categories):