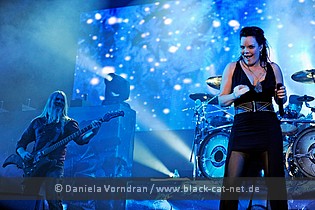 ISS Dome, Düsseldorf, Germany
14th April 2012
Nightwish, Battle Beast & Eklipse

It took a while until fans were finally receiving a new NIGHTWISH album. After more than four years, the band finally released the long awaited fifth studio album 'Imaginaerum'. The album is also the soundtrack for a movie whose protagonist is an old balladeer with an unbelievable imagination. 'Imaginaerum' appeals to our fantasy and long forgotten longings from a magical world. The expectations were high and excitement huge for the band playing live on German stages again since NIGHTWISH are known for their extraordinary special effects and brilliant stage and light show. Now it was time for us to see how the new album was visually brought on stage…



Eklipse

EKLIPSE is an all-girls band, four young ladies with "talent, discipline and charisma; four women knowing the bright light and the end of the night are playing songs that just mean life", as their Facebook site states. Playing classical instruments cello, viola and two violins, this band is surely something special. The four ladies release music via their own label. The debut album 'A Night in Strings' (a pure cover album btw.) was released end of March 2012. EKLIPSE is Miss E. (violin), Scarlett (violin), Viola (viola) and Helena (cello). http://www.e-k-l-i-p-s-e.com / https://www.facebook.com/eklipsemusic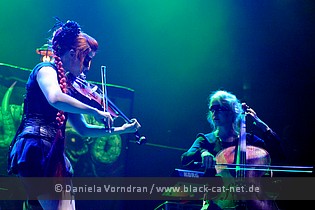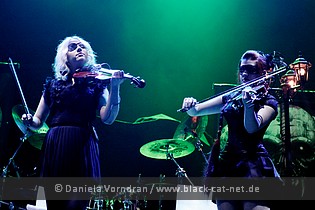 Music & Performance
It was very early, just 19:00, when the four girls of EKLIPSE entered the stage. There was no much room since already the NIGHTWISH and BATTLE BEATS equipment was built up. As own decoration, the band had some lanterns on stage, taking care for a cosy mood. As APOCALYPTICA are playing heavy music on cellos, EKLIPSE were taking care of the more poppier side of music, interpreting mostly mainstream songs with their classic instruments. So we heard i.e. HURTS' 'Wonderful Life', LADY GAGA's 'Paparazzi' or COLDPLAY's 'Clocks'. Illuminated quite darkly, the girls were an eye catcher anyway. Though I think the presented music was too soft for the Metal audience.

Rating
Music: 7
Performance: 6
Sound: 7
Light: 6
Total: 6.5 / 10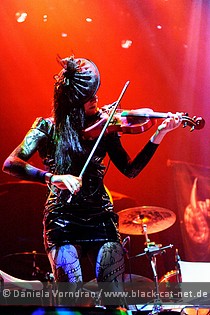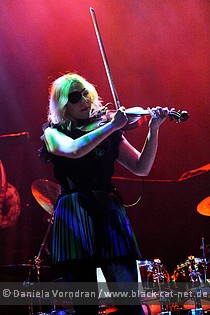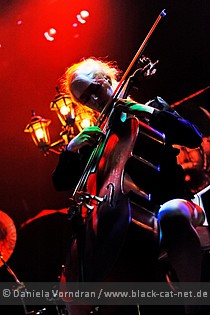 Battle Beast

BATTLE BEAST, hailing from Southern Finland, were born in 2009 and since have garnered considerable interest in the Metal scene already with appearance at last year's Wacken Open Air. The band represents traditional Heavy Metal sounds with crunching riffs, high screams, blistering solos and powerful choruses. After releasing the album in Finland only, the band has released its debut album 'Steel' via Nuclear Blast also world-wide. BATTLE BEAST is Nitte Valo (lead vocals), Anton Kabanen (guitar, backing vocals), Eero Sipilä (bass, backing vocals), Janne Björkroth (keys, arrangements, backing vocals), Juuso Soinio (guitar) and Pyry Vikki (drums). http://www.battlebeast.fi / https://www.facebook.com/battlebeastofficial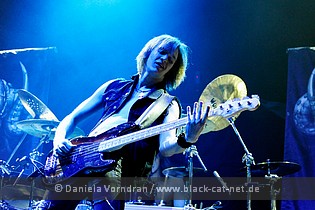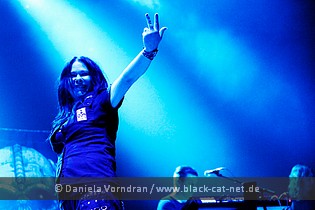 Music & Performance
It was not long ago I saw BATTLE BEAST already, it was in a small club in front of about 100 people. Today, they rocked the big stage in a hall for several thousands, entering the stage not even 10 minutes after EKLIPSE finished. And let me tell you, the made a good job warming up the audience for NIGHTWISH. As far as I can say, the band now was much more confident on stage than during the last show I've seen. Having just released the debut album, the five guys together with front woman Nitte presented songs from that album only, starting with 'Justice and Metal' and having the audience on their side from the very start. Usually when you hear "Female fronted metal band" it is something like Symphonic Metal. Not with BATTLE BEAST! They present classic 80s Metal with a lot of vocal power… and of course a lot of posing. Singer Nitte furthermore does a great job involving the audience, making them scream "hey, hey" and rising their devil horns into the air. Live on stage, they show how they rock!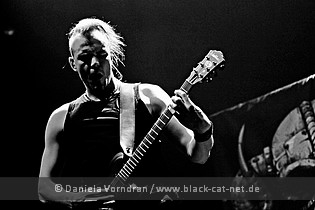 Setlist
01. Justice And Metal
02. Armageddon Clan
03. Cyberspace
04. Steel
05. Iron Hand
06. Victory
07. Enter The Metal World
08. Show Me How To Die

Rating
Music: 7
Performance: 9
Sound: 8
Light: 8
Total: 8 / 10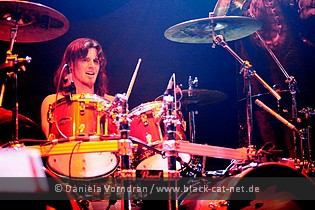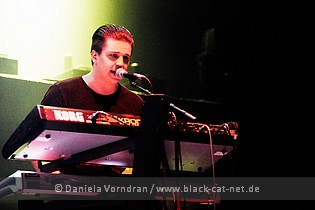 Nightwish

NIGHTWISH is a Finnish symphonic/power metal band, formed in 1996 in the town of Kitee, Finland. Although the band has been prominent in their home country since the release of their first single, 'The Carpenter' (1997) and debut album 'Angels Fall First', they did not achieve worldwide fame until the release of the albums 'Oceanborn' and 'Wishmaster', which were released in 1998 and 2000 respectively. Their 2004 album 'Once' led to NIGHTWISH video clips being shown on MTV in the United States and inclusion of their music in U.S. movie soundtracks. After the recording of the live DVD 'End of an Era' in Helsinki on 21 October 2005, the four other members of NIGHTWISH decided that it was best to continue NIGHTWISH without Tarja Turunen, a feeling they expressed through an open letter which was given to Turunen by Tuomas Holopainen after the concert, and afterwards posted on the band's website. In May 2007, Anette Olzon was revealed as Tarja Turunen's replacement, and in the autumn 2007, the band released a new album 'Dark Passion Play' for which still the band is currently touring. The latest album 'Imaginaerum', a concept album, was released in December 2011 via Nuclear Blast. Current members are Anette Olzon (vocals), Tuomas Holopainen (keyboards, vocals), Erno "Emppu" Vuorinen (lead guitar), Marko "Marco" Hietala (bass, vocals) and Jukka "Julius" Nevalainen (drums). http://www.nightwish.com / http://www.myspace.com/nightwish / https://www.facebook.com/nightwish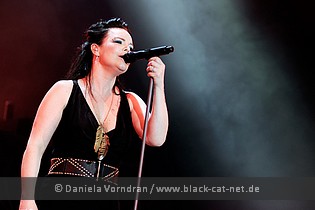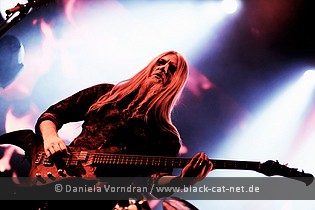 Music & Performance
After three years, NIGHTWISH are back on German stages, opening the German leg of their tour in Düsseldorf having a new album, 'Imaginaerum' in stock, the first one that was really written for Anette's voice. In the course of the show, nearly all songs from that album would be played. Thinking of NIGHTWISH shows, you always think big… great stage setting and lots of fire and pyros. Also this time you were not disappointed, even though you might have expected more metal power on stage than you really got… what surely, at least in my opinion, was not a bad thing. But back to the show… NIGHTWISH like it dramatic, before the show started, the stage was covered with a curtain having a lot of white stripes of cloth on it. When the intro 'Taikatalvi' started, the stage remained covered and wind started to blow, moving those white cloth towards the audience. Was a wonderful effect. With the beginning of 'Storytime', the curtain finally fell down and people had free view into the stage, having a big LED screen in the back where several videos were shown, for the 'Imaginaerum' they were tied close to the fantastic content of the songs. But no rest for anyone, 'Storytime' had more than just the great stage to offer, but also a lot of fire fountains, heating up the hall.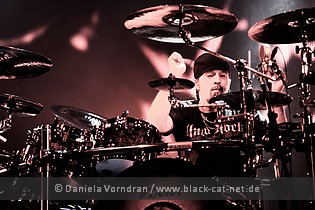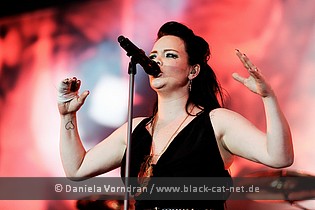 Following those new songs were two older classics, namely 'Wish I Had an Angel' and 'Amaranth'. For those older songs you still recognized that Anette could not compare with Tarja's voice. But with a lot of power and visible fun on stage she could make up for this… not even a finger, broken during the gig in Copenhagen, made her holding back. For the new songs, like following 'Scaretale', again with lots of fire and smoke fountains, her vocal performance was much better and she could really show what she's able to do. With 'Slow, Love, Slow', the speed was taken away and Anette took place on a bar chair, gently intonating that song. Lots of mobile phone displays and lighter were illuminating the hall. Wonderful view! For the next few songs, starting with new 'I Want my Tears back', the band invited a guest musician onto stage: English composer and multi-instrumentalist Troy Donockley, playing uillean pipes and taking care for some kind of Celtic feel. During the concert were more calmer moments. For 'Nemo' and 'Last of the Wilds', Jukka came down from his drum podium to play percussions on a wooden box, while the rest of the band presented the songs acoustically. As a visual highlight accompanying the screens, you had also a rain of glitter coming down.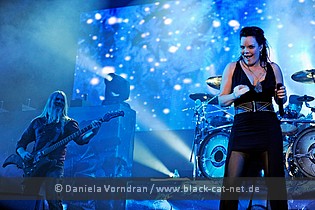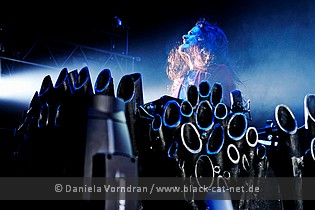 But enough of the calm moments, it was time to bang your head again, and 'Ghost River' was a good moment to do so. With one of the classics, Gary Moore cover 'Over the Hills and Far Away', the band left the stage. But right, that was not all yet. With 'Finlandia' and two more new songs, the band came back for the great final. And what a final it was! During 'Last Ride of the Day' pyros were exploding everywhere, there was lots of fire and smoke. And you got huge confetti fountain coming out off two canons built up in front of stage. Fantastic! With instrumental outro 'Imaginaerum', NIGHTWISH bet farewell. You may wonder why hits such as 'Wishmaster' were not taken into the setlist, but relying more on the new stuff and making the whole show a concept show accompanying the new album ,was surely the better choice. So, Anette vocally really could show her talent and in my opinion she also improved regarding the older songs. Great show anyway!

Setlist
01. Intro: Taikatalvi
02. Storytime
03. Wish I Had an Angel
04. Amaranth
05. Scaretale
06. Slow, Love, Slow
07. I Want My Tears Back (with Troy Donockley)
08. Come Cover Me (with Troy Donockley)
09. The Crow, the Owl and the Dove (with Troy Donockley)
10. The Islander (with Troy Donockley)
11. Nemo (with Troy Donockley) (acoustic)
12. Last of the Wilds (with Troy Donockley) (acoustic)
13. Planet Hell (With samples of "Stargazers", …)
14. Ghost River
15. Dead to the World
16. Over the Hills and Far Away (Gary Moore cover) (with Troy Donockley)
---
17. Finlandia (Jean Sibelius cover) (with Troy Donockley)
18. Song of Myself
19. Last Ride of the Day
20. Outro: Imaginaerum

Rating
Music: 9
Performance: 10
Sound: 9
Light: 10
Total: 9.5 / 10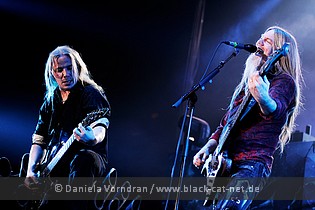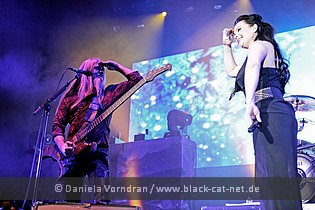 All pictures by Daniela Vorndran (http://www.vorndranphotography.com / http://www.black-cat-net.de/ / http://www.myspace.com/vorndranphotography / http://www.facebook.com/blackcatnet)