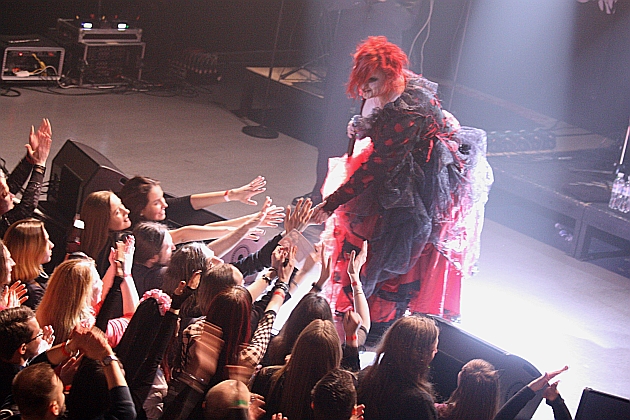 Club Sentrum, Kiev, Ukraine
8th April 2017
L'Âme Immortelle & Aghiazma

One of the most successful and professional bands of the "dark scene", "immortal" and talented L'ÂME IMMORTELLE, visited Kiev on April 8th, 2017, for a concert. According to the vocalist and the founder of the band, Thomas Rainer, he was very glad to return to Ukraine with a concert after his last visit with NACHTMAHR to Kiev within the framework of the festival "Children of the Night" (http://detinochi.com) and this time to the members of LAI in closer touch with the city and people.
On the eve of the concert in Sentrum, the musicians had a city tour around Kiev, ate Ukrainian national dishes and talked a lot with friends of the band and fans. So emotionally and morally, I think it was a good ground for a great and energetic show. At this time, supporting band AGHIAZMA (https://www.facebook.com/aghiazma) was warming up the audience. The band is now especially running in Ukrainian music circles and not so long ago took part in the national selection for Eurovision 2017 taking place in Ukraine, and played their first big solo concert in Kiev club Monte Ray Live Stage. One of the band's songs was performed by Kora together with Dmitry, vocalist of the band SINOPTIK which was also an unexpected and pleasant surprise.
LAI presented to the Kiev audience a concert program with the main theme being dedicated to the 20th anniversary of the band, which was celebrated in 2016, and gave fans the opportunity to travel through the history of the band. You could hear songs from all the albums of L'ÂME IMMORTELLE, including such hits as 'Life will never be the same again', 'Stumme Schreie', 'Phönix', 'Fallen Angel', 'Gefallen', and '5 Jahre'. The audience greeted the artists warmly, sang along with Sonja and danced to favourite tracks. Sonja's voice is simply mind-bending. Thomas lights as always and turns the crowd. Moreover, I am generally surprised at what a great charisma he has, in order to the fact that around him are always so many different people. In a sense it was an evening of nostalgia, and in some sort of summing up and preparing fans for a new phase in the band's history. After all, now the musicians are recording actively a new album in the studio. And according to Sonja, the demos from the new album are the best that she ever received from Thomas.
On this basis, we still hope that L'ÂME IMMORTELLE will not forget us and will come to Kiev in the near future again with a new album and a new concert program. And we are confident that at the concert, there will be even more enthusiastic fans, drive, emotions, moments for memories, new connections. It is not just the band that came with the concert, they are our good friends. And when friends go way, it is always sad. Let's not stop dreaming?
Setlist

01. Life will never be the same again
02. Stumme Schreie
03. Phönix
04. Drown them
05. Aus den Ruinen
06. Tiefster winter
07. Ich fang dich auf
08. Judgement
09. Bitterkeit
10. Changes
11. Fallen Angel
12. Gefallen
13. Wie Tränen im Regen
14. Ich gab dir alles
15. Love is Lost
16. Requiem
17. Einsamkeit
---
18. Eye of the storm
19. Es tut mir leid
20. 5 Jahre
All pictures by Iryna Kalenska
The Russian version the article can be found at https://gothic.com.ua/Events/Reportages/3555.html