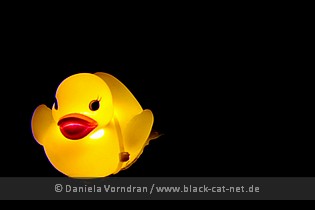 Matrix, Bochum, Germany
28th March 2013
Stratovarius, Amaranthe, Seven Kingdoms

After STRATOVARIUS had unleashed their new album 'Nemesis' just recently, a tour was the next natural move to present the new stuff live properly. STRATOVARIUS called and a huge bunch of people followed the call to the Matrix club in Bochum to see STRATOVARIUS, AMARANTHE and SEVEN KINGDOMS.



Seven Kingdoms

SEVEN KINGDOMS of the US went from being one amongst many underground bands to being a well-recognized outfit. Their opening slot for BLIND GUARDIAN on their 2010 might be the impetus for that. The band since its inception has released three albums. 'The Fire Is Mine' is the newest one, out since 2012. SEVEN KINGDOMS is Sabrina Valentine (vocals), Camden Cruz (guitars), Kevin Byrd (guitars), Keith Byrd (drums) and Aaron Sluss (bass). http://www.sevenkingdoms.net/ / http://www.facebook.com/SevenKingdomsOfficial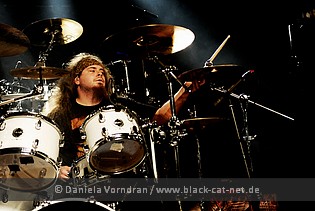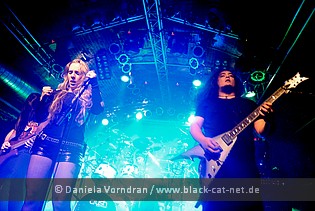 Music & Performance
SEVEN KINGDOMS were to open the evening here and entered the stage to a full house in anticipation for what is to come next. Well, I'm usually not into citing press releases but thrash/power metal attack hits it quite well indeed. Where most of the bands in the genre would use at least growls or screams, SEVEN KINGDOMS have Sabrina Valentine, adding a clean and powerful vocal foundation. Initially, the crowd needed some getting used to. When they picked up the flow then, everyone was in for a little crowd participation. All in all, it was a solid performance. The sound could use some adjusting though. It was very messy, probably due to lack of optimal mixing.

Setlist
01. After The Fall
02. Flame of Olympus
03. Fragile Minds Collapse
04. King in the North
05. Into the Darkness

Rating
Music: 6
Performance: 7
Sound: 6
Light: 7
Total: 6.5 / 10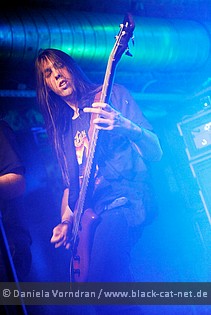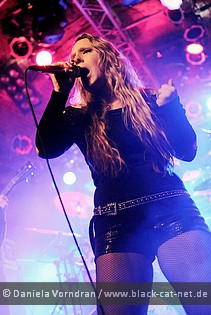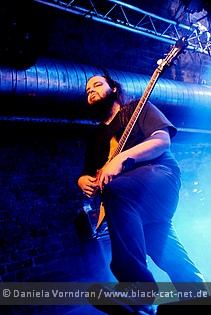 Amaranthe

AMARANTHE is a Swedish-Danish Modern Melodic Metal band which was founded in 2008. The band is a side project of guitarist Olof Morck who is also known for being the guitarist of DRAGONLAND and DARKAGE. The band has released their debut album which is called 'Amaranthe' in 2011. In spring of the same year, they already were on European tour together with KAMELOT and EVERGREY in support of the album. Following a period of touring and working on new material, the sophomore 'Nexus' dropped just a week back. AMARANTHE is Elize Ryd (clean female vocals), Jake E (clean male vocals), Andreas Solveström (harsh vocals), Olof Mörck (guitar & keys), Morten Løwe Sørensen (drums) and Johan Andreassen (bass). http://www.amaranthe.se/ / http://www.facebook.com/AmarantheBand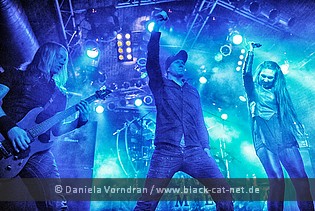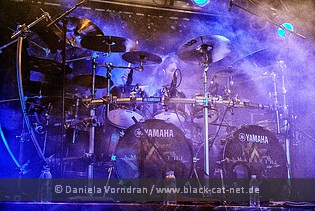 Music & Performance
AMARANTHE seemed to have quite a following already while I first heard the name just recently for the first time. Well, to a movie introduction melody the band was entering to a deafening applause already to start their set with 'Invincible'. AMARATHE, for those who haven't had the pleasure as of yet, have a special feature. They're having three vocalists on stage for clean female, male, and harsh vocals, which makes for a very interesting game of contrasts and works quite well in the context of metal coupled with glitchy electronics and standard rock influences. The sound was definitely big, that's for sure. The audience was into it right from the start and even though it wouldn't have been necessary to do so, the encouragement of the crowd was amongst others an essential part of the show. Following 'Infinity', Mr. Sørensen could show-off his drumming skills to great acclaim.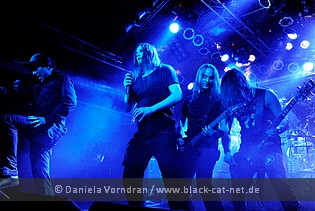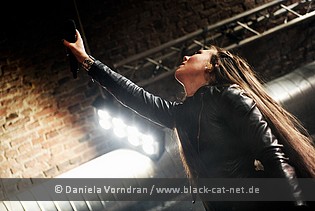 The improvisations bled right into the next track 'Burn With Me'. That was just halfway through a set that'd be fit for a headliner, including a two-piece encore that wrapped an explosive show.

Setlist
01. Invincible
02. Leave Everything Behind
03. 1.000.000 Lightyears
04. Into The Maze
05. Serendipity
06. My Transition
07. Infinity
08. Drum Solo
09. Burn With Me
10. Mechanical Illusion
11. Rain
12. The Nexus
13. Afterlife
14. Amaranthine
15. Call Out My Name
---
16. Automatic
17. Hunger

Rating
Music: 7
Performance: 7
Sound: 7
Light: 7
Total: 7 / 10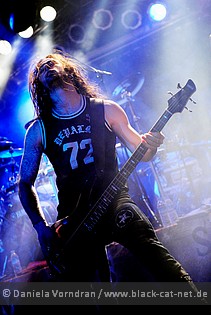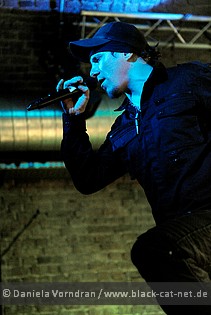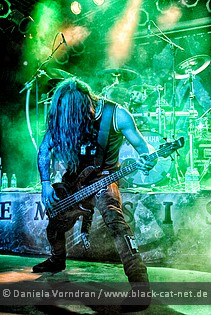 Stratovarius

STRATOVARIUS is a Power Metal band hailing from Finland. The band name derives from a fusion of the Latinized last name of violin crafter Antonio Stradivari and the famous E-Guitar model Stratocoaster. It's a symbol for the combination of classical music with Metal you can find in many songs of this band. The band formed in 1984 and released their first demo recording 3 years later. Their music, initially inspired by such acts as OZZY OSBOURNE and BLACK SABBATH then developed to a more melodic and classically influenced sound which is the band's trademark until today. 13 successors would follow their debut 'Fright Night' from 1989. Their newest album, 'Nemesis', has been released in 2013. STRATOVARIUS is Timo Kotipelto (vocals), Jens Johansson (keyboards), Lauri Porra (bass), Matias Kupiainen (guitars) and Rolf Pilve (drums). http://www.stratovarius.com/ / http://www.facebook.com/stratovarius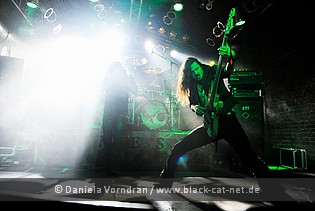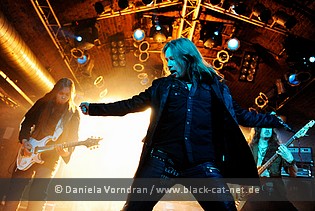 Music & Performance
So, we'd finally reached the point where the main act of the evening would be entering the stage. Some just noticed that later than others and thus were in a rush to get to their "seats" again. STRATOVARIUS opted for an impulsive, epic and powerful start of the show with 'Unbreakable' and as soon as the rhythm kicked in, the nodding and head banging did as well. 'Speed Of Light' true to its name got one better, mostly in terms of momentum with Timo's voice soaring over and dominating everything at all times. Considering, as he mentioned, they'd to cancel a previous show duo to him being unable to sing, he sounded awfully well and flawless here. 'Halcyon Days', also off the new record 'Nemesis' continued to drive on the crowd with a mercilessly pounding rhythm section and a vocal performance that went straight from soft to an immensely powerful delivery. Now the band was taking their audience a few years back in time with 'Distant Skies'. Once again we were in for a drum solo that I liked a little more than the previous one: Also a bass solo was incorporated into the show. An instrument that is too often left by the wayside now got a proper showcase before the celebration could continue with 'Eagleheart'.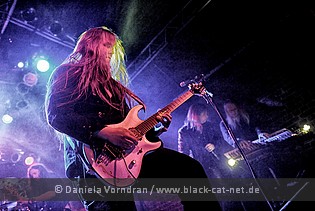 It was clear as crystal that after 'Black Diamond' an encore must be following, and it did with two more songs before the crowd was released into the cold night.

Setlist
01. Unbreakable
02. Speed Of Light
03. Halcyon Days
04. Distant Skies
05. Eternity
06. Drum Solo
07. Dragons
08. Fantasy
09. Bass Solo
10. Eagleheart
11. Black Diamond
---
12. Forever
13. Hunting High And Low

Rating
Music: 8
Performance: 8
Sound: 8
Light: 8
Total: 8 / 10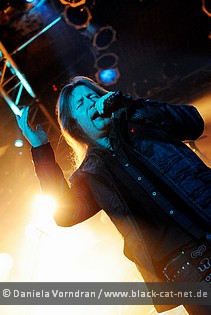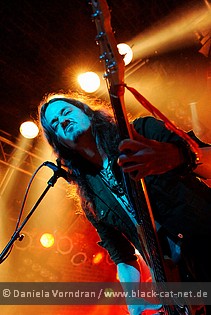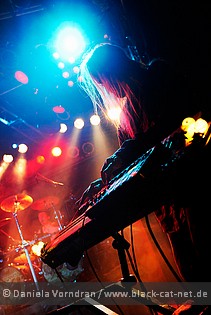 All pictures by Daniela Vorndran (http://www.vorndranphotography.com / http://www.black-cat-net.de/ / http://www.myspace.com/vorndranphotography / http://www.facebook.com/blackcatnet)