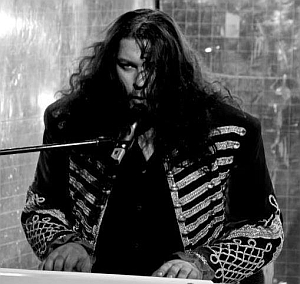 Interview with
Edward Krimm (lead vocal, piano, keyboards), Jaagup Tormis (drums, backing vocals), Valdur Viiklepp (bass, backing vocals), Kaur Garšnek (guitars) from The Princes


The most promising new band from Estonia, progressive rock band THE PRINCES, just a few months from the release of their debut album 'Stars', climbed to the same stage as legendary QUEEN on the 5th of June at Tallinn Lauluväljak! It can't get closer to the stars than that - except to become one themselves! Edward Krimm with his special charisma shines on the stage. THE PRINCES is definitely one of the bands whose live performance should be seen!
Reflections of Darkness [RoD]:
THE PRINCES! Thank you for taking time from your busy schedule! Did you sleep well? The whole event was a blast, the royal family at one place! How one feels to step in front of QUEEN?
Edward Krimm
[EK]:
It was a honour to share stage with the legends. These things happen only once in a lifetime, I mean, QUEEN and THE PRINCES performing on the same stage in Tallinn. What a beautiful day indeed!
Jaagup Tormis
[JT]:
"Just another day in the office" :) No, it was a night to remember indeed. For me there have been a few live performances like this, but QUEEN and THE PRINCES, it's priceless, fits like a glove! Wonderful to see a big crowd in front of you, it puts a big smile on your face and at the same time a big responsibility to perform flawlessly. I hope we did not disappoint.
Valdur Viiklepp
[VV]:
For me it was the first time to play in front of so many people, so of course I was nervous as hell. On the other hand we also had a task to perform - not to disappoint thousands of people, who came to see QUEEN.
Kaur Garšnek
[KG]:
It was definitely a great privilege and a dream come true. That being said, musicians should always give their best while giving a performance, so in that sense it was just a somewhat bigger concert and a welcome chance to promote our material to a larger audience, and to practice being real stars, of course.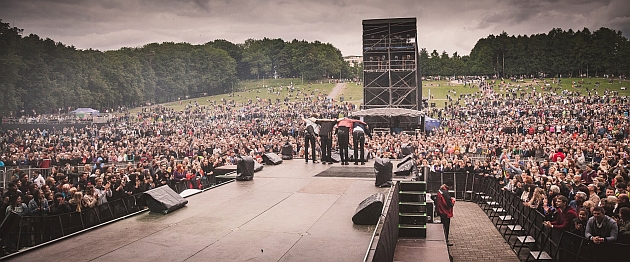 The Princes concert (support for Queen + Adam Lambert), 5th of June 2016, Tallinn Lauluväljak, Estonia . (Photo by: Maris Savik)
RoD:
It seems first track from your debut album 'Stars', 'I Want to Be Famous', came true very quick, so which song is the next to follow?
JT:
Famous? Haha... not yet! Some really refined work should be done on our part before that will happen. Hopefully there are some good marketing people who will give us a helping hand and a little push! Next song to follow? There are some really bad businesses in the world... One of them is war. I would like 'Stop This War' to come true on a massive scale.
EK:
Hopefully it's not going to be 'Last Sunrise'. 'Money ' would be just fine.
KG:
I wouldn't protest, if it was 'Money'... On the other hand, if one had to choose between 'Walking On High Heels' and 'Stop This War', then the last one seems to be the right choice.
VV:
Well I wouldn't say "came true very quick" For us it's still an on-going process. I mean we can still walk to the local groceries store without anyone recognizing us.
RoD:
Were there any unplanned situations that you can recall now and laugh?
EK:
Perhaps that guitar string? That was funny, but Kaur handled that situation very well. The whole act was shown on a big screen. So, everyone saw that.
KG:
Well, I broke my string in the last song, that was pretty hilarious... Actually the situation felt quite feverish at the time, but I guess it turned out OK, so it is definitely something to brag about later – messing up the performance like a boss while supporting QUEEN. The rest of the song was a big improvisational solo for me, since I couldn't play any riffs anymore. Also, there occurred a spontaneous jam session and a few other things, which weren't planned. So I guess the real funny thing is that you can plan the damn thing for several months and eventually still something happens that you weren't prepared for. But that comes with the territory.
VV:
In the fourth song we have a part where only the bass drum is kicking and we clap our hands together, after clapping when I grabbed my instrument, I couldn't feel my hands at all because due to adrenaline I was smacking them together as hard as I could.
JT:
The weather was a bit colder than expected and it made a difference, cold hands and cold metal...
RoD:
I was wondering, QUEEN saw your band name and knew immediately that's it, or what is the story behind the collaboration?

KG:
Basically we were offered as a local support group for QUEEN and they had to decide if they deemed us worthy, based on our debut album. Apparently they did, which was a pleasant surprise. But yes, I guess the name thing as well as stylistic similarities were helpful. When our debut album was released, there was an article about us in Estonian press, where we were introduced as "a band whose musical language resembles QUEEN ". Still, that is just one aspect of our music and if we were just a copy of a legendary rock band, we probably wouldn't have been chosen.
JT:
Kaur made all the points. I agree.
EK:
I think it's all about the music.
VV:
Somebody from QUEEN 's team had to agree with a proposal, hopefully the grandmasters took a peak into some of our tunes as well.
RoD:
It must have been exciting to do things for the first time, like a new band, debut album... What was on your mind when you were starting?

EK:
Well, I think I just wanted to write original music.
JT:
To make the music that we like and have no boundaries doing so. To express different feelings and states of mind without thinking if the end result displeases anyone or not.
KG:
When I had the luck to join THE PRINCES, the group was already functioning very well instrumentally and musically and had already caught my attention. And since I knew the other members quite well and had played in some bands with some of them and shared stage with others, it felt like a natural decision.
VV:
I was invited to join the group in 2012 after the former bassist had announced of quitting due to personal projects. As of a new band I happen to know all of the guys as well and I have played in the same group with Kaur for years.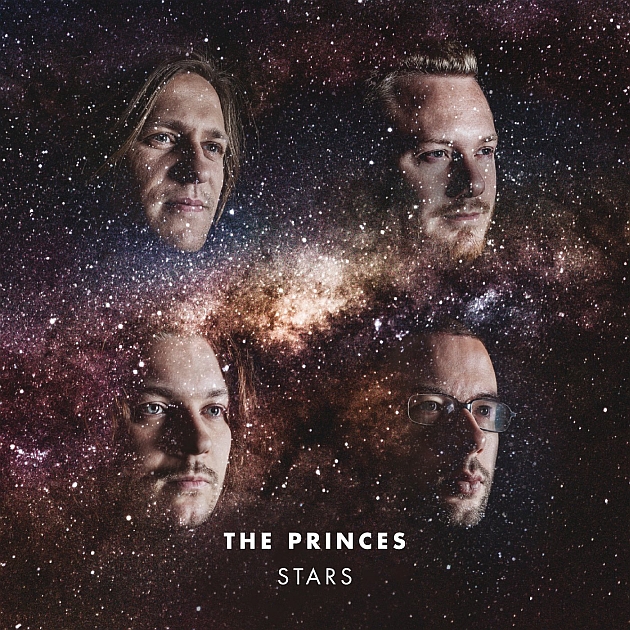 Album cover, The Princes debut album 'Stars', 2015
RoD:
THE PRINCES was formed in 2009, by Jaagup and Edward, if I am correct. When grandchild of a famous Estonian composer starts the progressive rock band with an opera singer, what genres mix should we expect to happen?
EK:
"Opera singer"? Hahaha… I'm not an opera singer, sometimes I pretend to be, but I'm just an entertainer. "What genres mix"? Result is on the album.
JT:
Well I don't think there is really any difference who the people are as long as they understand one another and have the same vision.
VV:
Never thought of it that way. We all have different musical backgrounds, though Ed has influenced our band the most. He is the one mixing it all up.
KG:
Symphonic prog rock opera? Not gonna happen, though :)
RoD:
In January 2011, THE PRINCES had first song released. In June 2013, VON HERTZEN BROTHERS chose THE PRINCES to warm up Tallinn for their 'Nine Lives' album promotion. In November 2015, THE PRINCES released debut album 'Stars'... and now in June 2016 sharing the stage with QUEEN + ADAM LAMBERT European tour! Seems like a piece of cake! Give us a secret, are you wearing unpaired socks for a luck or underwear inside out? How do you manage stars to be inclined to THE PRINCES so much?
VV
:
It's all about the music, well maybe also Ed's theatrical character on stage - everyone seems to be delighted at it.
KG
:
Actually, I was probably wearing unpaired socks, since they're all black or gray and get mixed up. There are different possible recipes for success, mixing up your socks being one of them. We have chosen to do what feels right to us, to choose and mix up the musical modalities we like and feel inspired by and not to be overly obsessive about public appearances or surfing on the right wave. I feel very strongly that you have to believe in the music you make, otherwise it's just a job, not worse or better than any other, but certainly nothing special. That doesn't mean that there's something wrong about trying to be accessible to everyone or doing commercial gigs. It's just a different thing.
JT
:
Put your heart into it! Imagine if we would quit our jobs and put all of our time into it as well.
RoD:
"...legs, long legs, so sexy legs / round ass, it turns me on / chastise me, as I'm your slave / I want more! one hit by... / turns me on!..." - lyrics from the song 'Out of the Closet'. That's hot! Who was in the closet?
VV:
I've got no idea.
KG:
Only Edward can answer that :)
JT:
We have explained it a few times already, but Edward will shine some light on that.
EK:
Hahaha, no one in the band. I got inspired by the British reality show. 'Out of the Closet' it's all about secret desires, fantasies and fetishes.
RoD:
All of you have the music background, what are the other bands you are playing/ you played with?
EK:
I have a solo project as well.
JT:
At the moment there is only SININE and some other MAUNO MEESIT projects, but there have been many (RECYCLE BIN, PEDIGREE, OSLO SKYLINE etc.) and there probably will be more projects coming in the future if I can manage to make time for them. I never say no to new and interesting challenges.
VV:
I'm currently gigging with IKEVALD RANNAP BAND and sometimes with MIHKEL RATT.
KG:
There have been many different groups, for me the most interesting, irritating and long lasting project has been KREATIIVMOOTOR. It's a crazy dada-techno-rock-impro-group, you can listen to it on Bandcamp, Spotify or wherever.
RoD:
What do you do when you do not play music?
KG:
I work in Klassikaraadio (Estonian Public Broadcasting) as a producer and sound engineer as well as an author for some radio shows, I have also worked as a music journalist and philosophy lector. So when I'm not playing music, I often find myself listening to or writing about music. Otherwise I try to keep physically active, do some reading and keep the perspective amidst the multitasking madness and social media attractions.
VV:
Eat, sleep would be probably the best answer, though one's gotta earn money as well.

JT:
Family, friends, work, other hobbies... classical answer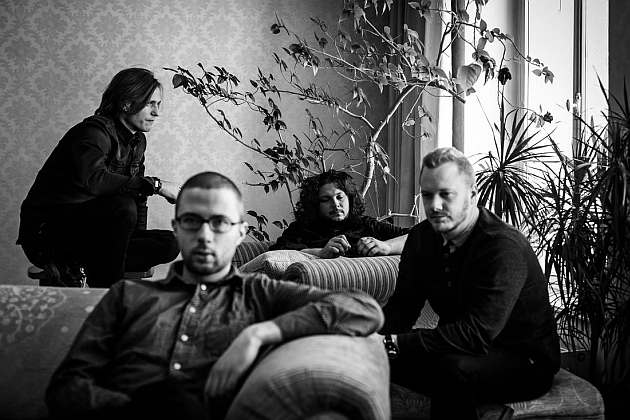 From the left: Valdur Viiklepp (bass, backing vocals); Kaur Garšnek (guitars); Edward Krimm (lead vocal, piano, keyboards); Jaagup Tormis (drums, backing vocals). (Photo by Heikki Leis)
RoD:
Life principles and favourite music albums?
JT:
Be honest and put your heart into it! Favourite albums? There are so many. I will leave the old classics out of it to keep it short. Random thoughts: TEXTURES 'Silhouettes', DREAM THEATER 'Scenes From a Memory', PANTERA 'Far Beyond Driven', GENESIS 'Selling England By The Pound', JEFF BECK 'Emotion & Commotion', KASHMIR 'Trespassers', OPETH 'Watershed', PORCUPINE TREE 'Fear of a Blank Planet', VAIKO EPLIK 'Varielu', AIDES 'Aides', VILLU VESKI & TIIT KALLUSTE 'Sounds of the Nordic Islands' etc.
VV:
Becoming a well-paid musician and to become more famous for our own music. As of albums my all-time favourite are RHCP 'Blood Sugar Sex Magik', BEARDFISH 'Mammoth', RIVAL SONS 'Great Western Valkyrie'.
KG:
Life principles? I guess being present would sound about right and not too pretentious, but I'm not sure it's enough, even though it's really not as easy or trivial as it sounds. As for sex, drugs and Rock'n'Roll, it all depends, which kind of sex, drugs or Rock'n'Roll we are talking about. As Ralph Waldo Emerson said: "Moderation in all things, especially moderation". Favourite albums? Five albums from the top of my head would be: JEFF BECK 'Blow By Blow', KRAAN 'Flyday', BRAND X 'Missing Period', TRICKY 'False Idols', MASSIVE ATTACK 'Mezzanine'.
RoD:
On your first world tour... who would be the support band?

EK:
When the day comes then I'll tell you.
KG:
MR BUNGLE. FAITH NO MORE would also be fine.
VV:
BLOODHOUND GANG
JT:
Whoever has the right attitude and some good shit to share with the world :)
RoD:
Plans for the summer and the rest of 2016?
EK:
We are working with new ideas.
KG:
We have some new ideas for the new album, it's time to head to the lab!
VV:
Writing new stuff, gigging as much as possible.
RoD:
When I think about Estonian music scene with lately gained world recognition, first two bands which drop on my mind are folk metal band METSATÖÖL and indie-rock band EWERT AND THE TWO DRAGONS. I see Estonian progressive rock band standing there soon as well ;)! Now you have task to do till the next interview!

KG:
Thanks and will do!
VV:
Consider it done. Thanks
EK:
Thanks.
JT:
Thank you.

RoD:
I wish you all the best!
Band page:
http://www.theprincesband.com
/
https://theprinces.bandcamp.com
/
https://soundcloud.com/theprinces
Intro Picture: Edward Krimm, scene from the video