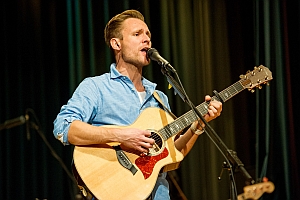 Interview with
Sebastian Niklaus (singer/ songwriter)


Even being on vacation from any music related subjects, I can't miss a chance to talk to talented musicians, asking a few questions about their work, creative process, concerts and what now. And another "victim" of mine there became German musician SEBASTIAN NIKLAUS whose single 'Freunde' (friends) was released about a month ago. The other interesting information about the artist can be found below, so please read and enjoy!
Reflections of Darkness [RoD]:
Why did you decide to become a musician? What or who influenced you?
Sebastian Niklaus [SN]:
It all began with my technical interest in how songs were actually recorded. After work I went to a store and bought an audio interface and a microphone. Then I started to record my first song idea that I had in mind for some time. I really decided to become a professional musician about three years after I started writing songs after all. By that time I realized that I had to take this step to make it work, to be able to travel and to do all the necessary phone calls and organizational things.
RoD:
When you played the guitar for the first time? And why did you also choose the ukulele?
SN:
My parents put me in guitar classes when I was in first grade. To be honest, it didn't work out well with the classical and Spanish guitar lessons. It all changed when I started going to my new teacher when I was around 15. He taught me some electrical guitar first and then I fell in love with the acoustic steel string guitar. The ukulele joined 3-4 years ago from today, I was just curious how to play it. Today I even work together with the brand I bought my ukulele from (Ortega Guitars).
RoD:
Do you have a music education?
SN:
I almost continuously went to guitar lessons from the first grade on once a week. When I finished my studies (electrical engineering) and got my first job I also went to vocal lessons once a week because I wanted to make some progress with singing. So altogether now around eight years of the vocal lessons. From time to time I join songwriter classes, too.
RoD:
Your new single 'Freunde' came out not so long ago. How do you feel now when the work is done? And did you enjoy the recording process?
SN:
I am really happy that the record is done! It is always a big thing to get one or even more songs out. There are so many aspects to take care of, first to get the songs and the lyrics the way you want them, to find a studio, musicians and maybe a producer. In addition to the audio you need a cover artwork or photograph. Formal things like GEMA licensing, distribution contracts… and so on. I usually like to do a music video, too. So really lots of organization.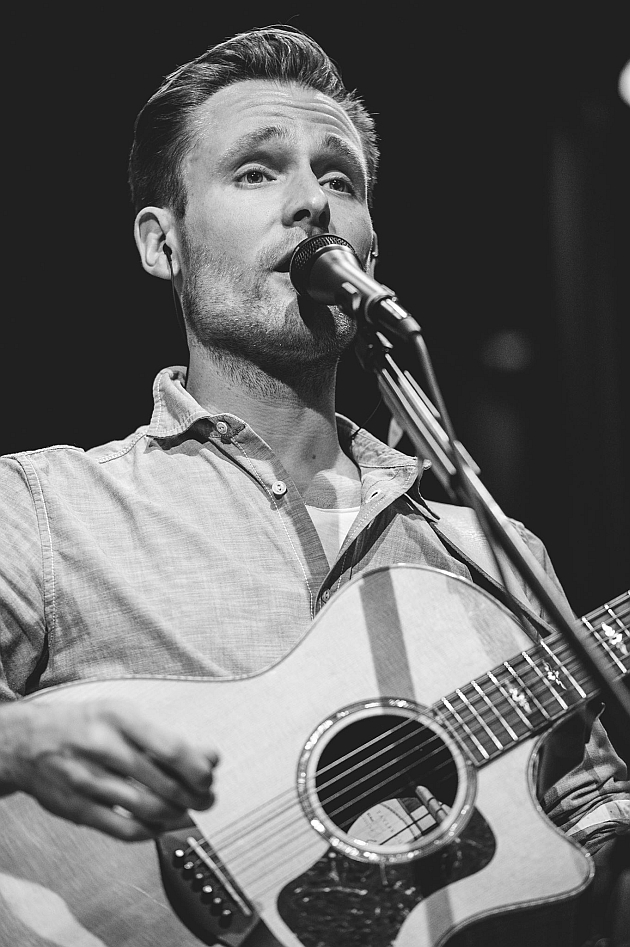 RoD:
Could you please tell a bit about your album 'Ich denk Musik', its concept? What was the source of inspiration for it?
SN:
The catchphrase 'Ich denk Musik' (I Think Music) came up when I was still working nine to five in an engineering company. I said to myself:"Sebastian, there is one thing on your mind all the time. It is music". The song is like a hymn to music, with a portion of humour. The other songs I put on my first album were songs that I had written to that point. I chose ten of them and in addition I put my autobiographic song 'Elektroingenieur' (Electrical Engineer) on it. It is pretty funny. But there are other songs with serious topics that bothered me, too. Like 'Leichter' about a struggling relationship and whether it is good to keep it up or to split up when it is not working anymore. Or 'Blick aus dem Fenster' about how the society becoming really rude in the streets and in business as well.
RoD:
You've released three singles recently. When we should expect a new full-length record? Do you have an idea for the next album already? What are your creative plans for this year?
SN:
I have plans for further songs that I cannot specify here yet. But there is a big advantage in releasing singles with maybe one to three songs. You always develop, as well as in life as in the production process and as an artist. By releasing singles you can put all of that on each record. Plus it is cheaper, it takes a lot of money to release an album with ten or twelve songs. A lot more studio time and musicians working on it.
RoD:
How much time do you need to write a song? And what comes first, music or lyrics?
SN:
It really depended in the past time, from some hours to several month that I worked on songs. Most of the time there is a certain topic, a single word or a catchphrase that comes into my mind. It almost every time came with a melody, too.
RoD:
You shared the stage with different great musicians. With whom you played the most memorable show?
SN:
I really enjoyed touring with the Berlin-based band STAUBKIND, it was my first tour through Germany as a support act. I shared the stage with singer LOUIS MANKE later, when I invited him and other great singers like EDO ZANKI (worked with TINA TURNER and HERBERT GROENEMEYER) to a concert with my band and friends.
RoD:
Are there any bands/ artists you want to tour with?
SN:
I would really like to play or write with BOSSE someday. I also like to do some electronic music vocal features, OLIVER HELDENS for example. One is allowed to dream ;-)
RoD:
Are you in a constant creative search for new ideas, melodies?
SN:
I always take notes, collect ideas or sing and hum into my audio recorder. To get new ideas I try to go out and live, meet new people, travel and observe. And I do some meditation from time to time to rest. The business part is big when you do music.
RoD:
What music do you prefer to listen to?
SN:
I like to listen to music in my car, right now for example songs by REVOLVERHELD, BOSSE and ED SHEERAN. I also like LYLE LOVETT, FOO FIGHTERS and some electronic artists. But I am pretty open-minded.
RoD:
Do you remember your very first live performance? How did you feel that time?
SN:
It was an open stage in Karlsruhe, I was really excited and nervous. It is hard not to forget the lyrics, keep the tempo of the song and also perform a bit… Nowadays I am also a bit nervous but in a professional way plus I got a lot of experience now. But I still learn every time I get on stage, too.
RoD:
If you had one word to describe your life at the moment what would it be?
SN:
Music.
RoD:
What is your biggest achievement by now?
SN:
Writing a song, organizing the recording and release and promoting it into radio stations all over Germany. The first time it happened with 'In mir', a song about the feeling when you've just fallen in love. EDO ZANKI produced that song with me. I am really, really thankful for all the support I got from radio and press. And for sure I am thankful for all the people out there supporting me by coming to my shows, recommending me to clubs or city festivals or asking radio stations to play my songs.
RoD:
What do you like to do when you are not making music or touring? What are you hobbies?
SN:
I am really into cycling and running. I love going to the movies with my friends or go out and try exotic meals. I enjoy reading, talks late at night and a lot of things… :)
RoD:
Thank you very much for your time. In closing could you please tell a few words to our readers?
SN:
Thank you for reading! If you like what I do please support me by buying my CDs, coming to my shows or just sharing my website or YouTube clips online. I am really happy with things as they are but becoming known by more people essentially helps keeping up with my music. All the best, Sebastian.
More about this artist:
https://www.facebook.com/sebastianniklaus/
Photos by Stephan Kaminski Fotografie
See also (all categories):