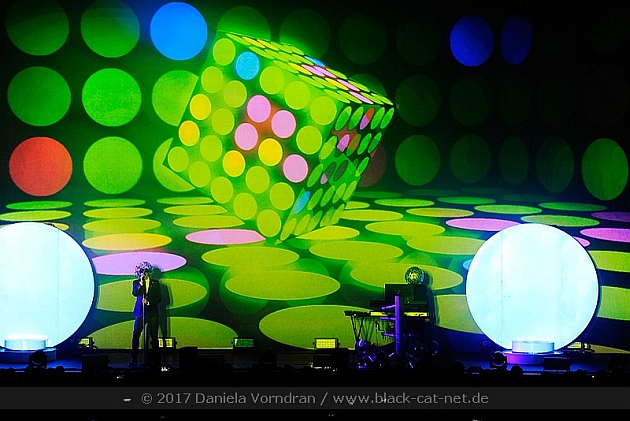 RuhrCongress, Bochum, Germany
19th July 2017
Pet Shop Boys

On the 17th of July, the PET SHOP BOYS brought their extravaganza of a show to the RuhrCongress in Bochum in support of their latest record 'Super' and their upcoming release anthology 'Nightlife / Release / Fundamental' - 'Further Listening' out the 28th of July.
PET SHOP BOYS
have been making music since 1981, my first experience with their music was the first single that was played at an almost all ages dance club I frequented, so good I went out the next day and bought the 12" that contained 'West End Girls' with B-Sides 'One More Chance' and 'Opportunities (let's make lots of money)' I wore the record out. Thirteen albums and a plethora of single later PET SHOP BOYS are the "U2 of Synth Pop" in my mind and amazingly this was the first time I was to see them live! I must admit I wasn't expecting much, I mean from all the videos seemed the band on stage was, hmmm, a bit static but I had to go and see for myself and I am very glad I did!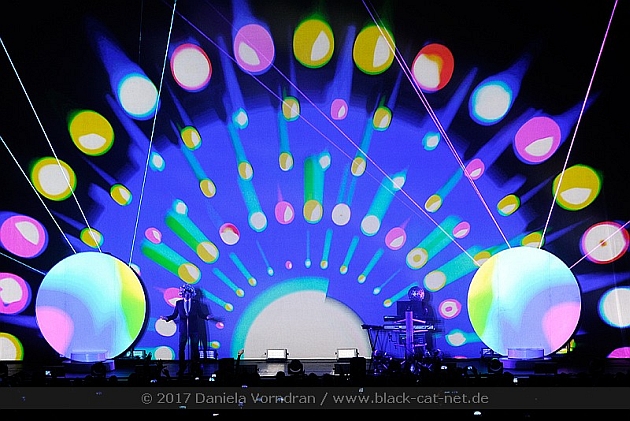 There was no opening act. I entered the RuhrCongress in Bochum for the first time and found my seat soon after the house lights dimmed to intro and a giant backdrop was lit up by giant projectors set up at the front of house. Both Neal Tennent & Chris Lowe entered the stage on two rotating set pieces on both sides of stage wearing helmets (a theme cared throughout the night) and took station on their spots to the refrains of 'Inner Sanctum'. Then directly into 'Opportunities (let's Make lots of Money)' all the while bathed in an epic graphics blazoned on the giant backdrop. As each hit came the stage became more alive. Lasers… a lot of lasers… were added to add even more impact to the already stunning visuals. At this point it became a light show with a PET SHOP BOYS soundtrack.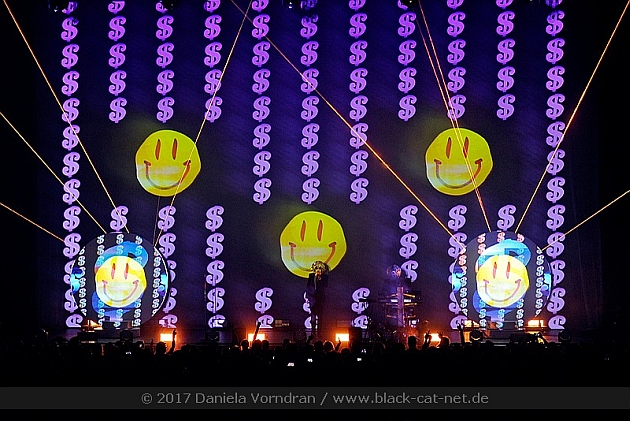 Just when I had gotten use to the look presented, the giant back drop fell to expose even more lights on the stage more lasers and a backing band. While a lot of what was going on stage was backing track The vocals were live and they were spot on with a live flavour, Neil interacted with the crowd all be it not so often was genuine and entertaining, Chris Lowe held station behind his three-tier keyboard stand and the hits kept coming. The lights, lasers & video meshed together beautifully. The sound too was on par with the light show in quality and it all became a sensory overload in a grand way. And then to the reprise of 'The Pop Kids' it was over. I sat there taking in all I had seen and heard and had to laugh as the show blew my expectations out of the water. Simply amazing! If you get a chance to see this show all I can say is go even if you like the PET SHOP BOYS only a little since it's an awesome show!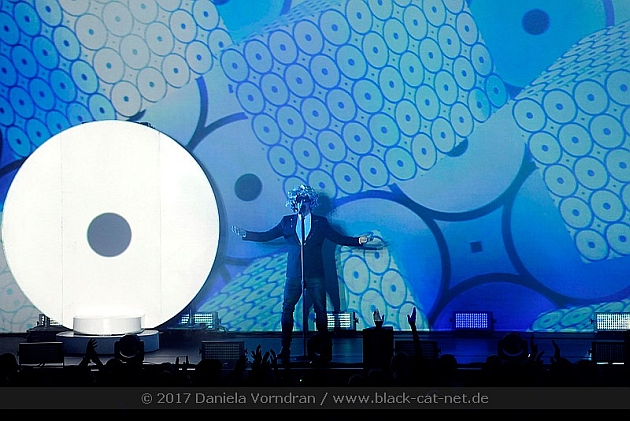 Setlist

01. Inner Sanctum
02. Opportunities (let's Make lots of Money)
03. The Pop Kids
04. In the Night
05. Burn
06. Love is a Bourgeois Construct
07. New York City Boy
08. Se a Vida É (That's the way Life is)
09. Love Comes Quickly
10. Love etc.
11. The Dictator Decides
12. Inside a Dream
13. West End Girls
14. Winner
15. Home & Dry
16. Vocal
17. The Sodom & Gomorrah Show
18. It's a Sin
19. Left to My Own Devices
20. Go West (Village People Cover)
---
21. Domino Dancing
22. Always on my Mind (Brenda Lee Cover)
23. The Pop Kids (reprise)
Rating

Music: 9
Performance: 10
Sound: 10
Light: 10+
Total: 10 / 10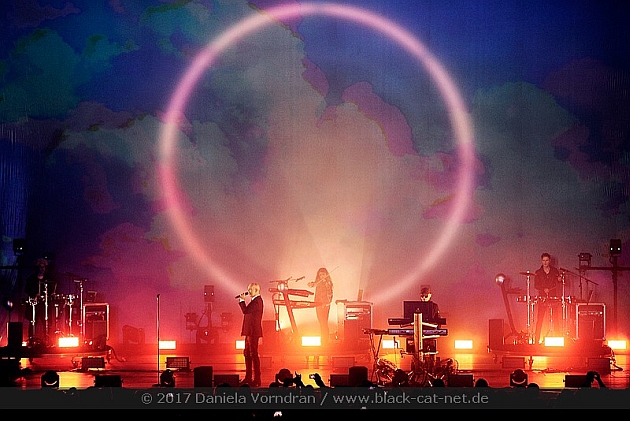 All pictures by Daniela Vorndran (
http://www.vorndranphotography.com
/
http://www.facebook.com/blackcatnet
)
See also (all categories):