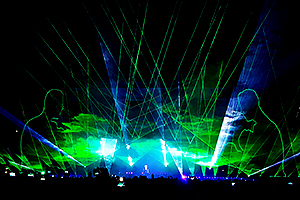 Esprit Arena, Düsseldorf, Germany
28th June 2017
Robbie Williams & Erasure

ROBBIE WILLIAMS
landed in Dusseldorf two days after kicking off his tour in Dresden. "
The Heavy Entertainment Show
" took place at the Esprit Arena on a sold out evening. The weather forecast wasn't very promising therefore the organizers decided to put the retractable roof, which was good as on these long summer days concerts start before it gets dark, therefore visuals and lighting aren't so well appreciated. To the delight of many the preliminary program was already very prominent with the great
ERASURE
as very special guests.
Erasure

ERASURE, the legendary British synth pop duo of Andy Bell (voice) and Vince Clarke (keyboards) has just released their seventeenth studio album 'World Be Gone'. The origin of this band is back in 1985. Vince Clarke, a founding member of
DEPECHE MODE
and the sole writer of their first three singles, including the breakthrough Top 10 hit 'Just Can't Get Enough' left the band in 1981 to form
YAZOO
with
Alison Moyet
releasing two hit albums between 1982 and 1983. He also formed other projects before publishing an advertisement in Melody Maker which attracted Andy Bell. From their first single ERASURE was a success which peak was between the mid-and late eighties. http://www.erasureinfo.com / https://www.facebook.com/erasureinfo/
Music & Performance

Erasure entered the stage at 19:30. With their album 'World Be Gone' released in mid-May one would have expected from the duo a presentation of their new material, but it wasn't. With the exception of their new single 'Love You To The Sky' their repertoire covered their greatest hits between 1986 and 1991. That's pretty in line with the 'Heavy Entertainment' concept. In a golden suit, singer Andy Bell dazzled the audience on his usual colourful attitude. Soon and after some struggles he got rid of his jacket. With Andy in glitter pants and white T-Shirt the show started with 'Victim of love' followed by 'Drama!'. Suddenly Andy turned to the audience with sympathetic announcements in broken German. The public who mostly came for the main act responded very enthusiastic to the rush of synth pop megahits. But there was more to come. From 'Oh L'Amour' to 'Sometimes' the mood went into dancing. A highlight of the performance was Andy's farewell saying 'I hope you have enjoyed us a little bit' and the closure was 'A Little Respect' with loud cheering of the public.
Setlist

01. Victim of Love
02. Drama!
03. Love You to the Sky
04. Oh L'Amour
05. Chorus
06. Blue Savannah
07. Love to Hate You
08. Sometimes
09. Stop!
10. Chains of Love
11. A Little Respect
Rating

Music: 8
Performance: 8
Sound: 8
Light: 8
Total: 8 / 10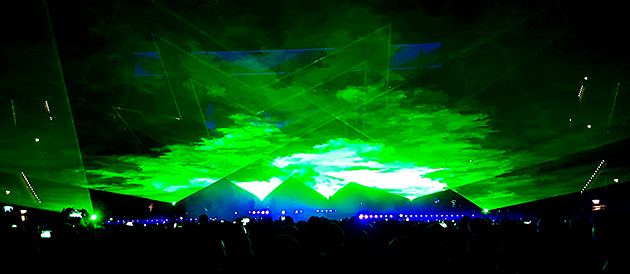 Robbie Williams

There is only one pop star who can call his new album without batting 'The Heavy Entertainment Show'. ROBBIE WILLIAMS, is one of the most successful solo artists in the world, having sold more than seventy million albums to date. With such a strong album in the back and hits like 'Angels' or 'Feel' on the setlist, the ex-
TAKE THAT
continues leaving deep footprints in the history of pop music. http://robbiewilliams.com / https://www.facebook.com/robbiewilliams/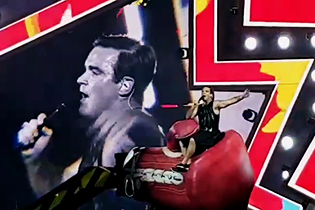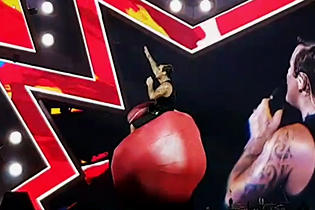 Music & Performance

The stage was surrounded by three gigantic screens. One on the back and two Robbie shaped ones on the sides. A kind of countdown was started when the Robbie shaped screens started being filled out with pieces like a puzzle. At 20:45 the puzzles were complete displaying the two confronted Robbies of the album cover. The background music was silenced and the 'Robbie Williams anthem' started. The lyrics in which every phrase starts with 'God Bless Our Robbie' are, on the one hand, lacking of any modesty and, on the other, self-critical and hilarious. The master of ceremony himself entered the stage in black skirt followed by a number of showgirls dressed like boxers to the rhythm of the title song of his current album 'The Heavy Entertainment Show' followed by the fire-starting 'Let Me Entertain You'. After 'Monsoon' came 'Party Like A Russian' or better 'Party Like A German' with an explosive rain of confetti, at the fifth song already.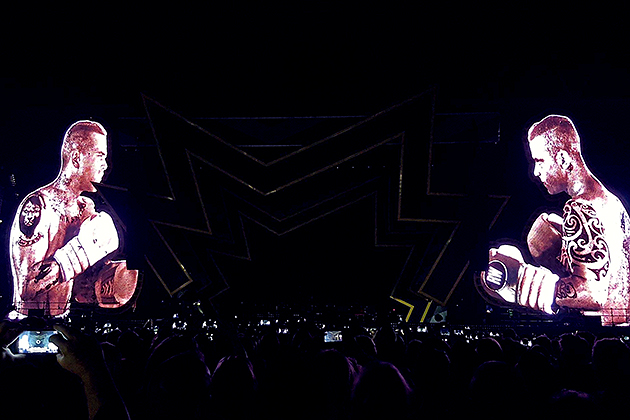 Robbie enjoys entertaining the public not only with his singing but also with his anecdotes, jokes, jams and short speeches. Or by autographing the tits of a fan in Dresden, which he said he liked very much… so there was a volunteer in Düsseldorf too. So he did it again. On his way back to the stage he hummed, 'Back for good' from Take That followed by 'The Flood' from his boyband era too. A memorable moment was when Robbie paid tribute to the recently deceased George Michel with a speech and a cover of 'Freedom' which ripped tears from many eyes. 'I love My Life' was dedicated to all parents with Robbie hovering over the crowd in a gigantic boxing glove. This was followed by a mood test. Robbie sang a-capella pieces of well-known hits, measuring the "hit" pulse of the public with a good response of the crowd. After 'Come Undone' the audience was challenged again, but this time by picking a lucky spectator, Stephanie from Düsseldorf, for an unforgettable moment because Robbie brought her on the stage to sing 'with her' wearing a ventriloquist mask mimicking Nicole Kidman's on 'Somethin' Stupid'.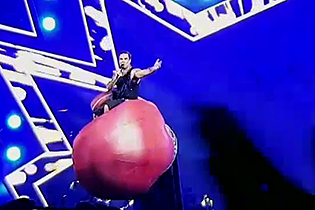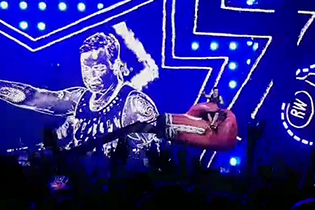 'Rudebox' and 'Kids' were danced before Robbie invited his own father to sing
Neil Diamond
's classic 'Sweet Caroline' on an intimate and emotional moment. Pete Williams left the stage with a big applause and the energy continued increasing with hits like 'Feel!' and 'Rock DJ' until the end, empowered by great sound and lighting. The encore began with a version of
WHITE STRIPES
' 'Seven Nation Army' followed by the hit 'Strong' with a change in its chorus to 'You Know We're Strong' In the wake of the terrible events in Manchester. It continued with the megahit 'Angels', probably THE unforgettable moment of the evening. The farewell came with a piano version of 'My Way' from
Claude François
which became a classic by
Frank Sinatra
. A very final and touching closure was a reprise of 'You Know We're Strong', just Robbie and the public.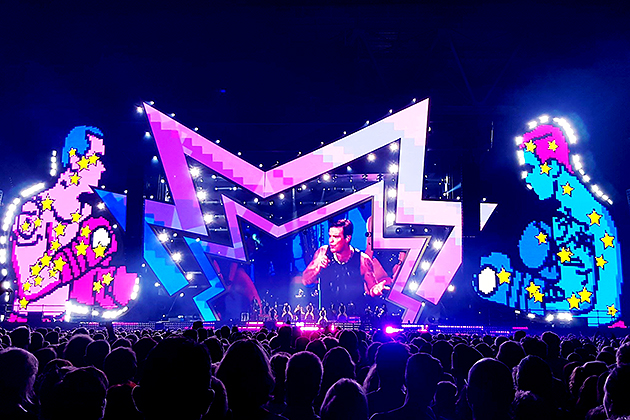 Setlist

01. God Bless Our Robbie
02. The Heavy Entertainment Show
03. Let Me Entertain You
04. Monsoon
05. Party Like a Russian / Party Like a German
06. A fragment of: Back for Good (Take That Song)
07. The Flood (Take That Song)
08. Freedom 90 (George Michael cover)
09. Love My Life
10. A Capella Medley: Livin' on a Prayer / Rehab / The Best / Kiss / Don't You Want Me / Stayin' Alive / She's the One / U Can't Touch This / Candy / Here Comes the Hot Stepper / You're the One That I Want / Come Undone
11. Come Undone
12. Somethin' Stupid (Carson and Gaile cover) (with Stephanie, a fan from the public)
13. Rudebox
14. Kids
15. Sweet Caroline (Neil Diamond Cover) – Duet with Robbie's Father
16. Motherfucker / Hey Jude
17. Feel
18. Rock DJ
---
19. Seven Nation Army (The White Stripes Cover)
20. Strong (with new lyrics)
21. Angels
22. My Way (Claude François Cover)
Rating

Music: 8
Performance: 9
Sound: 9
Light: 10
Total: 9 / 10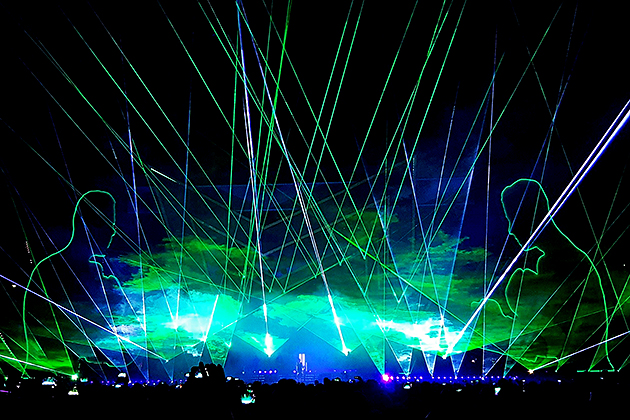 All pictures by Nicky Everett
See also (all categories):