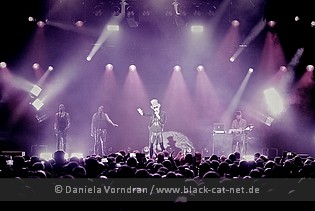 Palladium, Cologne, Germany
4th December 2014
Erasure & Shelter

Since almost 30 years, the British duo dominates the Synth Pop scene with umpteenth hits in the international charts. And they are not getting tired in producing more earworms and touring around the world. On this evening approximately 2,000 fans had gathered to have a big party with the band.
Shelter

Though already founded in 1999, you don't find much information about this British Synth Pop duo. The members are the singer Mark R Bebb and Rob Bradley at the keyboards and keytar. They have founded their own label Ministry of Pop in order to produce and release their own music and also to promote other Synth Pop / Electro Pop projects. The music is very retro, very 80's, but cool.
http://www.ministryofpop.com/index.html
/
https://www.facebook.com/Shelterofficialmusic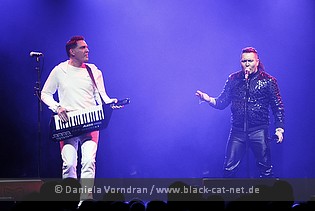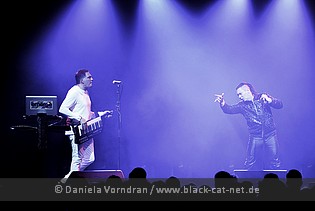 Music & Performance

Until this evening I have not heard of this duo and thus had no idea what to expect. When they both entered the stage solely their outfits gave you an idea that the music will be very 80's influenced. Rob appeared in a complete white outfit while Mark outfit was black but the glittering bomber blouson and the tight PVC trousers were really strident and a kind of caricature of the disco scene in the 80's. And of course the music was definitely deeply influenced by the Synth Pop sound of the 80's that it almost felt like a travel back in time. Mark introduced each new song and didn't forget to mention that their new album is also available at the merchandise stand. At the beginning the audience was a bit restrained but with each song the people got more into it, especially as Mark performed the songs with a touch of irony, pretending to be the cool and hot guy on the dance floor, making some innuendoes by shaking his hips or turning the back towards us and shaking his bum, always with a twinkle in his eyes. So when Mark announced the last song 'You're beautiful' right after he thanked the audience in German by saying "Sie sind alle sehr nett zu uns!" (You are all very nice to us), the guys got a big applause.
Rating

Music: 8
Performance: 8
Sound: 9
Light: 7
Total: 8 / 10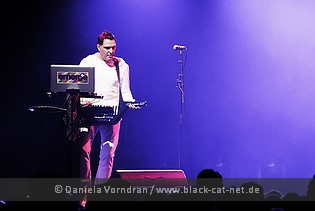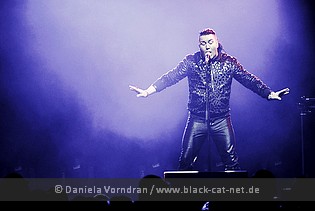 Erasure

1985 Vince Clark, who was already a renowned musician as being one of the founding members of DEPECHE MODE, one half of the commercially very successful Pop duo YAZOO and also founder of the transient project THE ASSEMBLY, placed an advertisement in the Melody Maker searching for a singer for a new musical project. And there it all began. Andy Bell corresponded to Vince's imagination: a good singer who is extrovert enough to do the show on stage while the introvert Vince can focus on playing the keyboard or guitar. As Vince has a sure feeling to create hit singles, it is no wonder that ERASURE's singles and albums frequently reached high positions in the charts worldwide. Also they got some awards and for 'ABBAesque' – their interpretation of ABBA songs, they received gold. 16 studio albums were launched throughout the years; the latest one 'The violet flame' was just released in September of this year. Their live shows are usually a big success and sold out or nearly sold out as the concerts are notorious for being of high quality with lots of glamour factor.
http://www.erasureinfo.com
/
https://www.facebook.com/erasureinfo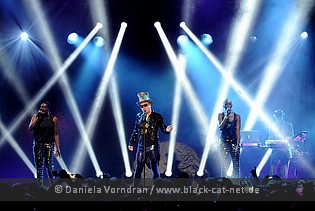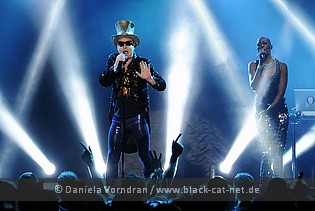 Music & Performance

Although the waiting time seemed to be quite long, the audience stayed patiently. But when finally Vince and the background singer appeared on stage a thunderous applause started and even grew when Andy entered the stage. Immediately the party started with 'Oh l'amour'. Andy wore tight glittering leggings, and with the tailcoat and the top hat all sequined he looked like an exalted circus director. And the image of the circus director did fit in a way as Andy had the audience in his hand right from the very first moment. Not only with his brilliant performance – he showed up with a solid vocal quality as well – but he announced every song, telling some little stories, too, every now and then and all in German. And this was so charming! When I did some researches later, I learnt that he studied German at school and even lived for a while in Germany to deepen his language skills. Btw I don't want to leave the beautiful background singer Valerie Chalmers and Emma Whittle unmentioned, as they underlined with their vocals perfectly Andy's singing and also animated the audience to dance, party and sing along with them. Meanwhile you could see that Vince apparently was quite content behind his keyboard in the background. Only for three songs he left his place in the background and stepped a bit more in front of the stage in order to play guitar.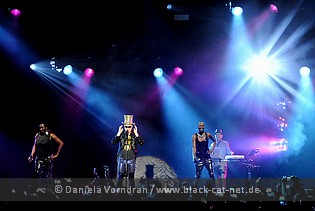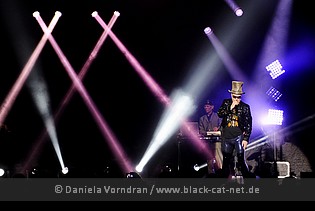 After 'Victim of love' Andy disappeared for a short moment and returned in shorts and with another T-shirt. Despite the fact that 18 songs were performed, it felt so diverting that we all shouted for an encore. We were then presented the contemplative cover version of a traditional Christmas song 'Gaudete', sung in Latin and with a swinging 'Sometimes' and then Andy saying "Vielen Dank, daß sie uns besucht haben." (Thank you for visiting us) the show ended for good. Actually I'm not really so much into such commercial music with lots of entries in the common charts, but I do admire good concerts where you feel that the musicians still like to perform. And I definitely enjoyed the show and wherever I looked around I saw happy faces.
Setlist

01. Oh L'amour
02. Star
03. Reason
04. Breath of life
05. You surround me
06. Elevation
07. I lose myself
08. Drama
09. Victim of love
10. Ship of fools
11. Sacred
12. Always
13. Dead of night
14. Blue Savannah
15. Chorus
16. Love to hate you
17. A little respect
18. Chains of love
---
19. Gaudete (Traditional cover, live debut)
20. Sometimes
Rating

Music: 10
Performance: 10
Sound: 10
Light: 10
Total: 10 / 10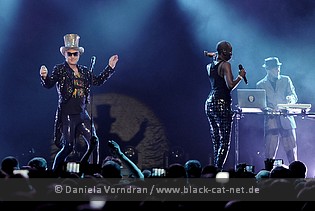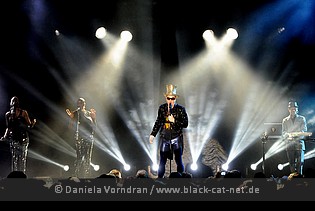 All pictures by Daniela Vorndran (
http://www.vorndranphotography.com
/
http://www.facebook.com/blackcatnet
)
See also (all categories):