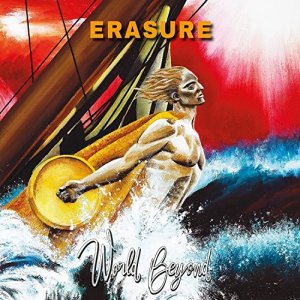 Artist: Erasure
Title: World Beyond
Genre: Electro Pop
Release Date: 9th March 2018
Label: Mute Records
Album Review

Few would have given ERASURE more than a couple of years shelf-life, when they sashayed magnificently into the charts back in the mid-Eighties. Helped enormously by this being the latest Vince Clark (DEPECHE MODE, JAZOO, THE ASSEMBLY) project, the instantly recognisable warble of singer Andy Bell, and some outrageously addictive pop songs, it all seemed, well, too much FUN to really last long. But there was always much more to ERASURE, moments of real melancholy under the bluster, intelligent and thoughtful lyrics in and amongst the trite, enabling them to straddle the worlds of throwaway teen-pop and more adult electronic music with relative ease.
2017 saw the release of 'World Be Gone' (their 17th studio album), and clearly so pleased they are with it, they've decided to release it again in 2018 as a more classically-inspired collection. Notoriously, remix and rereleases frequently merely squeeze the cash-strapped music fan while offering precious little in return, but ERASURE at least has the decency to make the whole album radically different. Repackaged as 'World Beyond' it was recorded in just ten days by Andy Bell and seven musicians from the Brussels-based ECHO COLLECTIVES, performed on violin, harp, cello, double-bass, piano, glockenspiel and vibraphone. Not totally lazy, then. The track listing is different too, so let yourself feel totally spoilt.
There's no doubting some of the songs lend themselves well to the arrangements here – there's real gravitas on opener 'Oh What A World', weary and resigned, yet defiant. 'Be Careful What You Wish For!' is sumptuous, gentle and pretty, the vocals clear and the message simple, and 'World Be Gone' is all fluttering harp and soothing piano. After a while though, there's something almost tiresome about the decision to make everything quite so 'grown-up'. 'A Bitter Parting' for example misses much of what made it originally such a good song, the orchestration following too obviously the vocal melody at times. However, melody is one thing never in short supply, which is certainly one saving grace here - no-one ever accused ERASURE of being slack in the tune department.
The rousing equality hymn 'Still It's Not Over' has a cracked and strained vocal as you feel the passion, plea and also disgust at the lack of progress in so many sections of society, in Andy Bell's usually more fragile singing. But try staying awake during the torturous 'Take Me Out Of Myself' or the messy squelch of 'Sweet Summer Loving'. At times, the songs, instead of settling into their new homes, seem desperate to burst out and return to their original format. It's all very professional and beautiful and well crafted, but there's only so much of this before it becomes, dare it be said, boring. Not something you'd normally level at this band, even if not a fan. The album closes with 'Just A Little Love', which on its own is a fine enough simple pop song, but it feels almost dragged down by what has gone before it. The result is a strangely unsatisfying collection of songs, and proof that the old adage "If it ain't broke, don't fix it" rings true once again. Or at least give it away for free…
Tracklist

01. Oh What A World
02. Be Careful What You Wish For!
03. World Be Gone
04. A Bitter Parting
05. Still It's Not Over
06. Take Me Out Of Myself
07. Sweet Summer Loving
08. Love Your To The Sky
09. Lousy Sum Of Nothing
10. Just A Little Love
Line-up

Andy Bell
Vince Clarke
Website

http://www.erasureinfo.com / https://www.facebook.com/erasureinfo
Cover Picture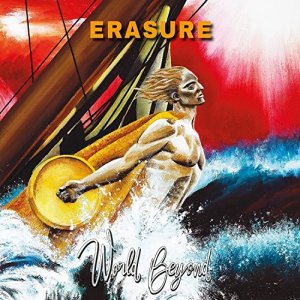 Rating

Music: 6
Sound: 8
Total: 7 / 10
See also (all categories):