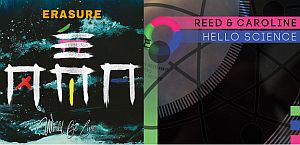 Interview with
Vince Clarke (Erasure) and Reed Hays (Reed & Caroline)

Iconic synth-pop band Erasure and VeryRecords label artist Reed & Caroline both release new LPs on the 6th of July and go together on tour in the US, starting in Miami. Janos Janurik, who works as a freelancer music journalist was permitted to ask Vince Clarke and Reed Hays a few questions before they kick off their tour together at the Fillmore in Miami. You can read the interviews below. First, the short conversation with Vince.
Reflections of Darkness [RoD]
: Hi there Vincent. In the past year you had a very fruitful period with your records. Your 17th album, 'World Be Gone', was released last May, which was followed by 'World Beyond' 10 months later. It was a post-classical reinterpretation of your 2017 album 'World Be Gone'. And now a live album, titled 'World Be Live', is also released. It was recorded at your London shows at the Eventim Apollo in Hammersmith in February 2018 and it completes the trilogy of album releases around the 'World Be Gone' project. Which one of this set of three works is the closest to you and why?
Vince
:
'World Be Gone' because it was such an enjoyable album to record. The writing came easily and it was good not have to think about the "danceability" of the tracks.
RoD
: The 'World Be Live' album was named by fans - my title idea was 'Live to the Sky' or maybe 'Just a Little Live' - and the different formats' booklets are featuring fan photos, so it's a kind of thank you to your loyal fan base and following. How could you describe your relationship with the fans after so many years? Everything runs very routinely - always the same faces in the front rows at your live shows - or are there still exceptions?
Vince
:
We have an amazing, loyal fan base to whom we are eternally grateful. I think we have newer fans in places like S. America which is fantastic.


RoD
: Your previous live albums were distributed in conjunction with Live Here Now and they were available only through direct order. This is the first time that a "proper" ERASURE live recording will be released by Mute and will also be available on traditional download stores and streaming sites. Did Daniel Miller, the Mute-boss attend one of your concerts during this tour?
Vince
:
Daniel came to one of the London shows and I believe he'll be at one of the NYC shows too.


RoD
: The tracklist of 'World Be Live' contains not only the biggest ERASURE hits but also some real treats and songs never (or rarely) played live before like 'Mad As We Are', 'I Love Saturday', 'Phantom Bride' or 'Here I Go Impossible Again'. Not to forget the fantastic cover-version of BLONDIE's 'Atomic'. After so many years spent on tour with ERASURE do you still have a secret wish to play a certain song live with Andy? If yes, then what song would it be?
Vince
:
Nah. J


RoD
: Your new live album will be released just at the beginning of your US tour, which starts on the 6th of July in Miami and leads you through the states and then has its end in Los Angeles on the 26th of August. In Europe you were supported by the very talented BRIGHT LIGHT BRIGHT LIGHT and in North America your own label artists REED & CAROLINE will be your special guests. The duo will release their second album, 'Hello Science', on the 6th of July and they have already played a warm-up show at the end of May at New York's Pianos. Are they already excited about being on the road across the US with you and Andy?
Vince
:
Beyond excited!
RoD
: You're hosting a radio show in NYC with Reed Hays, which is called 'The Synthesizer Show'. It includes a wide range of electronic music - from pop to experimental. If you had to pick an artist from this genre with the greatest influence on your music, who would it be?
Vince
:
The Human League.

ERASURE's new album, 'World Be Live', is available now! Buy the album at https://www.pledgemusic.com/projects/erasure-world-be-live or https://www.lexermusic.com/all-erasure
'Phantom Bride', taken from ERASURE, 'World Be Live' - out on 2CD and 3-vinyl on 13th July 2018 and on download formats on 6 July 2018
Reed, who is (almost) a newcomer in the pop-media biz was the more talkative person in this conversation. No wonder since he has just released his second album with the angelic voice singer, Caroline and now he's ready to conquer America with his Buchla synthesizer alongside with label boss, Vince Clarke as support act for ERASURE. So he had so much to tell our colleague, Janos. Please read it below - then go and hit that order button for REED & CAROLINE's new album, 'Hello Science', at http://veryrecords.com/reed-caroline-hello-science/
RoD
: Hi there Reed. You and your partner, Caroline Schutz are the second signed artists on Vince Clarke`s mini label VeryRecords (the first ones were Vince Clarke himself and Paul Hartnoll with their '2Square' release). How does it feel to have your own record on the label of a living legend of synth-pop?
Reed
:
Apparently my two best friends from college discussed this before the first album. They concluded that the only crazier dream-come-true scenario would have been if KRAFTWERK had asked me to fill in after Florian's departure.


RoD
: You met Caroline at Oberlin College in Ohio after you discovered the Buchla synthesizer of the college for yourself and Caroline finally wanted to try herself out as a singer in a musical project to replace her graphic designer role. The result of this meeting and of your common inclination to futuristic topics was your first release on VeryRecords 'Buchla and Singing'. Are there any interesting "behind the scenes" stories concerning this debut album?
Reed
:
Well, we had to make all the behind-the-scenes things happen fairly quickly for the first album. I met Vince when a mutual friend brought him to a lecture I was giving at Mark Verbos' "Machines in Music" event in 2015. Afterwards my friend played him 'Henry the Worm', and Vince said, "This would be perfect for my new label. Does he have anything else like this?" I told my friend to say yes, but of course I didn't, other than some instrumentals and a couple pieces with Caroline humming on them. Then it was two months of frantic Buchla patching. Caroline had just moved to California, so I could only record her when she was in New York on business or visiting family. Right at the end I wrote 'Singularity' in a hurry, and of course that's the song people liked.


RoD
: Were you a fan of Vince Clarke's music in your teenage years? Who were your musical heroes and greatest inspirations in your youth?
Reed
:
When I was 13 or 14 there was a mandatory "pep rally" at school for the basketball team. I hated it until one of the cheerleaders pushed play on a cassette machine and they all did a dance routine to this amazingly futuristic synthesizer dance tune with emotive singing on it. I had never heard anything like it. Of course it turned out to be YAZOO's 'Situation'. Before that it was hard to find music along those lines. Growing up in Alabama, the main way to hear new bands was on the TV show Saturday Night Live. Devo played SNL early in their career, and GARY NUMAN right after that. Both of those appearances changed my life. The robotic personas and synthesizers were a wonderful extension of science fiction. They had consciously created alternate universes in which to play their space-age sounding music. The B-52's were part of that little SNL revelation, too. Caroline and I bond over the B-52's, and you can hear it in 'Dark Matter' and 'Ocean'. Then I discovered KRAFTWERK, and it all came together. The idea of having every non-vocal part played on electronics was so liberating.


RoD
: Have you seen Vince as some kind of a mentor?
Reed
:
Vince and I have been friends for over 2.5 years, which is hard to believe. We always have fun hanging out, especially with our monthly streaming radio program, "The Synthesizer Show," where we make each other laugh for two hours and have wonderful conversations on the way to and from Staten Island. We talk about synthesizers, our families, and synthesizers. The funny thing about the "mentor" angle is that Vince always likes to talk about what a control freak he is, and how that has alienated so many people over the years, but he has never been that way with REED & CAROLINE. Maybe he's deliberately trying to be hands-off. There was a point when I thought everything I was writing for 'Hello Science' was terrible, and I would have loved for him to tell me to step aside and demonstrate how it's done. But, of course, he is a true mentor, so he gave me just enough direction to come up with solutions my way, not his. The most specific he ever got were suggestions like, "Maybe try an instrumental countermelody to the vocal here," or "Make a little more distinction between song sections," and, of course, mostly, "Too much percussion!" He finally told me that's how Daniel Miller works with him, and it's clearly a productive method!


RoD
: The 6th of July will be the official release date of your second album, 'Hello Science', which is a worthy continuation of your debut 'Buchla & Singing'. I think that this time you have more "classical (pop) song"-like compositions on this album. The music is still experimental and kept simple but there are more complexity and more depths in these tracks. You also show the other, still unknown side of your personalities to the fans. I mean songs like 'Dark Matter' or 'Ocean', which remind me of the catchy Electro-Britpop sound with dance beat. On the other side there is 'It's Science' with dark, classical string music in the background or 'Entropy' with its beautiful and ethereal balladry style. Then comes a sharp change again with 'Digital Trash', which could be a girly-pop song, often played on mainstream radios. My favourite track is 'Computers', with its pumping bass line a la 'Closer' from NINE INCH NAILS and with its essential synth pop orchestration. Another highlight on the album is 'Internet of Things', which has this balalaika music touch on it with some Russian-style melancholy. The old-school, simple REED & CAROLINE sound can still be heard on tracks like 'Before' or 'Metatron', but - I repeat myself – it's rather a multi-faceted work of you. Have you intentionally recorded such songs?
Reed
:
The only intent was to make songs that could be performed for an audience. When I asked to do a second album Vince said, "You should think about expanding your live set list." This was shortly after our first gig, which was in a small club called Pianos in NYC. I asked what he meant, and he said we'd be supporting ERASURE's North American tour! I thought he was joking! Maybe it sounds more varied because of the cello. A cello-Buchla improvisation I played at an art opening wound up on the VeryRecords Soundcloud page, which set the precedent for strings. I was nervous giving Vince 'It's Science', which is only cello and Caroline, so I added one Buchla chime note at the very end. I'm glad you got the balalaika reference in 'Internet of Things', because one friend thought it was a bad attempt at Mariachi trumpets! The other non-Buchla instrument is the Vako Orchestron, which plays lo-fi optical recordings of Caroline singing "Aaaaah" in some of the tunes and strings on 'Another Solar System'.


RoD
: On the release day you begin your first ever big US tour as support-act of ERASURE. Are you already prepared for the so-called "rock and roll circus"? What are your expectations?
Reed
:
I've never toured before, so I have no idea what to expect! Vince has told me some great stories, but I'm afraid I can't repeat any of them.


RoD
: Are there any European shows in planning? What will you do after finishing the tour with ERASURE?
Reed
:
I have yet to process that there is life after this tour. I haven't even figured out how to get the Buchla back to New York after our final gig in Los Angeles. Ask us in September!

Here you can find the list of the North American shows of Erasure, supported by Reed & Caroline:
JULY 2018
6 – Miami Beach, FL – Fillmore
7 – St. Petersburg, FL – Mahaffey Theater
8 – Orlando, FL – Dr. Phillips Performing Arts Center
10 – Atlanta, GA – Tabernacle
11 – Charlotte, NC – The Fillmore
13 – New York, NY – Beacon Theater
14 – New York, NY – Beacon Theater
15 – New York, NY – Beacon Theater
17 – Boston, MA – House of Blues
18 – Philadelphia, PA – Merriam Theater
20 – Washington, DC – Warner Theater
21 – Washington, DC – Warner Theater
22 – Pittsburgh, PA – Byham Theater
24 – Toronto, ON – Queen Elizabeth Theater
25 – Grand Rapids, MI – 20 Monroe Live
27 – Chicago, IL – Chicago Theatre
28 – Chicago, IL – Chicago Theatre
29 – Minneapolis, MN – State Theatre
31 – Indianapolis, IN – Murat
AUGUST 2018
1 – Kansas City, MO – Uptown Theater
3 – Dallas, TX – Toyota Music Factory
4 – Houston, TX – Smart Financial Centre
5 – San Antonio, TX – Tobin Center For the Performing Arts
7 – Austin, TX – Austin City Limits Live
8 – Austin, TX – Austin City Limits Live
10 – Denver, CO – Opera House
11 – Salt Lake City, UT – Kingsbury Hall
12 – Salt Lake City, UT – Kingsbury Hall
14 – Seattle, WA – Moore Theatre
15 – Vancouver, BC – Orpheum Theatre
17 – San Francisco, CA – Masonic Auditorium
18 – San Francisco, CA – Masonic Auditorium
19 – San Francisco, CA – Masonic Auditorium
21 – Los Angeles, CA – Wiltern Theater
22 – San Diego, CA – Symphony Hall
24 – Los Angeles, CA – Wiltern Theater
25 – Los Angeles, CA – Wiltern Theater
26 – Los Angeles, CA – Wiltern Theater
See also (all categories):