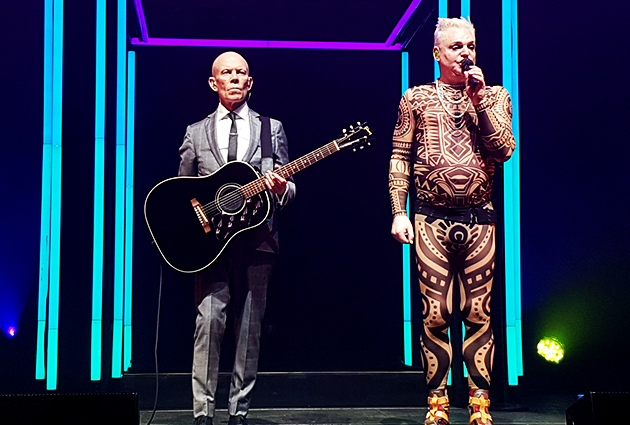 E-Werk, Cologne, Germany
27th February 2018
Erasure & Bright Light Bright Light

Erasure landed in Cologne to kick off the German part of their tour in European Tour. The gathering took place at the E-Werk on a sold out evening. American artist Bright Light Bright Light took care of warming up the stage with a camp performace.
Bright Light Bright Light

BRIGHT LIGHT BRIGHT LIGHT
is the moniker of Welsh born, London/ New York based Rod Thomas whose albums to date 'Make Me Believe In Hope' (2012) and UK & US charting 'Life Is Easy' (2014) have won fans of critics and artists alike [Extracted from his home page]. He also runs an NYC based daytime dance party called 'Romy & Michele's Saturday Afternoon Tea Dance'. Despite the poor sound quality Thomas managed to entertain an audience that was in very good mood. The singer and producer gave an introduction to each song and he expressed his admiration for ERASURE. The seven synth pop songs were performed with theatrical attitude. http://www.brightlightx2.com / https://www.facebook.com/brightlightx2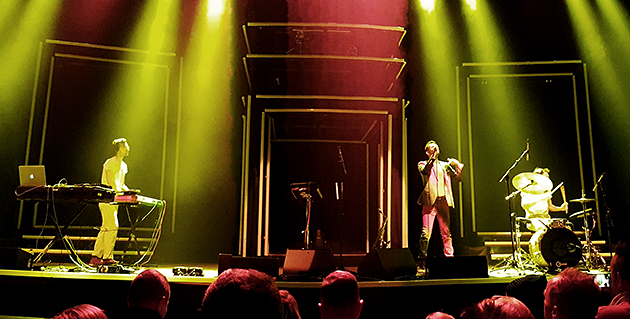 Setlist

01. Into the Night
02. All In The Name
03. Symmetry of Two Hearts
04. Moves
05. In Your Care
06. An Open Heart
07. Running Back to You
Rating

Music: 6
Performance: 6
Sound: 5
Light: 6
Total: 5.8 / 10
Erasure

ERASURE
, the legendary British synth pop duo of Andy Bell (voice) and Vince Clarke (keyboards), has released their seventeenth studio album 'World Be Gone' in May last year. The origin of this band is back in 1985. Vince Clarke, a founding member of DEPECHE MODE and the sole writer of their first three singles, including the breakthrough Top 10 hit 'Just Can't Get Enough' left the band in 1981 to form YAZOO with Alison Moyet releasing two hit albums between 1982 and 1983. He also formed other projects before publishing an advertisement in Melody Maker which attracted Andy Bell. From their first single, ERASURE was a success which peak was between the mid-and late eighties. http://www.erasureinfo.com / https://www.facebook.com/erasureinfo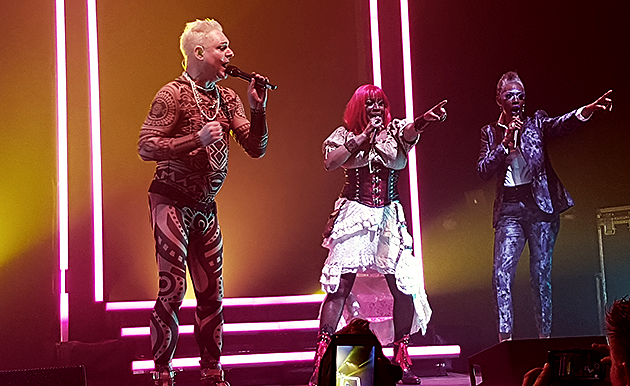 Music & Performance

ERASURE entered the stage at 9pm. The British duo performed an all-time hits repertoire elegantly mixed with pieces of their most recent album 'World Be Gone'. Colourfully dressed, singer Andy Bell dazzled the audience on his usual energetic attitude supported by two glamorous ladies on backing vocals, one at each side. The stage is a two level structure on full neon lights. A shy Vince Clarke ruled the show from the top surrounded by his synthesizers. With Andy in rubber cat suit, the show started with 'Oh L'Amour' followed by 'Ship of Fools'. Suddenly Andy turned to the audience with sympathetic announcements in broken German. The public responded very enthusiastic to the rush of synth pop megahits. Musically they stay loyal to their synth pop and techno style. The songs got just a little modernized to an electronic dance music sound. Unfortunately Andy's voice has lost bright, especially on the high tones, which he now sings in falsetto.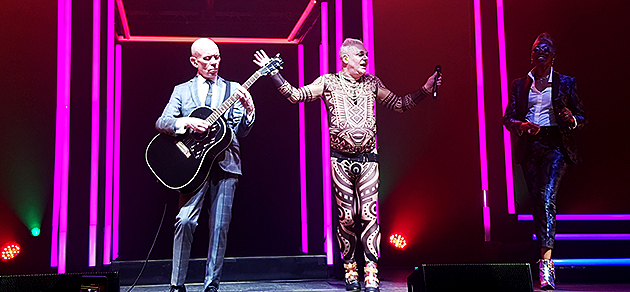 The 24-song show continued with more jewels. From 'Chains of Love' to 'Sometimes' the mood went into dancing. A highlight of the evening was 'Atomic', a cover of Andy's favourite band BLONDIE. For the closure with 'A Little Respect', Vince came down from his podium to play the acoustic guitar side by side with his long-time pal. They said goodbye with loud cheering of the public.
Setlist

01. Oh L'Amour
02. Ship of Fools
03. Breathe
04. Mad As We Are
05. Just a Little Love
06. In My Arms
07. Chains of Love
08. Sacred
09. Sweet Summer Loving
10. I Love Saturday
11. Victim of Love
12. Phantom Bride
13. World Be Gone
14. Who Needs Love Like That
15. Take Me Out of Myself
16. Blue Savannah
17. Atomic (Blondie cover)
18. Drama!
19. Stop!
20. Love You to the Sky
21. Always
22. Here I Go Impossible Again
23. Sometimes
---
24. A Little Respect
Rating

Music: 8
Performance: 8
Sound: 8
Light: 8
Total: 8 / 10
All Pictures by Angel Molina
See also (all categories):