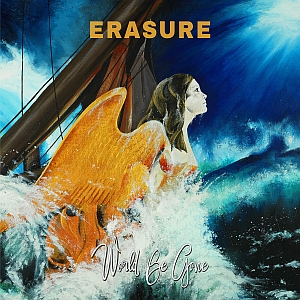 Artist: Erasure
Title: World Be Gone
Genre: Electro-Pop
Release Date: 19th May 2017
Label: Mute Records
Album Review

In a stormy sea of pop-bands singing about Fridays and broken teenage hearts, there is a number of boats and ships, running against the waves. These musicians are not afraid of furious Poseidon, called "musical business", and they don't care about the trends - they create trends. One of these ships is
ERASURE
. Thirty years long without pause or break this legendary duo keeps presenting us precious gifts of their music. They are the same ERASURE, who wrote 'Sometimes' and 'Ship of Fools', which made them one of the most successful artists in the UK of the late 1980s to mid-1990s. They are the same ERASURE, who released one gold and four platinum albums. They are the same, and yet somehow different.
After thirty years and sixteen "high-gloss British pop" albums, ERASURE decided it's time to speak up. Also in the past the duo touched socially important topics in their songs, the spirit of protest has always fuelled their music. But finally the musicians consciously created an album covering social problems.
"There comes a point where you realize that as much as you love pop music, it's a bit facile. You want to explore and be truthful to who you are. It's about growing up, really. And I think that goes hand in hand with the current political climate,"
- says Andy Bell. –
"It's a real art if you can make a disco song political. We've been doing dance albums for the past few years and I wanted this album to sound important, with a bit of soul searching,"
concludes Vince Clarke. –
"Obviously the current political climate lends itself to lots of ideas."
Musically ERASURE slowed down. Throughout the album, Vince creates a resonant, gospel feel by layering Andy's unmistakable vocals. From time to time it sounds like church choirs. But don't get it wrong, the album is just as intensive as the best hits of ERASURE. 'World Be Gone' is inspired by social agenda, sometimes sad and thoughtful, but still optimistic and full of love. The opener 'Love You To The Sky' is a love song that gives the right mood for the rest of the record. You can talk about politics and policies as much as you want, but in fact it's all about love. Love to each other, romantic love, respectful love. 'Be Careful What You Wish For!' compliments this idea. This is a shiny highlight of the album. The title track 'World Be Gone' is full of melancholy for "the loss of our souls". 'Still It's Not Over' is a reminder of the role ERASURE plays in the gay rights movement.
'Sweet Summer Loving' is supposed to be the most intimate song on the album. It tells about Andy finding love again after the death of his partner. 'Oh What A World' is a dramatic dystopia while 'Lousy Sum of Nothing' is a
"heart-breaking ballad for our post-truth age, with a sublime, sky-scraping chorus".
And if you started to think that the record gets more and more sad, 'Just A Little Love' begins to play. The joyful synth-pop track is the old-fashioned ERASURE, saying hello, goodbye. With an upbeat opener and final track the duo created a closed composition of the whole record. But most important this song saves a place for hope and passes the message of the whole album:
"Just a little love, not the hate that's calling. Just a little love and the walls start falling."
VIDEO: https://youtu.be/-qf8LoHugjk
Tracklist

01. Love You to the Sky
02. Be Careful What You Wish For!
03. World Be Gone
04. A Bitter Parting
05. Still It's Not Over
06. Take Me Out of Myself
07. Sweet Summer Loving
08. Oh What a World
09. Lousy Sum of Nothing
10. Just a Little Love
Line-up

Andy Bell & Vince Clarke
Website

http://www.erasureinfo.com / https://www.facebook.com/erasureinfo
Cover Picture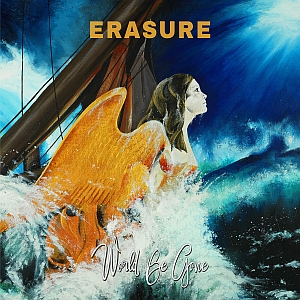 Rating

Music: 10
Sound: 10
Total: 10 / 10
See also (all categories):