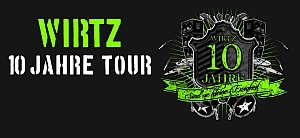 Grünspan, Hamburg, Germany
21st May 2017
Wirtz - "10 Jahre sind ne kleine Ewigkeit" Tour

It was a great weekend. On Saturday, I was at the concert of
THE RED PAINTINGS
and stayed very long at the after show party "Black Out" and on Sunday evening, I went to
WIRTZ
. Oh my fucking god, I felt like a little girl on Christmas who knows she´s going to get a pony. For ten years I´m listening to the music of this extraordinary fantastic singer/ songwriter. WIRTZ is my men for the good and for the bad times. Yes of course for the really bad times, too. His songs are describing situations and feelings from real life. Everybody knows it. For ten years I´m listening to WIRTZ, he is on his 10th anniversary tour and it is the first time for me to see him live on stage.
Ten years ago, Daniel Wirtz made the decision to walk his own way. He left the international successful German band
SUB7EVEN
. He believed in the power of the German words. The result is music filled with character and individuality. Daniel Wirtz is one of those German artists traveling among rock, indie, and singer/ songwriter with a special enthusiastic DIY-ethos. His discography contains four studio LPs, one unplugged LP, one live & unplugged LP and a live DVD.
"The hardest thing in my life was to make a good second album. The claim was high, for the first album I have had a halftime life to fuck up. No problem. But I am a lucky guy with fantastic fans who was writing me letters with their own stories and the connection to my songs."

It is 8 p.m. the piano resounds through the hall, everyone applauded and Daniel WIRTZ took the stage. He sat down besides the piano and started the show with an acoustic song. What a great start! He played a bunch of songs in a row. After that, he told a story and carried on with the next bunch of songs. It was a good mix of rock and unplugged versions. With and without background videos. The little stories in-between those chapters of music were about special moments of the last ten years. The first story was about the unplugged album. The origin of this album and a guy from the publishing company who said "oh c´mon Daniel, this is bullshit! Nobody is going to listen to it. Go back to the studio and make the same shit you did in the past." What a poor dude this company guy was since WIRTZ proofed him to be terribly wrong. Daniel released the unplugged album on his own and the decision to stick with the idea of making an unplugged album was right. The album was a great success.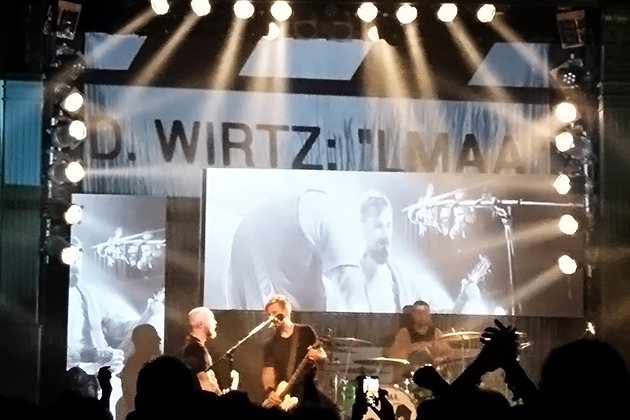 Another story was about the song 'Wir'. It should be a little hymn from the band for the band. And now it is a hymn for all of the fans, the supporters and the band. Or the fascinating story about his own record label and how simple he got to it. Simple but courageous. Next to the fantastic mixed-up setlist, those personal stories had been the best present to the fans. The setlist was full of surprises. The first brand new song '10 Jahre' from the upcoming album was very nice. The last song from the second encore (WIRTZ pleasured the crowd with two encores, each of which contained five to seven songs) was a new song as well called 'Wer wir waren'. And yes, you got it right – a new album is coming up and it will be released in September this year. Now please go bananas. The highlight of the encores was a medley from three or four songs that really made a lot of fun and the song L.M.A.A, the hymn of every WIRTZ moment you have had in life. The audience was yelling, dancing, singing and so in love. Thank you Mr. WIRTZ for this unbelievable, fantastic and gorgeous three hours concert.
Setlist

01. ?
02. Sag es wie es ist
03. Erster Stein
04. Weil ich so bin (live video)
-Storytelling-
05. 11 Zeugen
06. Meilenweit (live video)
07. Feind in meinem Kopf
08. Kugel Kopf und Eins im Sinn
09. Geschichten ohne Sieger (piano version)
-Storytelling-
10. Scherben (akkustic)
11. Akustik Voodoo
12. ?
13. Gebrannte Kinder (video clip)
14. Strom der Zeit
15. Meinen Namen
-Storytelling-
16. Auf die Plätze fertig los (live video)
-Storytelling-
17. Wir
18. Mantra (acoustic)
19. Aus versehen
-storytelling-
20. 10 Jahre (from the upcoming album)
---
21.keine Angst
22. Overkill
23. Medley
24. Tango
25. Wieder mal ne Nacht
---
-storytelling-
26 Weile her
27. L.M.A.A.
28. Du fährst im Dunkeln
29. Frei
30. Wer wir waren (from the upcoming album)
Rating

Music: 10
Performance: 10
Sound: 10
Light: 10
Total: 10 / 10
Live picture by Linda Jane Moedebeck
See also (all categories):