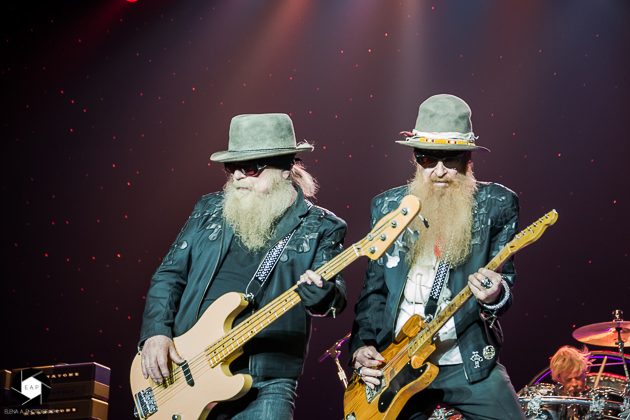 Rockhal, Esch sur Alzette, Luxembourg
14th July 2017
ZZ Top

American rock trio ZZ TOP has been without peer as a touring unit over the years, having performed before millions of fans throughout the world. Their iconography - beards, cars, girls, and that magic keychain - seems to transcend all bounds of geography and language.
Formed in 1969,
ZZ TOP
aka "That Little Ol' Band From Texas," lay undisputed claim to being the longest running major rock band with original personnel intact. The American rock band from Houston, Texas, consists of guitarist and lead vocalist Billy Gibbons, bassist and co-lead vocalist Dusty Hill, and drummer Frank Beard. The band still has all three original members which is nowadays very uncommon. After almost 50 years, they're still hitting the stage. On the 14th July 2017, they were back in Luxembourg as part of the 'The Tonnage Tour'. The 19-song set was very tight and full of the best Rock'n'Roll. The crowd was ready and yelled the famous words of 'The Ramones : "Hey Ho, Let's Go!" The whole atmosphere was brilliant and so was ZZ TOP. Despite their age, they managed to make the Rockhal dance. The show wasn't sold out but it was close to. With songs like 'Gimme All Your Lovin', 'I Gotsta Get Paid' and 'Cheap Sunglasses' the crowd was in good hands and shouted the lyrics with their favourite band.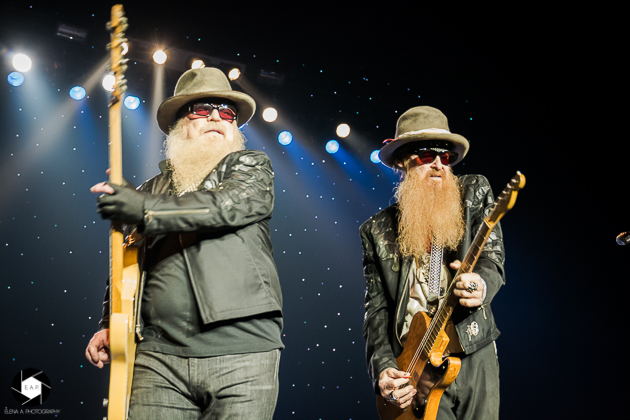 The trio also covered songs from Jimi Hendrix, Robert Petway and other talented musicians. Unfortunately, they didn't play the 'Jailhouse Rock' cover of Elvis Presley like they did on the previous dates of the tour.
Setlist

01. Got Me Under Pressure
02. Waitin' for the Bus
03. Jesus Just Left Chicago
04. Gimme All Your Lovin'
05. Pincushion
06. I'm Bad, I'm Nationwide
07. I Gotsta Get Paid
08. Foxy Lady (Jimi Hendrix cover)
09. My Head's in Mississippi
10. Catfish Blues (Robert Petway cover)
11. 16 Tons (Tennessee Ernie Ford cover)
12. Act Naturally (Buck Owens and His Buckaroos cover)
13. Cheap Sunglasses
14. Chartreuse
15. Just Got Paid
16. Sharp Dressed Man
17. Legs
---
18. La Grange
19. Tush
Rating

Music 9
Performance 7
Light 9
Sound 10
Total 9 / 10
The evening with ZZ TOP was a huge success for the Rockhal. A lot of people came to Esch sur Alzette to see these legends live on stage. Hope they will still give us joy in the future!
All Pictures by Elena Arens
See also (all categories):