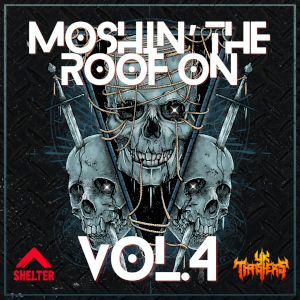 Artist: Various Artists
Title: UK Thrashers - Moshin' The Roof On Vol. 4
Genre: Thrash Metal
Release Date: 7th April 2023
Label: Various Labels
Album Review

Helping the homeless is a honourable quest and honourable, even though the mainstream and our quite a few co-workers think otherwise, is a thing that pretty much describes a lot of people in the Metal scene. Originally UK Thrashers was a site created for the love of Thrash Metal and especially UK Thrash, in 2020 the idea to help the homeless culminated in a compilation of various bands with the goal to give the money to help sheltering the unsheltered. Now in 2023 I have the luck and honour to review the fourth instalment of this already legendary charity project. This time I have to face 32 bands, 32 smacking songs from dozens of skilled maniacs that are tasked with smashing me into oblivion with Thrash.
It should be obvious that I will not address every band but I give it my all as always. Tracks like 'Idiocracy' from TRAPPED IN PURGATOTY, a five-piece from Bristol aim right for my rather insufficiently protected throat with their raw yet melodic filth. 'Kill' by Plymouth based maniacs DEATH ASSAULT is a mix of very melodic parts and raw aggression to the max. A band like AKILLA with their track 'Serpent And The Son' is something that I would not call Thrash, they play melodic Death Metal but as a UK based band from Cambridge they are more than good enough to be on this record (I think helping the cause is more important than being a purely thrash based band). The London based dudes from DAY OF WRATH with 'Open Your Eyes' remind me of SLAYER (which is very much to my liking). SCARRED BX TRUTH's Groove Metal manages to grow on me with 'Shadows' and their two different vocal approaches. Here and there bands like Preston based Death Metal band ALL CONSUMED are the exception to the Thrash Metal rule, their track 'Hallowed Violence' takes absolutely no prisoners (rather brutal Death Metal with tons of growls, not an example in melodic finesse but it does what it should).
Blackpool's finest BLACKLIST come into their track 'Natorum Demonto' swinging, a mid- to up-tempo track that drops motherfuckers left and right. WAR GRAVE from London are an old-school Thrash band and I dig it, they brought their banger named 'System' with them and it rips. Newcastle's AGGRIEVED surprise with a few gang-shouts in their track 'Age Of Darkness' and THRASHERWOLF give us their slow burning 'Call Of The Wolf'. All in all, due to the sheer amount of filthy, grimy and beautiful stuff on this compilation there is a lot of stuff I would not call Thrash Metal and some tracks are downright brutal noise made to torture people (it is a mood, I know). There is a lot of really good stuff to explore on 'Moshin' The Roof On Vol. 4' and there are some songs that I did not instantly love but I know myself so I might dig those tracks later on. As always I had a lot of fun listening to the offerings of England's best when it comes to tunes from Hell.
Honourable mentions: FRACTURE POINT with 'A New Age Of Hate', IMPERIUM with 'Capable Of Murder' and MUST KILL's 'Your Last Breath'.
Tracklist

01. Ghostkeeper – The Dread Legion
02. Elyrean – Perpetually Entombed
03. Overpower – Dead Alive
04. Trapped In Purgatory – Idiocracy
05. Death Assault – Kill
06. Akilla – Serpent And The Son
07. Day Of Wrath – Open Your Eyes
08. King Abyss – Snake Oil
09. Scarred By Truth – Shadows
10. Fracture Point – A New Age Of Hate
11. Recall The Remains – Fairfield
12. Seven Year War – Thin Ice
13. All Consumed – Hallowed Violence
14. Blacklist – Natorum Demonto
15. Sidewinder BC – Moral Turpitude
16. War Grave – System
17. Imperium – Capable Of Murder
18. Halberd – Cyanide
19. Aggrieved – Age Of Darkness
20. Thrasherwolf – Call Of The Wolves
21. Evisarize – Blood For The Blackened Eyes
22. Vulgore – Subhuman
23. Dislocator – Knives Out
24. Heavy Claw – Flash Bang
25. Must Kill – Your Last Breath
26. Hands Of Attrition – Solace
27.Cimmerian – Kingmaker
28. Repulsive Vision – Through Gaslit Halls
29. Cage Fight – One Minute
30. Visitor – False Flag
31. Mechanized –The Escherian Stairwell
32. Hellbearer –Arthropods Of Annihilation
Website

https://ukthrashers.bandcamp.com/album/moshin-the-roof-on-volume-4 / https://ukthrashers.org / https://www.facebook.com/ukthrashers/
Cover Picture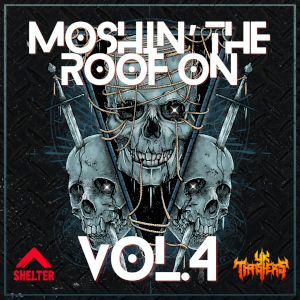 Rating

Music: 9
Sound: 7
Total: 8 / 10
See also (all categories):