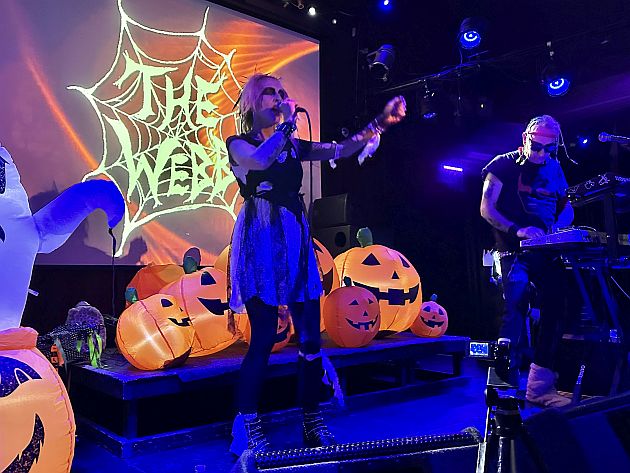 Lending Room, Leeds, United Kingdom
1st April 2023
Carpe Noctum with The Webb plus special guests Digital Harpy and The Scarlet Hour

Carpe Noctum is described as the premiere alternative night in the North. It runs once a month at the Lending Room in Leeds. Originally established in Bradford at the One in Twelve club, Carpe Noctum (meaning "Seize the night" in Latin) hosts some of the UK's finest alternative bands, followed by a DJ until the early hours. The venue is situated in the heart of student land. Downstairs from the Lending Room is the Library Pub - part of the infamous Otley Run beer crawl. On any Saturday night, its clientele would not look out of place in the Mos Eisley cantina in Star Wars. Part of the ritual of the Otley Run, is to wear fancy dress costumes… or a onesie. On any given Saturday evening, it's common to witness Superman being propped up by a Smurf and Elvis.
Thankfully. the Lending Room has a separate entrance and we arrive soon after opening time, to join the trickle of black jeans, leather and lace clad folks… not a onesie or Smurf in sight, behind these doors! The venue is usually packed so I'm relieved to find seats available and install myself in a spot with ample views of the stage. Each band tonight is a visual spectacle. Not a single act is made up of the traditional "four-piece" structure, instead there are two duos and one three-piece. Each one is unique in sound and vision. From DIGITAL HARPY's array of coloured hair, SCARLET HOUR's sophisticated smoke and crimson backdrop to THE WEBB's fun, energy and humour mixed with death (on CCTV).
Digital Harpy
This is DIGITAL HARPY's first appearance. They are a 3-piece Electro-Goth band from the Ribble Valley. DIGITAL HARPY comprises of Roxy North (bass), Pete le Fey (vocals and guitar) and Amanda Vasiljeva (synths). The combination of synthesizer with guitars and bass results is an interesting, Cyberpunk, Goth Metal medley. The trio is clad in black, but their colourful hair adds a splash of orange and violet to the otherwise dark aesthetic. DIGITAL HARPY open with 'Beautiful nightmare.' None of us are sure what to expect. Obviously with name like DIGITAL HARPY, there was bound to be synthesizers involved.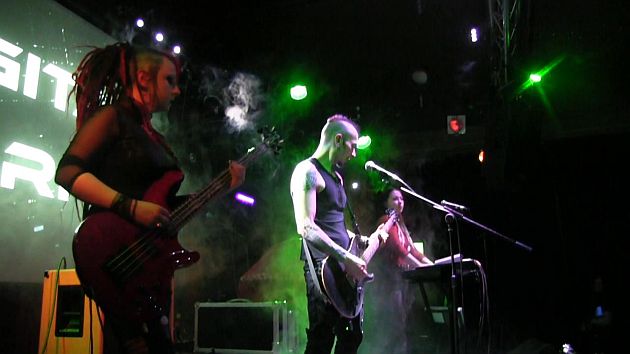 Rather than an electro band, the addition of bass and guitar means the sound straddles the border of Electro-Goth / Cyber and into the realm of Metal. It works though and a small crowd gathers at the front. The fast-paced, heavy beat is consistent. Members of the audience are already dancing and it's still early in the evening. There are a few "woo-hoos" from the audience in between tracks. The final song 'White Wings' begins with horror movie style chimes, swiftly followed by heavy guitar riffs and an anthem style keyboard. A few more woohoos and applause. I think that is a win for this ultra cool band's debut performance. DIGITAL HARPY is definitely one to watch out for. https://www.facebook.com/DigitalHarpyBand
Setlist

01. Beautiful nightmare
02. Ame no uzume
03. Love is a slug
04. Versus
05. Not this time
06. Supernatural
07. White wings
Rating

Music: 8.5
Performance: 8.5
Sound: 8
Lights: 7
Total: 8 / 10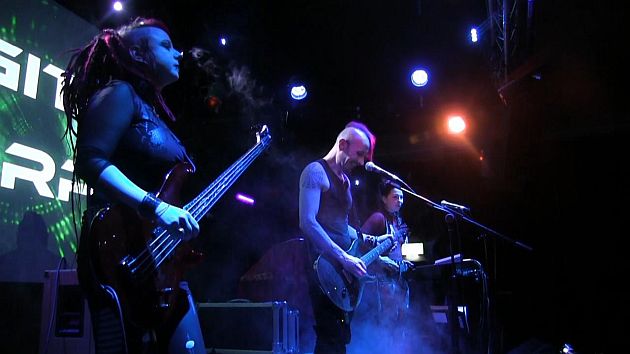 The Scarlet Hour

THE SCARLET HOUR are Tim Synister and Mel Butler. Their backdrop is simple but elegant, the contrasting red and black colour scheme is prevalent throughout. They soar in with 'Warhead' - nothing like an opening track about nuclear annihilation to get the pulses racing… and feet moving. Surrounded by smoke, Tim's voice echoes across the auditorium (with the aid of a little reverb). Think of Andrew Eldritch on 'Reptile House' - or at least if Eldritch was a vampire. My eyes are drawn to an amp covered in a red scarf. Along with the smoke, it resembles a magician's stage set and I wonder if Tim will yank it away to reveal a cage containing bats. He doesn't, but its placement is effective, nonetheless. Tim is a real show man, he emotes as he expresses the lyrics throughout every track. The synth track loop in the background draws you in, you find yourself subconsciously nodding along to it before you realise.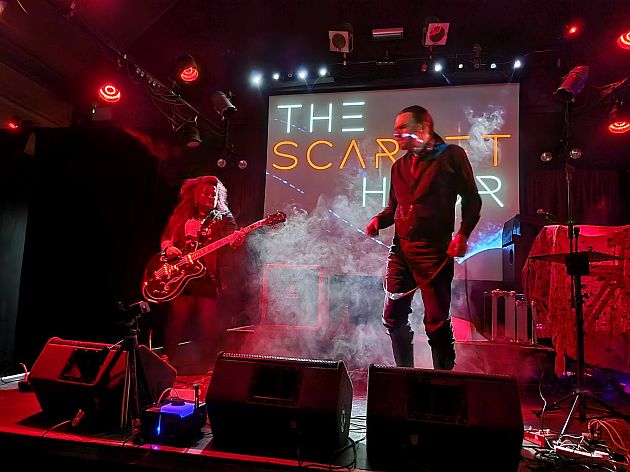 After a while of standing, my feet hurt, so I wander back to my seat. The band are actually as good to watch from the side lines as they are from the front - sort of "easy listening for goths" - especially 'Blink' and the excellent 'Afterlife' though at this point my feet take me off to the front again. THE SCARLET HOUR play the final track, entitled appropriately 'Getaway'. They finish to an enthusiastic applause and it's time for a brief interlude before the headline act. THE SCARLET HOUR are sophisticated, stylish and enjoyable. https://www.facebook.com/thescarlethour
Setlist

01. Warhead
02. Clockwork
03. Oceans
04. Lifeline
05. Blink
06. Skyline
07. Torment
08. Afterlife
09. Lair
10. Getaway
Rating

Music: 9
Performance: 8.5
Sound: 8.5
Lights: 8
Total: 8.5
The Webb

Another two-piece band, THE WEBB are Becki and Marc from the Wirral in Merseyside. They are dynamic duo in Day-Glo. The whole set is a Post-Punk, Electro fest on acid. Becki and Marc are accompanied on stage by a display of light-up, inflatable pumpkins and ghosts. They are quirky and great fun to watch. Becki, animated as ever Donna the scarf that was covering the amp, pinwheeling her arms until it ended wrapped around each one. This band love props and the audience eat it up. There is a crowd gathered around the front of the stage, dancing along to the electro synth beat. The sound is nostalgia for those of us who were around for the post-punk, Batcave years. Becki twirls an umbrella for Alice in wonderland. Adorned with ribbons and peppered with huge holes, it looks like a remnant from the apocalypse that you might find in the Fallout franchise.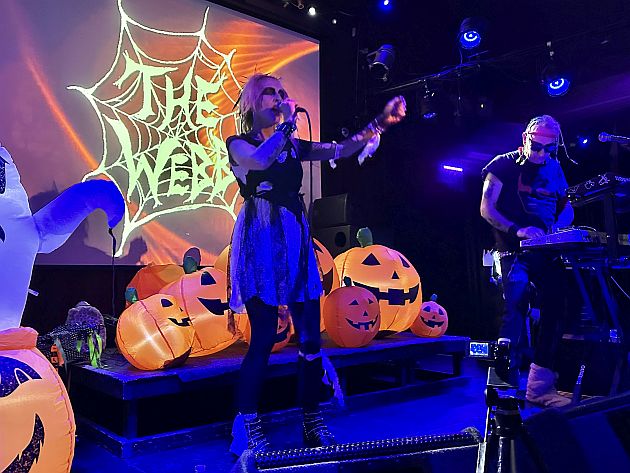 Halfway through the set, a barrage of orange and white balloons is released into the audience - who gleefully bat them around. A few bursts and make me jump out of my seat. It encapsulates the playful nature that we have come to expect from the Webb. Their encore number may be titled: 'In a darker place' but it certainly doesn't leave us in one. The set over, I spy many people make their way over to the merch. THE WEBB may have that 80s nostalgia element with 'Where have all the bootboys gone?', but they are also how I imagine a band from a dystopian, nihilistic future to be… Marc is that a keyboard or a time machine? https://www.facebook.com/TheWebb.band
Setlist

01. No instructions
02. Murder on CCTV
03. Fucked up
04. Dystopian dream
05. Alice in wonderland
06. Haunted house
07. Kill someone
08. First in my book
09. Plastic child
10. In the park
11. Negativity city
12. Where have all the bootboys gone?
13. Dead cities
---
14. In a darker place
Rating

Music: 9
Performance: 10
Sound: 9
Lights: 8
Total: 9 / 10
Digital Harpy pictures by Martin Aylward
The Scarlet Hour picture by Michelle Corns
The Webb picture by Mel Butler @ www.melbutlerphotography.com
See also (all categories):