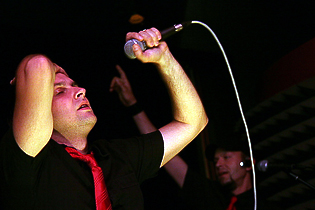 Blue Note, Poznan, Poland
22nd September 2006

Alternative Mix Tour: Digital Factor, Desdemona, Greyhound, NUN

Alternative Mix Tour organized by Na Rzekach Art took place in Poznan in the spatial and stylish club Blue Note. Though the line-up seemed to be highly attractive, the number of audience was rather depressing. However, the main reason we came to the festival - the bands NUN, Greyhound, Desdemona and Digital Factor - didn't disappoint our expectations and did very fine.
NUN


The band Nun was formed in 2000 in Wroclaw as a result of splitting off their former project Len. The music of Nun could be described as electro pop and their artistic output is to be found on four CDs: "Sunlight" (2006), "Stop!" (2006), "Hope" (EP) (2006) and "This is electropop" (2004). Constantly gaining popularity they present the music which equals lyrics about emotions with electronic music. Nun are: Magdalena Kaspryszyn (vocal, lyrics, keyboard, composition) and Olaf Karbowiak (programming, sampling, keyboard, composition).
http://www.nunelectro.com/
Music

The music of Nun is a combination of catchy, danceable, rhythmical sounds that may make you think of "Neverending Story" or X-Perience at times and womanly, deep and clear voice of Magda. In general it's a fair dose of optimistic, party-time electro-pop with a plan to cheer you up rather than think hard, still its quality is very good and I assume all the party animals should be satisfied with the productions of the project.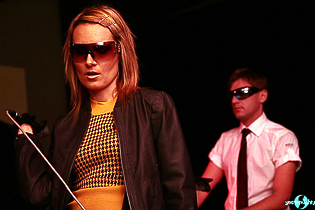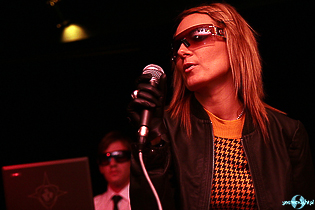 Performance

The band opening the festival didn't have an easy task. There were no wild crowds, most of the people sat down at the tables, drinking and talking so they had a hard to follow if they wanted to warm them up. In fact they played to an empty dance floor for the most of the time, but it didn't harm the quality of their show. I was full of admiration for their professionalism, energy and ease. Magda is an experienced vocalist who knows how to move and act on the stage and reveals a lot of self-confidence in what she's doing. Their style could be described as an electro clash one, still it's not a kinda flashy or very distinct – it's thought to scope the attention to music and at the same time not to hurt the eye of the listeners.
Setlist

01. Here 4 U
02. Stop!
03. Vision of Life
04. Burn
05. Tomcraft - Lonelines (NUN Cover)
06. Blind
07. I Don't Know How
08. Hope

Rating
Music: 7
Performance: 5
Light: 4
Sound: 6
Total: 5.8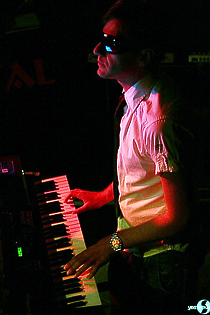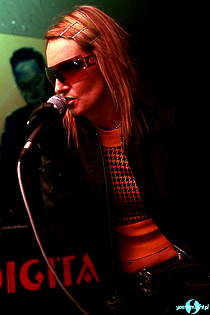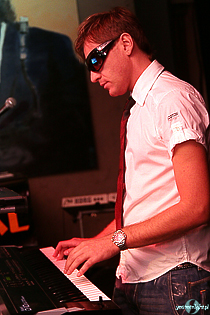 Greyhound


Greyhound (noise, powerelectro/-industrial) – the band of Steffen Lehmann - was founded in 1995 and has been present since 1999 in the today's style. After 4 publications in the own distribution Greyhound has been with Label Hands since 2004, the same year the 5th album and first one Label release "Electroiz" appeared.
http://www.greyhound.lo.to/
Music/Performance

I realize not all the people may like or understand the purely industrial or noise music. Its scenic part is reduced to zero, but the music is full of unexpected combinations, energy and power. The artist usually remains "inside" of his music during the whole concert and concentrates on the sonic not the visual aspect of the show. The music of Greyhound is very overpowering and fresh, even danceable. If anyone may make the people listen to the noise with pleasure then definitely it's Greyhound.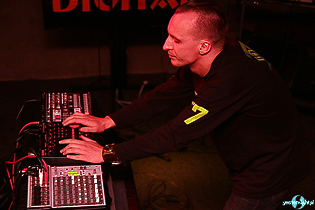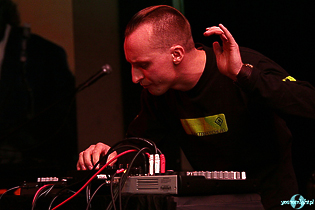 Setlist

01. intro
02. spectral
03. fault
04. quixotic
05. drill
06. identity disturbance
07. from ex to gx
08. killing nature
09. endless narcotize
10. schnappstahl
Rating

Music: 8
Performance: 2
Light: 4
Sound: 6
Total: 5.3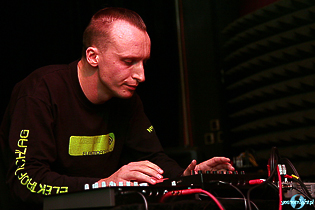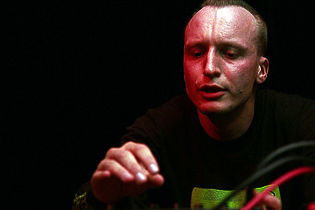 Desdemona


The band Desdemona started in 1996 when the group of friends looking for honest and free expression in music decided to make music of their own. Since then they've been doing that and their artistic blends gothic metal with electronics, dark, gloomy soundscapes and thrilling, deep female vocals. Desdemona are: Agata Pawlowicz (vocal / lyrics), Krzysztof Chorazy (guitar / samples / loops/electronics), Robert Plaskowski (keyboards / samples / loops/electronics) and Szymon Swierczynski (bass guitar).
http://desdemona.rockmetal.art.pl/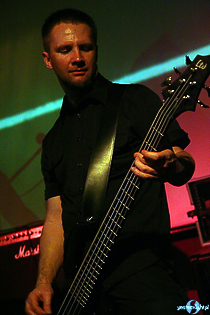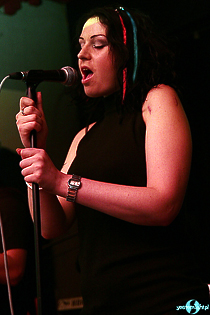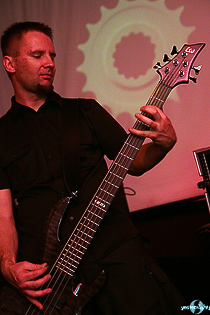 Music

For me the music of Desdemona is a mixture of aggressive, neurotic, capricious manner of singing and the instruments that run uncontrollably like children on the playground during a break between lessons, especially in the song entitled "the Sinner". But Desdemona is also a hard, pounding guitar sound associated rather with metal productions and the tint of electronics to make it sound more modern. It was like a dialog between keyboards and guitar interrupted by an insolent girl - the vocalist. Very fine effect.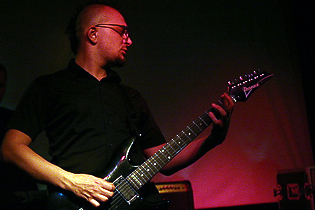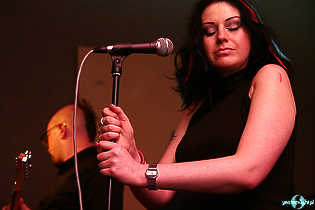 Performance

Agata is definitely a strong scenic personality able to control both the organization of the stage and the audience. "Robot-like" mimicry and the waving voice - from whisper to scream and backwards definitely scoped the audience's attention. The concert had the frame structure – the musicians appeared and disappeared on the stage one by one. Like in case of many bands the stress was upon the expressionistic manner of the musicians and not on some sophisticated stage operations.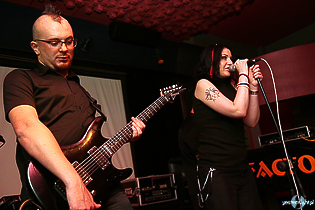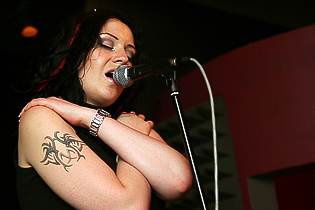 Setlist

01. Intro
02. Brumgia
03. The Sinner
04. Sleepwalkers
05. Mantra
06. No More Lies
07. Sound 3.1
08. Midion
09. Tomorrow Will Turn Into The Past
10. Your Fucker...
11. Zombie
12. Rush (From DM Tribute)
13. Orgazm
Rating

Music: 8
Performance: 6
Light: 4
Sound: 5
Total: 6.4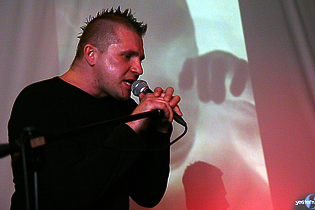 Digital Factor


The band was formed in 1993 and one year later they signed the contract with the label Hard Records and released the first album "Falling Down". Between 1995 and 1999, the band had released five subsequent albums before they suspended activity for seven years. In 1999 though with a new guitarist Guido Litke, they released new album "One More Piece" the music of DF is EBM, electro clash. Digital Factor are Torsten Heise (synth/voc), Mike Langer (synth/voc) and Guido Litke (guit/dr).
http://www.digitalfactor.de/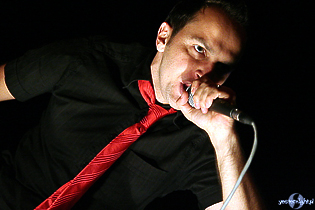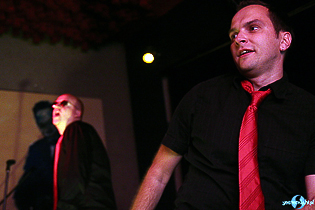 Music

DF was the band many of people came for to Poznan. I believe their hopes of having good fun were fulfilled as the band really didn't save their strengths for better times. Rhythmical and extremely invigorating pieces electrified the fans and made them dance like dance floor devils. It looked a bit like disco inferno in fact, but I liked it. On the first sounds of "Go ahead" or "Rape me" those who were the closest to the stage proved they had strong throats and lungs. :) All in all the music of DF is a real sonic knock down, perfect body drill and electronic feast for those hunger for EBM blast...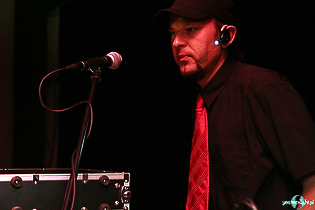 Performance

Performance of Digital Factor was full of movement, energy and contact between the artists and the audience. Luckily enough DF got the people who had already been warmed up by the previous bands, somehow I can't imagine EBM band playing to the people being towers of silence. :) All in all most of the gathered were dancing, singing and clapping their hands and finally the atmosphere became so party-like that Torsten jumped out of the stage and mixed up with the people. Perfect finish for the festival.
Setlist

01. intro
02. revolution
03. x-rayzor
04. die liebe
05. the li(e)ons
06. money
07. falling down
08. phase 2
09. superlife
10. electroshock 2000
11. bullet
12. deine welt
13. go ahead
---
14. rape me
15. body beats
Rating

Music: 8
Performance: 8
Light: 5
Sound: 6
Total: 7.3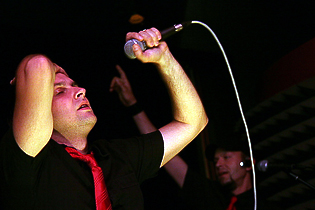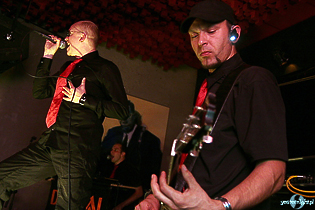 {jos_sb_discuss:18}
All pictures by
http://www.yesternight.pl/