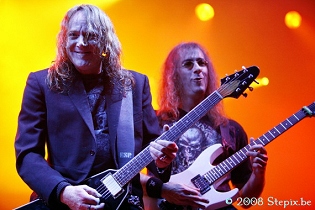 Raismes Fest 2008 (Day 2)
Château de la Princesse d'Arenberg, Raismes, France
13th-14th September 2008
Raismes Fest 2008 - Day 2: Swamp, Interria, Nedra, Die Apokalyprischen Reiter, Würm, Soul Doctor, Amartia, Machiavel, Wizard Kind, Korpiklaani, Winterland, Uli Jon Roth, Gamma Ray
After a short but good night's sleep, we were back for more. The weather had taken a turn for the better. It seemed we're going to keep it dry today. And lucky us, we even got a bit of autumn sunshine. Hoping the sun would convince some more people to come and enjoy the performances and spend their money, we made our way to the Discovery Scene, anxious to get this second and final part of the RaismesFest started. My legs were killing me, but that would soon be forgotten.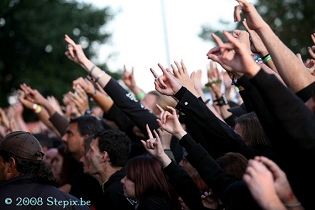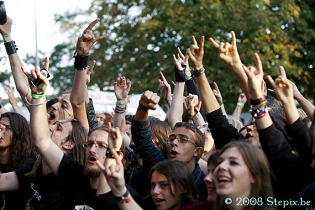 Discovery Scene : SWAMP

6 people make up SWAMP: Vanz (vocals), Lu (bass), Séb (drums), Geo, Freddie and Bernie (all guitars). Their aim: to play Southern Rock, which has proven not to be quite easy in Western Europe, but they did it. Their major example: Lynyrd Skynyrd. Find them on MySpace:
http://www.myspace.com/groupeswamp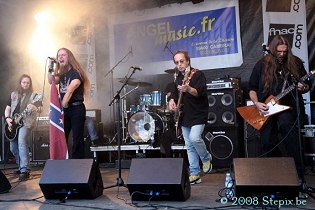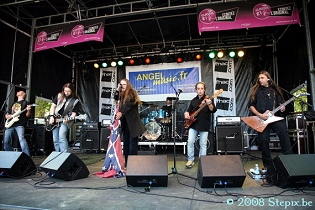 Music & Performance
Again a great opener of the day. The band managed to revive the from sleep shortage suffering early crowd and got them into the right mood. At certain times the hands went up into the air and the show was concluded with a deserved warm round of applause. In the meantime the sun had also woken up and it became clear what kind of mayhem yesterday's rain and enthusiasm had created.
Rating
Music: 7
Performance: 6
Sound: 8
Light: - (daylight)
Total: 7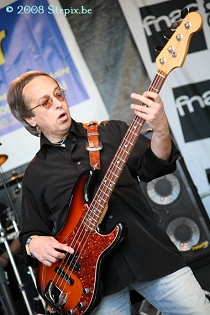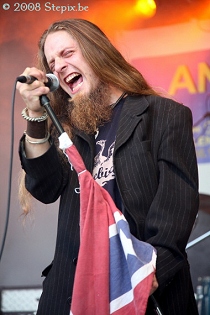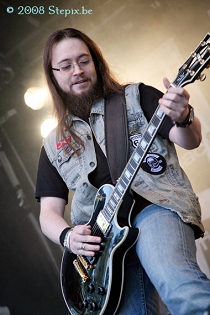 Main stage : Interria

Once again we find 6 people on stage: Jenni and Julie on vocals, Xavier, Stef, Fabien on guitar and bass and finally Franck on drums. The band was formed in 2005 and released a self financed EP in June 2006. They got the opportunity to perform at some major venues in Paris (including La Scène Bastille and La Maroquinerie) leading them to an appearance on Metal Female Voices Festival 2007. In 2008 they found time to record and release their debut album LES CORPS IMPATIENTS. They describe their music as a mix of metal, electro and rock parts, with French lyrics. MySpace:
http://www.myspace.com/interria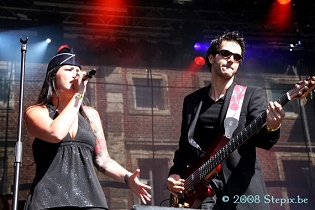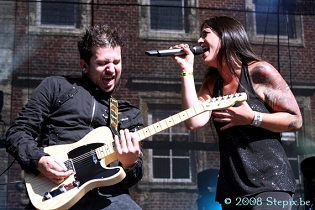 Music & Performance
This electro-metal band has everything to make it, but their live sound needs a bit of tweaking. The vocals are sometimes a bit too dominating and a bit too high for this kind of music. And I personally like the electronic beats to come forward a bit more.
I'd dare to compare their music with Apoptygma Berzerk, Evil Toys, KMFDM and Prager Handgriff, but I'm not sure that I'd be doing any of them (Interria included) justice. They clearly have the potential to define a path of their own. The guitar players surely were having fun, jumping and twirling around. And they attracted some more people to the grounds (or was it the sun?). Favourite song: Les Corps Impatients.
Rating
Music: 7
Performance: 7
Sound: 7
Light: - (daylight)
Total: 7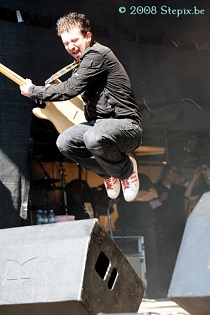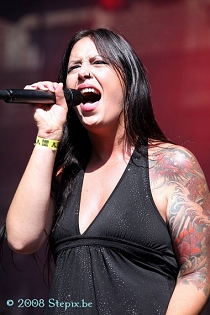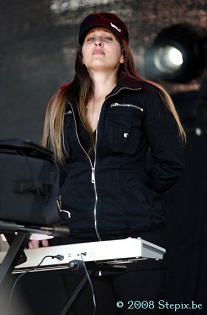 Discovery Scene: NEDRA

This band originates from Paris and was founded in 1997. Main members are Olivier Vincent (vocals), Vassago and Polo on guitar, Dr Jones on bass and Nico on drums. They play heavy rock in the French language. They recorded a demo in 2000, allowing them to go on tour. In 2004 they decided to invest both time and money in recording their debut album D'un extrême à l'autre (From One Extreme to Another). The music on this album is typically NEDRA: in touch with the tradition of French rock bands balancing between pure energy and melody.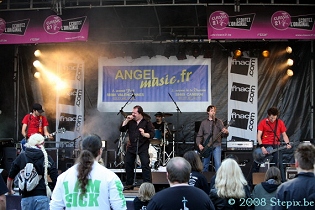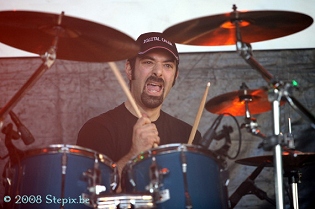 Music & Performance
A big wall of sound emerging from the guitars (including the typical riffs) supported the strong vocals all the way. The lead singer tried to encourage the audience by teaching them how to clap their hands and he even made himself more popular – causing a minor stampede – when he handed out free CDs at the end of the show. Favourite song: Templiers.
Rating
Music: 7
Performance: 7.5
Sound: 8
Light: - (daylight)
Total: 7.5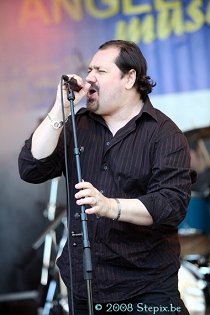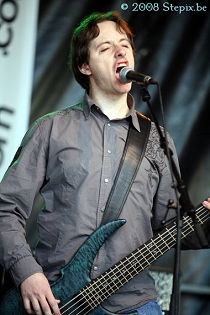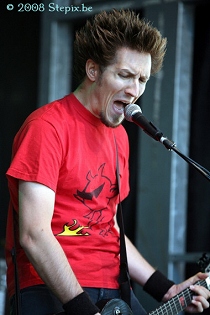 Main stage: Die Apokalyptischen Reiter
Unknown to me before this performance, I resort to their description on MySpace for a short introduction of the band. The band's name can best be translated as Horsemen of the Apocalypse and they see themselves as Germany's most spectacular act. "With their unique combination of power and melodies, bittersweet lyrics and a breathtaking, outstanding live performance, this band is definitely a class of its own." They started out in 1996 with the demo Firestorm, followed in 1997 by their debut album Soft & Stronger. A second and third album followed in 1999 and 2000 and were supported by various live shows in 2000 and 2001. 2002 marks a sabbatical due to injuries of the lead singer and at the time lead guitar player together with the drummer of the band. A new guitar player is recruited and new releases follow in 2003, 2005 and 2006. Their latest release is called Licht (Light) and has been available in the shops since August 2008.
MySpace:
http://www.myspace.com/reitermania
-- Website:
http://www.reitermania.de/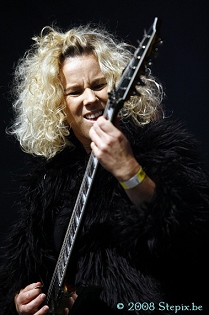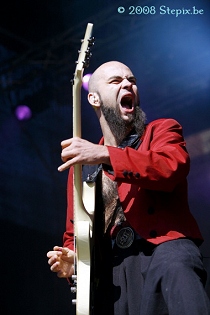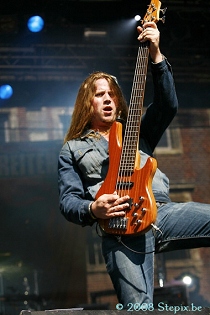 Music & Performance
I must admit this band was one of the biggest surprises of the festival. The name got me off on the wrong foot. I expected a typical German gothic band, but got something completely different. Undoubtedly they play German metal in the best traditions (hints of Helloween & Gamma Ray combined with folk influences, sometimes original, sometimes twisted but always high in quality). I didn't care very much for their S&M keyboard player act, but they surely know how to make a show. At one point lead singer Fuchs invited a girl from the audience to participate in Seemann. And instead of allowing her to go back, he surrendered her to the keyboard player who bound her to his swing. Later on another daring member of the audience went on stage to sing along a song he knew. He was afterwards traded for the girl who found her way back to the grounds.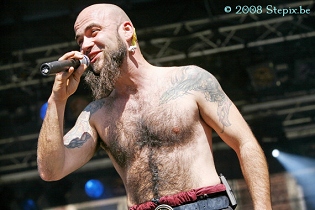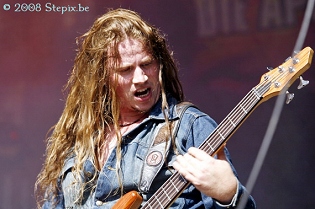 Fuchs, barefooted mind you, was on a roll and got the crowd on his hands. He divided the audience into 2 and made them enjoy a braveheart, also known as wall of death (surf to Wikipedia to find more about the subject, or listen to Exodus's Toxic Waltz). And still the show wasn't over. It was only 3 pm and the audience - mainly youngsters - became more ecstatic by the minute. And the foam canon used at the end of the show, together with two rubber inflatable rowing boats used to sail the audience made it hard to convince ourselves that it was over and even harder to force ourselves to the other side to the discovery scene while the kebab man looked from a distance and smiled... Favourite songs: Seemann (Sailor), Wir Hoffen (We hope), Es wird schlimmer (It's getting worse), Der Weg (The Road) and so many more.
Rating
Music: 9
Performance: 9
Sound: 8
Light: 7 (although still daylight)
Total: 8.5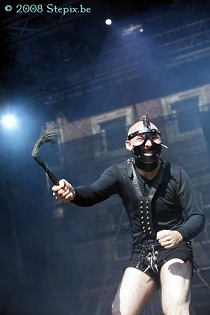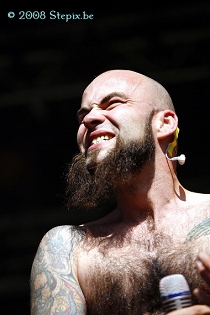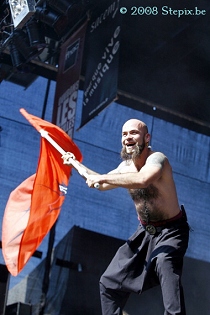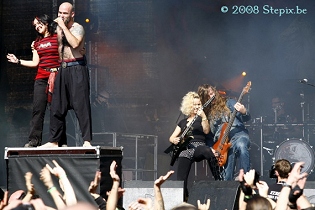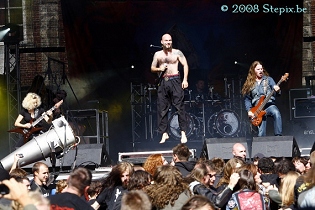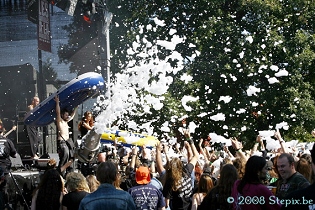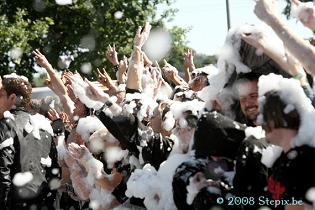 Discovery Scene: WÜRM
This French band from Val d'Oise (Ile-de-France) consists of Tef (vocals), Lo (drums), Neil (Bass), Ed (Guitar) and Pat (Guitar). They released their first album in 2006 called Infinite Faces. They play electro-metal.
MySpace:
http://www.myspace.com/wurmmusic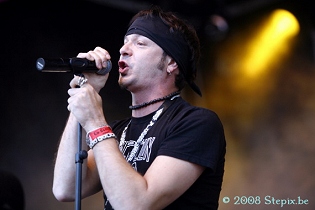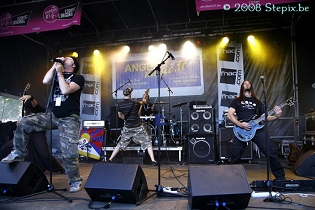 Music & Performance
It's a hard life and that's what Würm tries to tell us. Electronic metal is how I would describe their music. I hear influences from Rage Against The Machine, Dog Eat Dog and Linkin' Park as well as a touch of Atari Teenage Riot. They use fast and powerful riffs but slow rhythms, combined with a spoken sometimes distorted voice. Anyway, it was no gift having to perform after Die Apokalyptischen Reiter. The audience's mind clearly was still dwelling on that memory...
Rating
Music: 7
Performance: 6
Sound: 7
Light: - (daylight)
Total: 6.5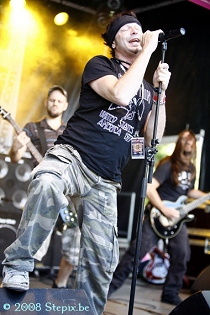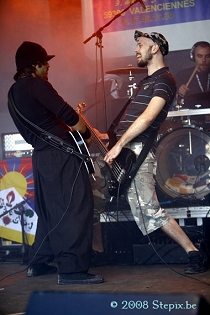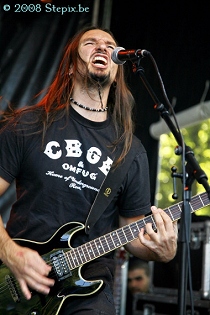 Main stage: Soul Doctor
A genuine story of friendship lasting through the years. Founding members Tommy Heart and Chris Lyne first met in 1986 and formed a banded called Heartlyne. But after 4 years they went their separate ways to pursue their own successes. In 1999 their paths crossed again and they formed Soul Doctor. The first self-titled album was released in 2001 followed by Systems Go Wild in 2002. These gave them the opportunity to tour with Dio, Kingdome Come and Alice Cooper and even headline some gigs in Europe and Japan. In 2006 Tommy was voted 3rd best vocalist by Burrn! Their star is rising and we will be hearing more of them soon.
MySpace:
http://www.myspace.com/souldoctorrock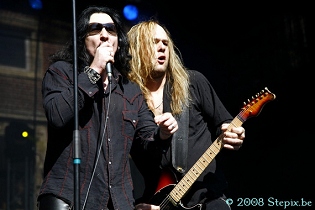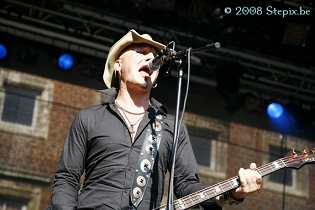 Music & Performance
Think Germany. Think hard rock. Think Def Leppard, Mötley Crüe, Whitesnake, Alice Cooper and most of all, think Bad Company, so think FM Rock. No keyboards, but synths all the way. A flawless performance that could do with at least 10°C more. The ideal soundtrack to an Indian Summer that wasn't there.
Rating
Music: 7
Performance: 6
Sound: 8
Light: 7
Total: 7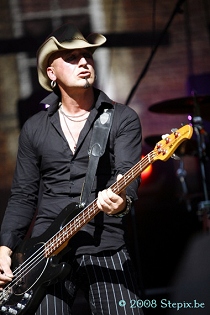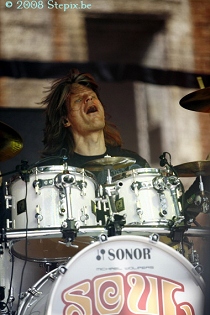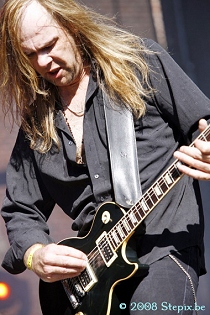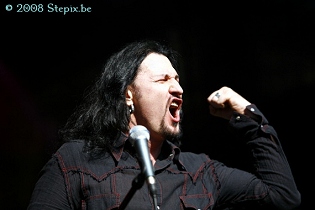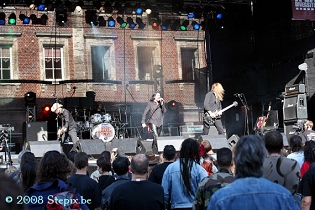 Discovery Scene: AMARTIA
This band comes from Pas-de-Calais and plays progressive rock. It consists of 5 members: Britta (vocals), Vince (guitar and backing), Cyril (keyboards), Alex (bass) and Nico (drums and backings) most of them having a background in jazz. They released their first album in 2002 titled Maïeutics. In 2006 they released their breakthrough album Marionette followed in 2008 by Delicately. The lyrics are in French, German and English, which brings a special touch to the band.
MySpace:
http://www.myspace.com/amartia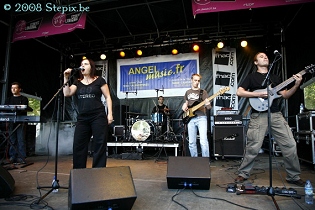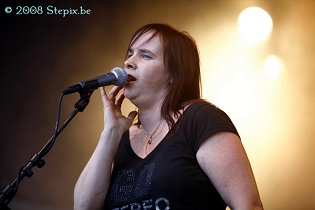 Music & Performance
This band plays prog rock in the purest sense: long, dreamy songs with a lot of guitars and keyboards, alternated by superb female vocals reminding you by times of Pink Floyd and Mike Oldfield. For me this is not to be savoured standing on what was once called a green, but enjoyed best by the fire place with a good glass of cognac (or calvados if you insist).
Rating
Music: 7
Performance: 6.5
Sound: 8
Light: - (daylight)
Total: 7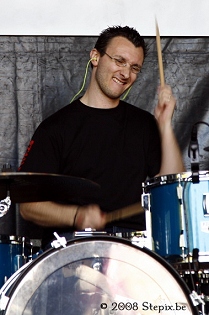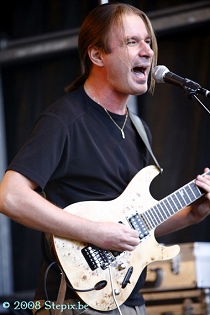 Main stage: Machiavel
Since this band was founded in 1976 and probably is the oldest band performing at Raismesfest, I will only report about the genesis of the group (courtesy of their website). The rest you can find on the band's website. In the middle of the seventies two music freaks, Roland Degreef and Marc Ysaye, created a group called Moby Dick . Shortly later, they met Albert Letecheur - a meeting that would prove important at a time when the musical style of European groups such as Yes, Supertramp, Genesis and Emerson, Lake & Palmer was becoming increasingly popular throughout Europe in general (and Belgium in particular). At the time, the style was called "Eurock" . Once the style was established, most countries had their own "Eurock" bands, except Belgium - much to the frustration of the public and press. In the small world of Belgian music in 1975-76, a place was up for grabs. Four French-speaking musicians thought they would give it a try. With Roland Degreef on bass, Marc Ysaye on drums and vocals, Jack Roskam on guitar, Albert Letecheur on keyboards; Machiavel was born, and about to become one of the country's most successful bands.
MySpace:
http://www.myspace.com/machiaveltheband
- Website:
http://www.machiavel.be/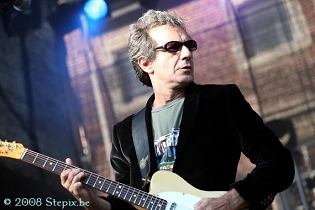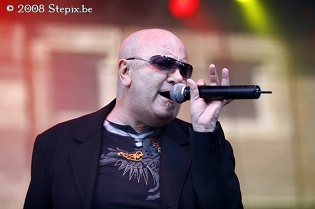 Music & Performance
I must admit that I couldn't believe that the band that I linked to an immense hit single during the 80s was the same as the one performing here at Raismesfest. But it all seemed to be genuine and true. I also have to admit that besides that one hit single I didn't know any other song by this band, which is actually shame on me, because of their Belgian origin and their importance in the history of Belgian pop music. But least said, soonest mended. They played heavy rock but also invested a lot in melody and vocals. Some of the songs were a bit too melancholic for me, but I was charmed by the dreamy guitar solos. The high pitched voice reminded me from time to time of Queensrÿche's Geoff Tate, although it seemed impossible for Mario GUCCIO to sing the higher notes in Fly, so he left it to the audience who didn't seem to care...

Rating
Music: 7
Performance: 7
Sound: 7
Light: 7
Total: 7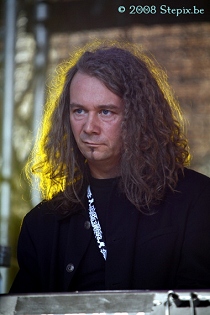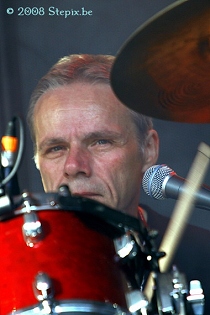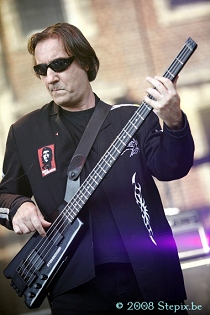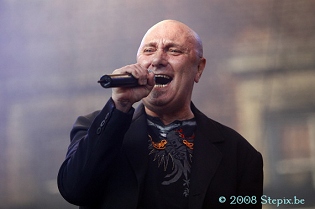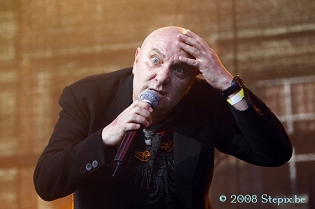 Discovery Scene: WIZARD KIND
Wizardkind is born in Huy (Belgium) in 2002. What should have initially become a rock/blues cover band rapidly turns into a rock band playing its original songs, from Ska to Stoner, without forgetting punk and psychobilly ! After 3 years of festivals and concerts Wizardkind has now found its way and develops a 70's inspired rock with clear psyche/stoner influences, and a good old garage rock energy that kicks your ass! It's on stage that expresses best this unlikely quarto, which has found the synergy between the four different personalities of the musicians, somewhere in between an inspired singer, a deaf drummer, a grand-guru guitarist, and heavy bassist... They released an EP in 2004, their first album in 2005 and a second EP in March 2008.
MySpace:
http://www.myspace.com/wizardkind
-- Website:
http://www.wizardkind.be/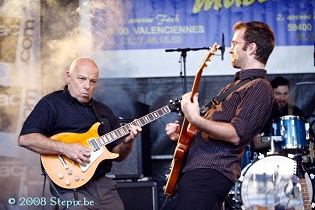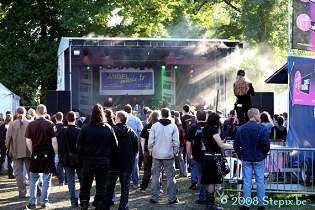 Music & Performance
These people play guitar rock as it was intended with a rock 'n' roll voice and some rockabilly influences. They have fun in what they're doing and they're good at it. Their cover of Psycho Chicken by the Fools sounded like they created the song. Unfortunately they didn't get the audience they deserved. And the sun kept on shining (although it was cold in the shadow).
Rating
Music: 7.5
Performance: 7
Sound: 8.5
Light: - (daylight)
Total: 7.5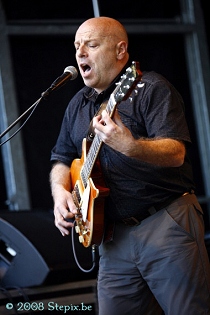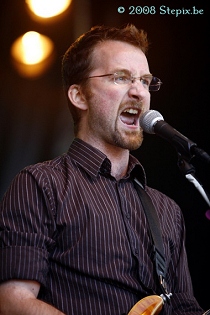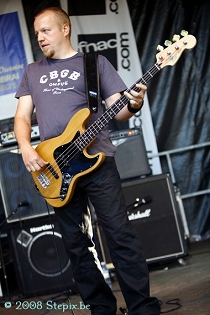 Main stage: Korpiklaani
This is a band with a history too long to tell here. I quote parts from their official biography: KORPIKLAANI (or "Forest Clan") emerged out of the ashes of Shaman, when the band opted to change its name, along with its musical and lyrical expression. The goal was to move away from Shaman's trademark use of the Sámi language's strong, impulsive folk metal, as heard on Idja (1999) and Shamániac (2002) and opt for a stronger and more widely accepted sound. Many of KORPIKLAANI's songs come directly from the annals of the Finnish folk archives, but are activated with a fierce twist of metal. This constitutes the major difference between KORPIKLAANI and other folk metal bands, which usually use folk music only as the impulse in metal. The great times on stage and the enthusiasm of the audience inspired the band to write even more songs and in February 2008 another album was born: "Korven Kuningas" (The king of the woods).
MySpace:
http://www.myspace.com/korpiklaaniofficial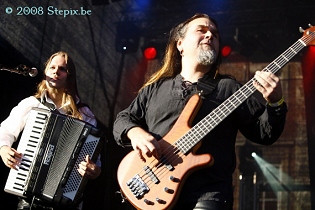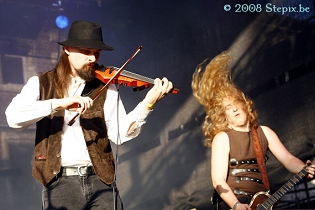 Music & Performance
This band is certainly a big hit with the youngsters although it was my first encounter with them. I would compare them with a folky cross-over between Nightwish (without Tarja of course) and Lordi. They use a lot of different instruments like accordion, violin, bagpipes and djembe, but they do it in a simple way. The best way to describe their style is fun folk metal, quoting from "Wooden Pints": they fight & dance till the morning (repeat indefinitely). Favourite songs: Korpiklaani, Happy Little Boozer & Wooden Pints
Rating
Music: 8.5
Performance: 10
Sound: 8
Light: 8
Total: 8.5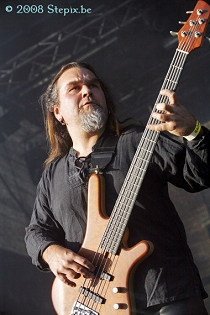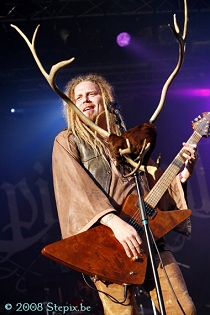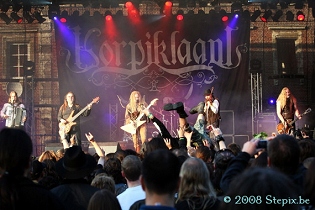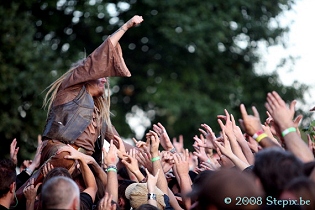 Discovery Scene: WINTERLAND
I'm beginning to wonder how I would have written this review if I hadn't had access to MySpace... Winterland was created in May 2005 from the passion for music of three members of the band : Guillaume (keyboards), Cyrille (guitar) et Adrien (lead vocals). By June 2006 the line-up was complete. The first EP, "The Snow Begin To Fall" was recorded early 2007. Following a change in line up, Winterland concentrated on creating new pieces of music in preparation for their first album. Different musical desires came to life within the group and leaded unfortunately to another line-up change. Inspired in particular by bands like In Flames, Mercenary, Raintime or Edguy, the music of the band is a blend of melodic metal, death metal, and symphonic metal. But it keeps a certain personality acquired by the musical diversity of the band's members.
MySpace:
http://www.myspace.com/winterlandmetal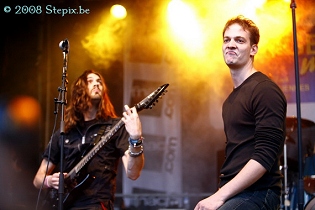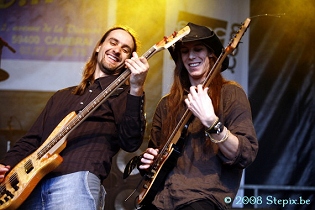 Music & Performance
This band became runner up during the Jump In contest linked to the Raismesfest, held in April. They originate from the Paris area, play melodic speed metal and sing in English. It is clear they have a lot of potential, but they're still struggling to find their balance and they need some live practice. The lead singer certainly is an asset when it comes down to moving the audience. Keep an eye on them, because they'll be back!
Rating
Music: 7
Performance: 6.5
Sound: 6.5
Light: 6.5
Total: 6.5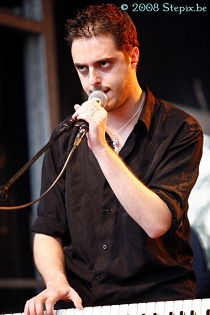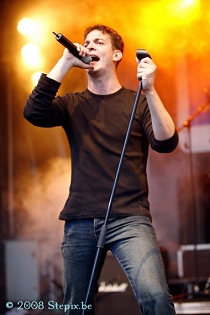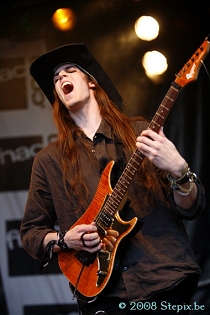 Main stage: Uli Jon Roth

Uli Jon Roth is a great guitar player who once joined forces with the legendary German band The Scorpions. After several successful releases he went his own way in 1978, first to form his own band Electric Sun and from 1986 on to pursue a more theatrical path within the (hard)rock scene and explore his own creativity. Since then he wrote several symphonies and even created his own orchestra: the Sky Orchestra. He is a multi-instrumentalist and also paints realistic oil paintings and writes poetry. He even invented his own instrument. Since 1986 he wrote 4 symphonies, 2 concertos and numerous songs.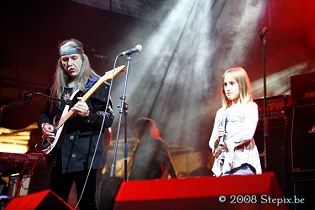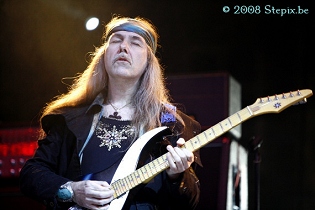 Music & Performance
Epic is the only word that can describe tonight's performance. Theatrical rock opera seems to be invented by this guy. Long songs with various protagonists and a lot of rhythm changes. Every piece is a story on itself. Both music and vocals are performed close to perfection which is more than impressive. The only negative point worth mentioning is that it doesn't feel like a show, it's just a list of fantastic pieces one after another. There's little coherence and little spirit which is a shame.
Rating
Music: 8
Performance: 6
Sound: 9
Light: 9
Total: 8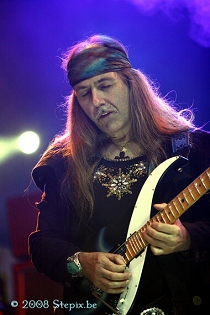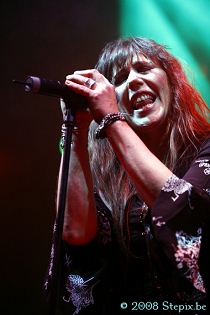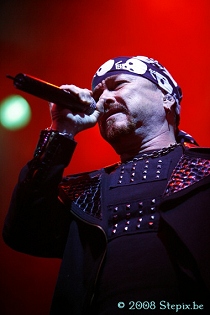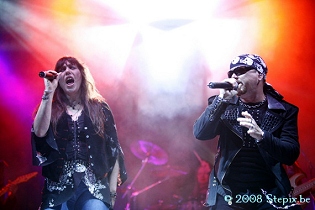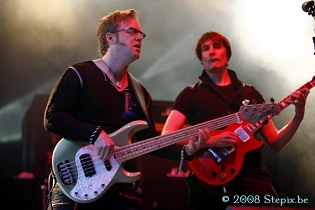 Main stage: Gamma Ray
Once again, this is an old story. Not as old as Saxon's though - although. Kai Hansen's first steps into metal are with an obscure band in 1979. Later he founded Helloween together with Michael Weikath. In the Walls of Jericho period he also takes on the lead vocals, but after a while they recruited Michael Kiske whose vocal talents were quite amazing. They released Keeper of the Seven Keys and a legend was born. But in 1988 Hansen decided that it was time for something else and he left the band. He become involved in various projects and one of those projects all of a sudden gained a permanent status: Gamma Ray. The idea was to have Ralf Scheepers on vocals and so it was for a while but practical problems and the fact he was running for the lead singer position at Judas Priest at the time made him leave (he currently is with Primal Fear). And Kai took over. They release several albums, among them Heading for Tomorrow, Land of the Free (with a guest appearance of Michael Kiske), New World Order, Majesty and currently Land of the Free II.
MySpace:
http://www.myspace.com/gmmaray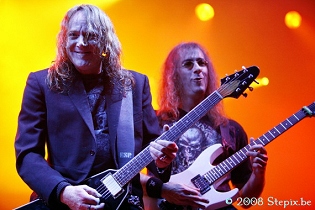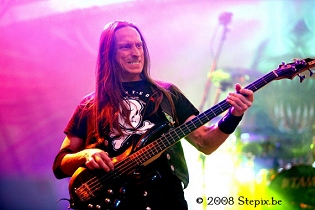 Music & Performance
One of the advantages of Kai founding Helloween is that you always get some of those songs even during a Gamma Ray gig. You don't hear me complain about it. Even I want Out went quite well, although I was a bit anxious that Kai's voice wouldn't hold. Kiske's unique sound is hard to keep up with. By the way, if you're a fan of Michael Kiske's, you should check out the new album by Revolution Renaissance, Timo Tolkki's new band (ex-Stratovarius): New Era.
Although the band's purpose was to promote the new Land of the Free II – album, they took the opportunity to play a lot of classics, what the audience certainly appreciated (and so did I). As mentioned a couple of times before, Kai isn't the world's greatest singer in my opinion, but that didn't bother anybody. It was a vibrant show in a historical environment. And so these two amazing days came to a wonderful end. It was time to go home and finally give my legs the rest they were longing for. Favourite songs: I want out, Fight, Heaven Can Wait.
Rating
Music: 8
Performance: 8
Sound: 8
Light: 8
Total: 8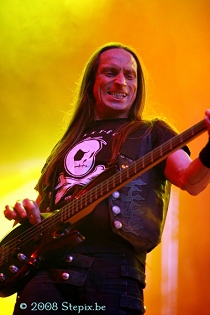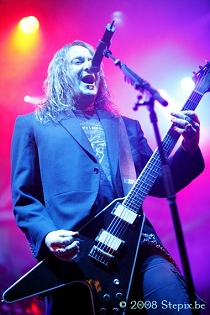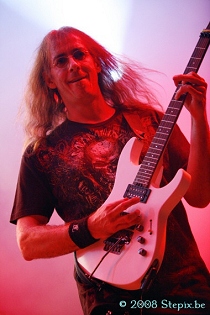 Setlist includes
Welcome
Into the Storm
I want out
Land of the Free
The Empress
Rebellion in Dreamland
Fight
The Silence
Ride the Sky
New World Order
Heavy Metal Universe
Somewhere out in Space
Heaven can Wait
Valley of the Kings
Send me a Sign