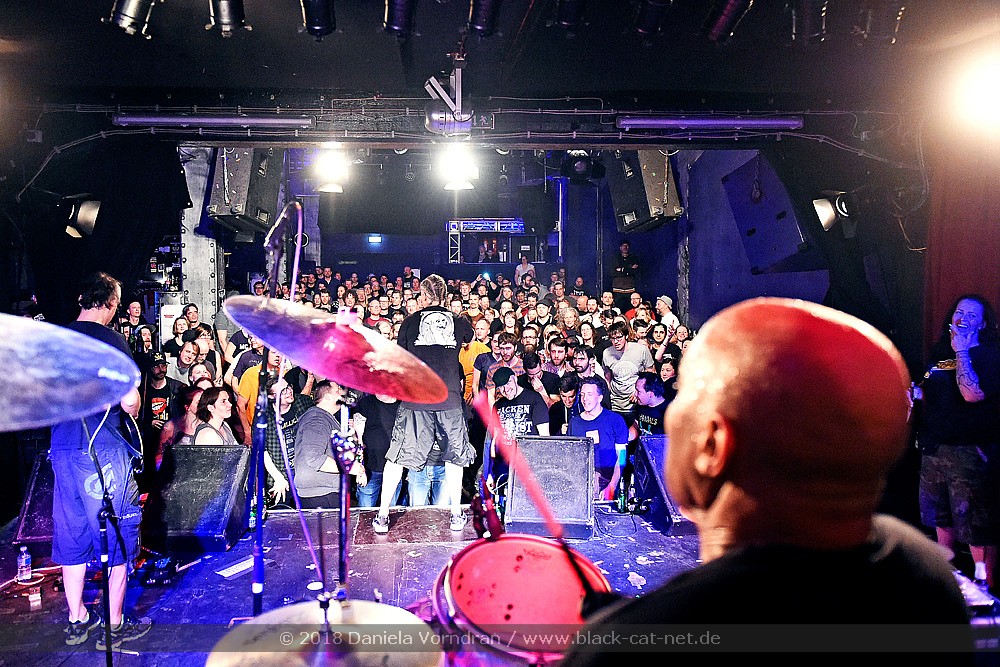 Sputnikhalle, Münster, Germany
17th April 2018
Dog Eat Dog - Spring Tour 2018 - Support: Line 418

The American band, originally from Bergen County, New Jersey, began in 1990 as part of the Hardcore music scenes of New York City and New Jersey. The band was one of the first ones fusing Hardcore and Rap. DOG EAT DOG has achieved commercial success with singles such as 'No Fronts' or 'Expect The Unexpected' - all showcasing their blend of Hardcore, Rap and saxophone. Since their first album, the band's sound has evolved to incorporate elements of Funk, Ska and Hip Hop.
The live shows of the band around front man John Connor are legendary. Founded more than a quarter of a century ago, DOG EAT DOG is constantly touring around the world. The New Jersey warriors have lost none of their freshness and still unleash their unrestrained joy and energy on stage as if they were playing their first tour. Also in 2018, the guys are touring Germany and stopped in Münster on 17th April. The evening was opened by LINE 418 from Düsseldorf.
Line 418

https://www.line418.com / https://www.facebook.com/line418music
Setlist

01. Gefangen
02. Mein Leben
03. Für Immer
04. Erinner Dich
05. Fernweh
06. Irgendwann ist irgendwann zu spät
07. Weiter gehen
08. Morgen wie heute
09. Gastgeber
10. Medley (from various Cover Versions… or "songs we like to have recorded ourselves")
11. Flaute
12. Auf Wiedersehen
Dog Eat Dog

http://www.dogeatdog.nl / https://www.facebook.com/dogeatdog.official
Setlist

01. Funnel King
02. Think
03. Pull My Finger
04. Who's The King?
05. Joes (new Song)
06. Vibe Cartel
07. ISMS
08. Lumpy Dog
09. Rocky
10. Step Right
11. Expect The Unexpected
12. If These Are Good Times
13. No Fronts
14. Dog Eat Dog
15. XXV
More on
Dog Eat Dog
&
Line 418
All pictures by Daniela Vorndran (
http://www.vorndranphotography.com
/
http://www.facebook.com/blackcatnet
)