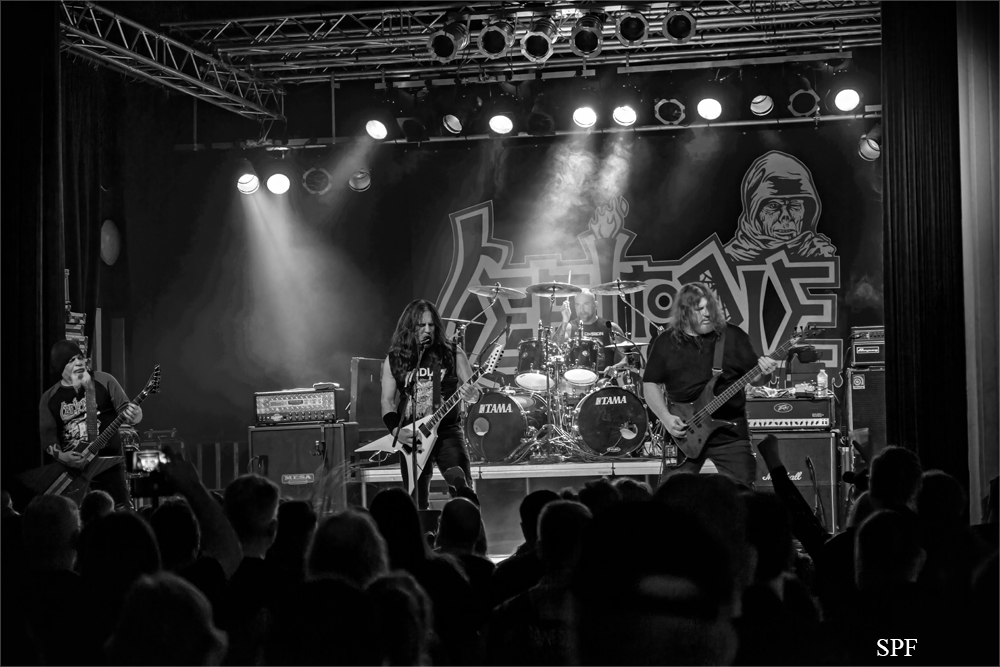 F-Haus, Jena, Germany
16th March 2023
Left To Die - "Reborn Dead" Tour 2023 - Support: Hiraes and Plaguemace

Death Metal supergroup LEFT TO DIE visited the F-Haus in Jena on the "Reborn Dead" tour. Together with two support bands, this concert evening was a blast. First band on stage was PLAGUEMACE from Denmark. Very good straight-forward Death Metal. Second band was HIRAES from Germany. Wow, Melodic Death Metal and so powerful. One thing is for sure you will see this band in the future on many stages because they are great! And the highlight of the evening was the headliner LEFT TO DIE. So many old-school Death Metal fans in the crowd and they all enjoyed the concert from start to end. If you missed it, you can find a few pictures in our gallery.



Plaguemace


https://plaguemace.com
Hiraes

Setlist

01. Shadows Break
02. Solitary
03. Grain Of Sand
04. 1000 Lights
05. Eyes ofer Black
06. Eyes Over Black
07. Under Fire
http://www.hiraes.com/
Left To Die

Setlist

01. Leprosy
02. Born Dead
03. Forgotten Past
04. Mutilation
05. Baptised In Blood
06. Open Casket
07. Primitive Ways
08. Choke On It
09. Denial Of Life
10. Corps Grinder
11. Bad Devil
12. Left To Die
13. Zombie Ritual
14. Pull The Plug
15. Evil Dead
https://www.facebook.com/lefttodiedeathmetal/
All Pictures by Silvio Pfeifer