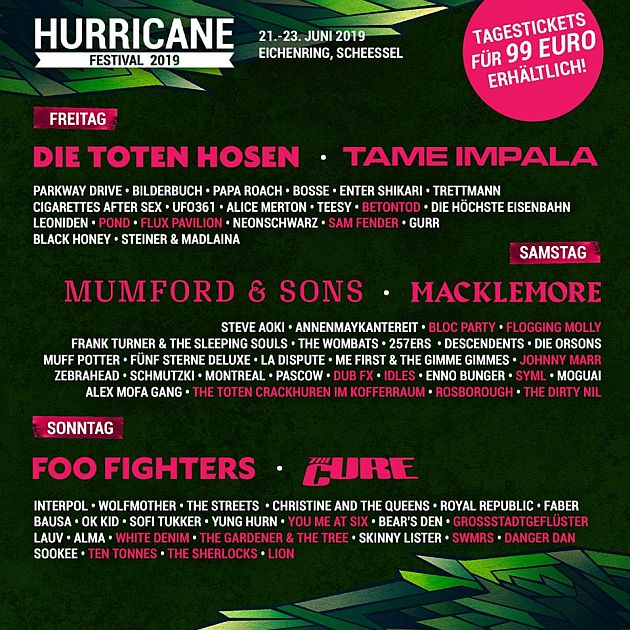 OMG! It's so close!

Your favourite bands are highlighted in red in your timetable, the sunglasses are fixed on your head and your travel backpack is full of shorts, shirts and sun cream - everything is ready. And now? What about the site plan? Or the app for download? Here is our how-to for a chilled, safe and easy DOPE night from Thursday to Monday.
Site plan

It's site plan time! You waited in suspense, lot of new things happened in Hurricane Land! Not only our stages got names, also the campsite is now split in districts, in which our animals live. Do you camp at the Bärenhöhle (bear cave), or is your tent pitched on the Keilerwiese (boar meadow)? Are you team Eulennest (owl nest)? All that and many more things are to be explored - come and see! Site plan: https://www.hurricane.de/de/interaktiv/downloads/
Get the app!

The site plan is already part of the official smartphone app. It is your organizational talent, when it comes to the planning of your festival experience. All artists at a glance, current news, personalized timetable, special offers, Deezer playlist, COMBI range - everything is included! The only thing you have to do now is to party. Available free for Android and IOS. Download: http://oneevent-oneapp.com/hurricane-2019/
Karaoke for all!

We're in this together now: the first Hurricane mass Karaoke! With the loud voiced support of the "Hansemädchen", show your potential on Thursday evening at the clearing! You know: when you sing crooked tones, then you do not sing loud enough! Now you have the chance, to vote for the song selection. Cast up to five votes - let's go!
Regulations for our bags

Dear friends, there are the same regulations as the year before for your bags. Read more in the FAQ section. FAQ: https://www.hurricane.de/de/infos/sicherheit-regeln/
Arrival by train

You arrive by train? You know, that the arrival with the Metronom is included in your ticket, so it's for free, right? More information here: https://www.hurricane.de/de/infos/anreise1
Hear the sirens!

This year, there is a big siren installed at a central campsite position to let you know (at night when you sleep), that there are important news to spread. When you hear the siren, please check your festival app, listen to CampFM and check Twitter. Friday in the morning at 10.00 am, there will be a short siren test to let you know how it sounds.
Safety tips
Your well-being is important to us, that's why we put together a lot of practical and important tips: https://www.youtube.com/watch?v=aQslcDbTAw8
Fast Lane

Do we again have to explain our Fast Lane? I goes faster without luggage: https://www.youtube.com/watch?v=_-nHorhe4IQ
My tent is already pitched

All of you, who want to start into a relaxed festival weekend without lots of luggage and time pressure, rent your tent at "mein-zelt-steht-schon". Before the festival starts, book a tent with accessories, which is then pitched for you on site, and all you have to do is - move in! Book now: https://www.hurricane.de/de/mzss
Beck's pre-order with Masterpass

Listen, pre-orderers: from now on, thank god to your MasterCard, use the Hurricane app to pre-order and pay for your Beck's before and during the festival. As highlight, per ordered tray you then get a limited stainless steel collection beaker attached with the favourite Hurricane motifs at the Beck's pre-order issuing point! In short: pre-order your beer with the Hurricane app, pay with your MasterCard, spare the stand in line on site, and get a limited collection beaker! What are you waiting for? App Download: http://oneevent-oneapp.com/hurricane-2019/
Login, charge and get tickets for 2020

Share the #WOWMOMENTE of the Hurricane with the community, charge your smartphone or cam and with a bit of luck, get tickets for the Hurricane 2020, before going back on stage? OKAY, our partner, EWE, makes it possible! At the EWE festival hotspot, there is high-quality WIFI for free, endless charging stations and a cool energy bike event with prospect of cool winnings! Come and stop by! Festival hotspot: https://www.dein-festivalhotspot.de/4780-2/festivalhotspot/
Be good to your ears, use ear plugs

We feel it's important, that you can enjoy music on a life-long basis. Therefore, the Hurricane provides special Alpine filter ear plugs, which protect your ears 24 hours a day. Alpine PartyPlug ear plugs have special music filters that still let you hear music and talking perfectly. They are very comfy and can be used about hundred times. Buy the ear plugs in advance at www.alpine-gehoerschutz.de/musik and learn more. More info: https://www.alpine-gehoerschutz.de/musik
Levi's

Come and stop by to create your own festival item. Our friends of Levi's go on tour with their Levi's Tailor Shop to individualize your look with their mobile printing tool Levi's INK, their graffiti airbrushing or the brand-new neon Levi's back patches. Bring your own Levi's item or shop some new denim or styles of the latest collection on site. @levis_germany: https://www.instagram.com/levis_germany/
Tickets

The Hurricane ticket is available for EUR 189.00 plus garbage pledge at hurricane.de or eventim.de or by phone at 01806 853 333 (20 cents/fixed line call, mobile network max. 60 cents/call), single tickets available for EUR 99.00. The one-time arrival and departure with the Metronom trains is included in the ticket price. Transport conditions can be found at hurricane.de. Caravan plaques can be ordered for EUR 50.00 additionally.
Source: Newsletter