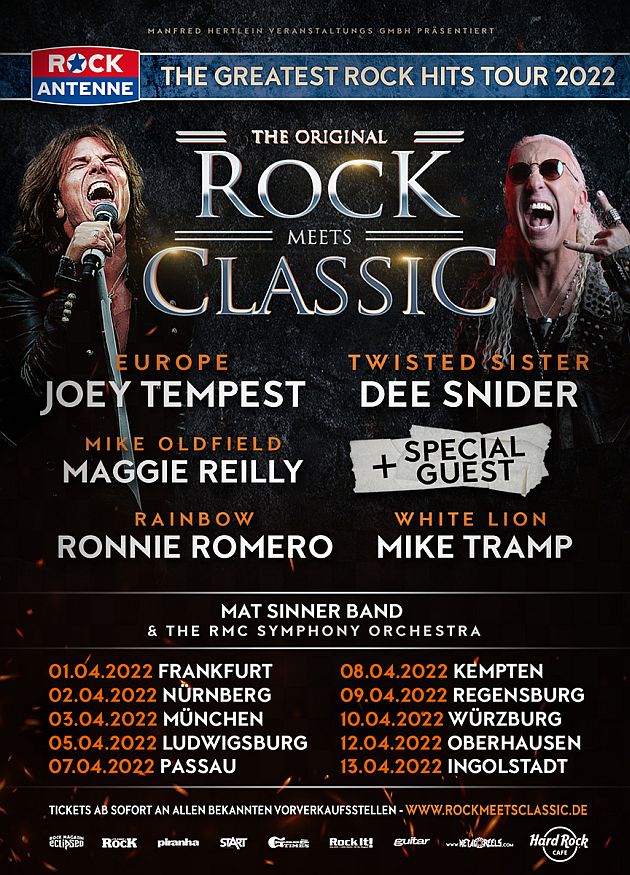 Headliners: Joe Tempest (Europe) & Dee Snider (Twisted Sister) will also be there in 2022! Finally! It starts again! Rock meets Classic is back and will storm the German show stages from April 2022! This was just announced by RmC organizer Manfred Hertlein!
Hertlein: "It starts on April 1st, 2022! Then we start the 12th season of ROCK MEETS CLASSIC in Frankfurt. The halls are firmly booked, the artists and we are really looking forward to the tour. We will present a fantastic program to our audience."
The stars of the 2021 tour, which was postponed due to the virus, could be won over to the 2022 tour. The headliners are still Joey Tempest (EUROPE) and Dee Snider from TWISTED SISTER. Maggie Reilly (MIKE OLDFIELD), Ronnier Romero (RAINBOW) and Mike Tramp (WHITE LION) will also be on the RmC stage in 2022 (as planned for 2021)! Plus a great special guest who cannot be revealed at the moment.
Source: Press Release