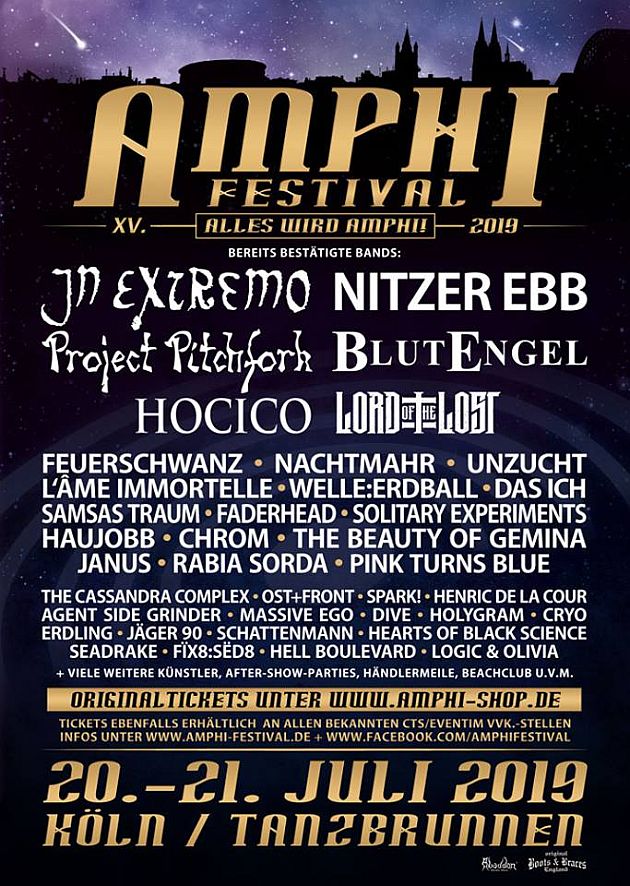 Every July this very special Amphi feeling comes to town, as more than 12,000 members of the gothic family from all over the world gather up at the famous Tanzbrunnen Cologne. 15 years of Amphi - a valued tradition that loves to be cultivated! Of course the delightful annual see and be seen comes along with a stellar soundtrack! Across its two-day course on 20. & 21.07.2019 the Amphi Festival again waits on with over 40 musical treats of which we are very happy to announce the following seven Christmas time additions today: BLUTENGEL, PROJECT PITCHFORK, HOCICO, FEUERSCHWANZ, ERDLING, SCHATTENMANN, HELL BOULEVARD.
BLUTENGEL are always a fang tip ahead of the competition. While their sophisticated Vampire pop smithery around mastermind Chris Pohl apparently doesn't age, it simply grows ever more popular. With their elaborate stage shows, driving rhythms for a modern generation Goth and the charismatic front duo of Goldmann / Pohl, BLUTENGEL make for a mesmerizing experience that never seizes to amaze!
In terms of PROECT PITCHFORK currently all the good things seem to shape up in threes. After their classic NUN trilogy at the beginning of the new millennium, our treasured electro pioneers recently released the middle chapter of their next three-parted foray titled 'Fragment'. In that respect watching Peter Spilles and his fellow company perform on stage with (occasionally) up to three drummers simultaneously equally adds up to the cause while at the same time boosting the incredible impact of their numerous all-time classics. Always intertwining eloquent lyrics with a massive wall of sound, they surely adorn the Amphi program 2019 as one of the major highlights.
HOCICO will fire you up with burning habanero-beats from their own infinite Scoville-scale. Say "¡buenos dias!" to el Diablo, as Erk Aicrag and Racso Agroyam take you on a savage ride full of furious industrial-electro. Primal - ecstatic - unrivalled! In short: an institution of the scene that truly packs a punch!
As we speak of "punch"...: watching the knightly hero slide off his black horse may not so accidently coincide with FEUERSCHWANZ ordering the mead. With a lot of love to detail the Franconian "Dragonstormers" nurtured their sweet spot for the chummy side of the mediaeval for almost 15 years now. Wine, women and songs to raise the jugs and drinking horns! Rightfully so, you are in for a fun-packed ride with "Hauptmann Feuerschwanz", "Sir Lanzeflott" and an abundance of delightful tales, straight from the heart!
Moving on into dark rock territory, we notch up the stakes with some energetic additions. While ERDLING ('Blitz & Donner') and SCHATTENMANN ('Generation Sex') join the Amphi 2019 as two current shooting stars of the German industrial-rock genre, HELL BOULEVARD ('In Black We Trust') from Switzerland recently returned from a killer tour, supporting Mono Inc. all over Germany.
TICKETS & INFO
Ideal for Christmas: original Amphi Festival tickets and "Amphi/E-tropolis 2019" combi-tickets are exclusively available at Amphi Shop, www.amphi-shop.de! Furthermore festival tickets can be bought at all nationwide CTS/EVENTIM box-offices, online at www.eventim.de, www.oeticket.com, www.ticketcorner.ch and as PRINT@HOME edition. More festival information is available as always at www.amphi-festival.de or www.facebook.com/amphifestival.
Source: Newsletter