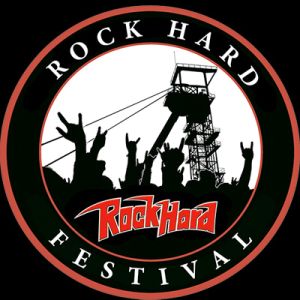 With a strong programme, the Rock Hard Festival opened the Hard'n'Heavy festival season. As usual, more than 7,500 fans celebrated with high spirit during the Pentecost weekend at the Gelsenkirchen Amphitheater.
"The party mood could be felt in every corner of the festival area, the weather was of a good will most of the time. Bands like ANTHRAX, SKID ROW, or LIZZY BORDEN offered excellent entertainment", remembers Rock Hard publisher, Holger Stratmann, the already seventeenth festival. The musically merciless, but otherwise heart-warming performance of Jeff Becerra with POSSESSED will go down in music history which is overflown with highlights. In 1989, the singer became victim of an armed robbery and since then, he is paralyzed and is sitting in a wheelchair. "When you ask for a "proof" of the positive power of music - even of the hardest Death Metal - then you have to say his name."
On Saturday, there still was excitement surrounding the performance of CANNIBAL CORPSE and a "leaked" letter of the Gelsenkirchen public order office. "There is one person, who makes a private war - which we think is less meaningful - on the band and parts of the Metal scene. We feel sorry for all involved officers and administrative employees. I hope, that our friendly fans at least had the chance to invite the state guards and community workers for beer and bratwurst, because they were separated from their families during the Pentecost weekend."
At all, the visitors again were on their best behaviour. "Even the Friday night storm caused only minimal damage, because crew and visitors worked together hand in hand in no time at all. That was an absolutely exemplary crisis management!"
First impressive pictures, interviews and exclusive acoustic sessions are already available at the website of WDR Rockpalast, which recorded the best shows and provided worldwide streams: http://www1.wdr.de/fernsehen/rockpalast/startseite/index.html
Here are the dates for the special broadcasts of the WDR Rockpalast on TV:
Night from Sunday to Monday June 23, 2019 01.00 a.m.
Night from Sunday to Monday June 30, 2019 01.00 a.m.
Night from Sunday to Monday July 7, 2019 02.35 a.m.
Source: Press Release