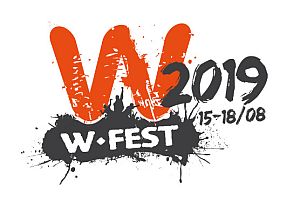 Expo, Waregem, Belgium
15th to 18th August 2019
It doesn't happen often that an organization already announces the almost complete line-up of next year during this year's edition. W-Fest is delightful exemption on that rule and is also quite unique from several other perspectives. Last August, this Belgian 80s/ New Wave/ EBM / Synth Pop Festival (with full camping) attracted over 30,000 fans during a successful 3rd edition and also the upcoming edition 2019 promises a great line-up with fantastic bands from the Synth Pop and Wave genres.
Now, we from Reflections of Darkness think it is a good idea to introduce you our highlight per day and additionally one band from the whole line-up we are extremely looking forward to seeing at the W-Fest stage. Today, we talk about the Saturday that offers you on SYNTH SCENE: Then Comes Silence (SE), Schmutz (BE), Sigue Sigue Sputnik Electronic (GB), Psyche (CAN, DE), Rational Youth (CAN), Lene Lovich Band, 40 years (GB), The Human League (GB) / WAVE CAVE: Sono (DE), Portion Control (GB), Tyske Ludder (DE), Escape With Romeo (DE), Mesh (GB), Blutengel (DE), Killing Joke (GB), Nitzer Ebb (GB) / THE OLIVIER DAOUT STAGE: Definitivos (BE), Rendez-Vous (FR) / VIP: Collection d'Arnell-Andréa (FR), Blaine L. Reininger plays Tuxedomoon (USA)
Our pick of the day is
Nitzer Ebb (GB)

Date: 17-08-2019 / Time: 01:20-02:20 / Stage: Wave Cave
NITZER EBB is one of the most important band of the first wave of electronic body music (EBM). Together with FRONT 242, NITZER EBB was crucial for the sound and image of the future EBM-bands. NITZER EBB's music was characterized by far-reaching minimalism, in contrast to FRONT 242. The songs often had only one beat and bass-sequence where Douglas McCarthy sung his lyrics over. In this respect, they sounded a lot like the harder and more aggressive version of DEUTSCH AMERIKANISCHE FREUNDSCHAFT.