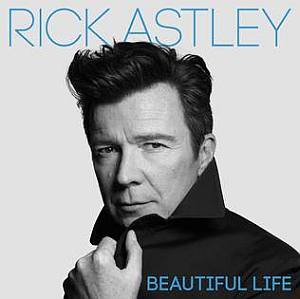 What a perfect sensation: RICK ASTLEY is back with a new album! 'Beautiful Life' will be released on the 13th of July! Just two years ago, RICK ASTLEY returned to the limelight with an album that surprised everyone, but most of all himself! His UK Top 1 record '50' sold more than 300,000 copies and is now one of the best-selling albums of 2016. What's even more amazing is that Rick wrote the material of his comeback album completely single-handedly and also played every single instrument himself.
That sounds like an unbeatable achievement, but hey: RICK ASTLEY would not be RICK ASTLEY if he did not surpass himself with each of his albums and set the bar even a little higher! And so he has done exactly the same thing on his brand new album, 'Beautiful Life', which will be released via BMG on July 20th. The cover shot by star photographer Rankin is a truly iconic shot of Rick. 'Beautiful Life' contains some real highlights such as the chic title track, the atmospheric 'Rise Up', the super catchy tune 'Try' and the melancholy childhood memories of 'The Good Old Days'.
RICK ASTLEY already holds platinum and gold winning albums: 'Whenever You Need Somebody' (1987) - Platinum, 'Hold Me In Your Arms' (1988) - Gold. His last album, however, is in no way inferior: '50' (2016) stayed for seven weeks in the German album charts. During his more than 30 years of career, RICK ASTLEY has sold more than 40 million albums worldwide. His latest release, '50', has generated over 20 million streams worldwide, and his classic 'Never Gonna Give You Up' has so far been streamed more than 140 million times on Spotify alone. The singles videos from '50' have been viewed more than 12 million times on YouTube, and RICK ASTLEY counts over 600,000 total followers on his social media channels.
With 'Beautiful Life', this British pop icon is releasing one of the most exciting albums of the year. There is no doubt: RICK ASTLEY is back - and he's here to stay!
Album Tracklist

01. Beautiful Life
02. Chance To Dance
03. She Makes Me
04. Shivers
05. Last Night On Earth
06. Every Corner
07. I Need The Light
08. Better Together
09. Empty Heart
10. Rise Up
11. Try
12. The Good Old Days
Pre-order: https://rickastley.lnk.to/beautifullife

In late summer he will go on tour with the new album and will come to Germany for several dates in September.
Tour dates

13.09.18 Munich
14.09.18 Frankfurt
16.09.18 Cologne
17.09.18 Hamburg
18.09.18 Berlin
Source: Press Release