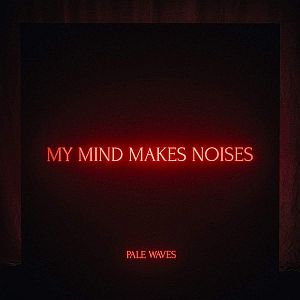 The time has come: On Friday, the first album of PALE WAVES, the alternative pop phenomenon that has already collected countless cover stories in the UK and is now playing big sold-out shows and celebrating airplay successes, will be released. Since the quartet from Manchester put the first song on the web in 2015 and landed on the BBC hotlist shortly thereafter, so much has happened and now has logically gathered a considerable following for the quartet.
The creative core of PALE WAVES is the friendship of Ciara and Heather, who write the songs together. The two met in 2014 in the first year at the university in Manchester. They chatted for a month before finally dating. The connection turned on immediately. Their new friendship has been cemented by the common obsession for acts like THE CURE and LUCY ROSE. For nights, the two of them heard through Ciara's iTunes lists, which were crammed with pop of the 80s and 90s. When the two finally played their own songs and then decided to make common cause, the PALE WAVES were born.
'My Mind Makes Noises' is the testimony of a copywriter who is not afraid to name things, no matter how uncomfortable they may be.
"I eventually accepted that it's alright to put everything into a song the whole world will hear if it wants to,"
Heather adds.
"People generally don't like to reveal themselves but some songs are so deep and traumatic that it can be terrifying."
No wonder the band leaves such an impression on those who are in the gap between sharing the last bit of privacy at breakfast and the faintest inkling that no one really seems to know one thing at all.
Source: Press Release