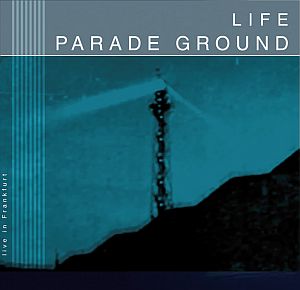 After performing for more than 30 years PARADE GROUND unleash their first official live album. In their own words they explain why the time was right: "Since the tapes have been re-worked, re-mastered and boosted by Patrick Codenys and ourselves, we have been playing an incredible number of gigs and become a fantastic stage-band, that can be appreciated by all sorts of audiences, the multiple musical sides of the band: Electro, Guitar, Minimal, Synth Pop, EBM, Indie, New Wave, Cold Wave, Industrial. Everyone may find oneself there, and the recording really corresponds to what we offer on stage, with all the emotion, the rage, the melodies, the power. Many bands craved for a live-recording that would really tell their live-performances, I believe we have achieved it this time."
This 11 track recording collects some of their fan-favourites as well as five unreleased cuts from their forthcoming new album in stunning live versions. You will re-discover tracks like 'Strange World', 'Gold Rush' and 'Moans', while 'Lady's Head', 'No' and 'Tears' point into the future. Covering their more than 30 years spanning career, it's a great introduction for the newbie as well as for the long-time fan. The powerful stage presence of PARADE GROUND is perfectly captured on this disc.
CD in digipack - 11 tracks - 5 unreleased

backing tapes reworked for live presentation by Parade Ground and Patrick Codenys (Front 242)
recorded in Frankfurt 2018
Tracklist
01. Gold Rush
02. Action Replay
03. Divine Me
04. Moans
05. Lady's Head
06. Stand
07. Strange World
08. Tears
09. Hollywood
10. No
11. Gold Rush Trains Fall
released on VUZ Records 16 Feb 2019
PARADE GROUND, composed of two brothers Pierre and Jean-Marc Pauly started performing live in 1981. They were one of the pioneers of the Belgian Cold Wave and Electronic Body Music. The first single, 'Moan on the sly', was released in 1983 and they remained active until now (however they decided not to release anything between 1988 and 2007, being involved in other artistic projects like novels-writing and plastic art). Their style has evolved during the eighties, passing from an icy and radical Cold Wave to a more dancing sound with noticeable rythmics and exclusively synthetic melodies mixed up with dreamy visual Dadaism. They regularly collaborated with members of Belgian band FRONT 242, were produced by English producer Colin Newman of WIRE and wrote and composed on two FRONT 242 albums in 1994. They toured in various European countries and have been an inspiration for many bands. A new album, 'Rosary', was released in 2007, produced by Patrick Codenys (Front 242). The band are well known for their singular and striking live performances all over Europe ('the choreography of chaos'). The band have recently released several Best of compilations.
Press Release