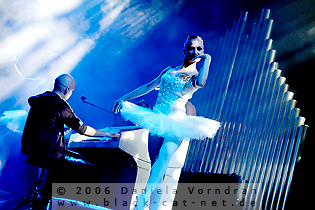 LOLA ANGST "SCHWARZWALD" Ltd. Deluxe-Digi-DCD


Lola Angst are out on a mission… the two sonic vagabonds and sound-terrorists Goldmann and Schirner have electrified the old church organ Lola and are now taking her and a busload of old analogue synthesizers to the dead centre of German conservatism: the Schwarzwald (=Black Forest). With Lola prepared for battle, they and their allies - 666 wild boars and 12 professional ballerinas - are setting out to bring bass, beats and uncontrolled madness to a place where the chirping of the cuckoo clocks mingles with a cacophony of badly performed folk music.
Their secret weapon: whacky, electronic music with catchy tunes. Synth Pop, Electro Clash, EBM and a wee bit of Industrial are thrown together to produce a different kind of high explosive… a club romp, shaken, not stirred. A limited double CD with deluxe artwork shall be unleashed on June 22nd, 07 with only one goal: the complete Lola-ization of the entire world! Side-effects, such as the uncontrollable urge to shake that booty or wild spasms of the limbs, are completely intentional!
Tracklist:

CD1:
01. Dead Mans Song
02. Just Slaves
03. Mr. TriseX
04. The Final War
05.America will not get you
06. Wild Boars on the Floor
07. The Grave of our love
08. Hello Happiness
09. Fräulein Kurva Sloboda
10. Ziggyz Lullaby
11. Tom Tom Torrr Om Tom Tom
CD2:
01. Final War (Combitürken-Remix)
02. Dead Mans Song (Loom-Remix)
03. Church of Lola
04. Ziggys Lullaby (anal plugged)
05. The Grave of our Love (Piano Version)
06. Just Slaves (anal Plugged)
07. Lolamobile Sounds
08. Dark Reggea (Gothic Jamaica Version)
09. Ziggys Lullaby (Long Sex-Version)
CHURCH OF LOLA TOUR 2007


11.08.2007 Mera Luna Festival/D-Hildesheim
18.08.2007 Open Air D-Waffenrode
04.10.2007 Club 013 NL-Tilburg
05.10.2007 Underground D-Köln
06.10.2007 Indiego D-Hannover
09.10.2007 Volksbühne D-Berlin
31.10.2007 Rockstage D-Lebach