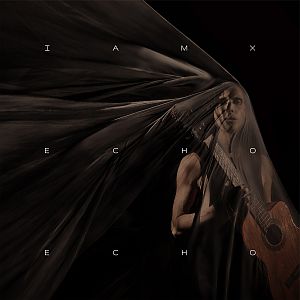 So far, the genre-busting sound world of IAMX - the solo project by Chris Corner, former mastermind of the SNEAKER PIMPS - consisted of electronic yet organic soundscapes, over which Corner's highly emotional singing was enthroned, which ranged from deep darkness to the angelic Falsetto. With the new album 'Echo Echo', which will be released on March 13, Chris Corner has now turned all of this upside down.
'Echo Echo' is a selection of songs from the previous work of IAMX, which have now been rearranged, recorded and wrapped in a surprising acoustic sound. Chris Corner explains the idea for this approach as follows: "A thing I always intended to do is an acoustic album. All my songs start on the guitar or the piano and only later become the monsters you hear on the records. This is about stripping them back and laying bare the origins of the song writing."
As a child, Chris Corner taught himself to play the guitar, emulating the musical heroes of his youth, including David Sylvian, Julian Bream and Simon & Garfunkel. Corner later became a multi-instrumentalist, singer and producer, who, as the co-founder of the Trip Hop pioneers SNEAKER PIMPS, has enjoyed worldwide commercial success. But Corner quickly shied away from the associated fame and, with his solo project IAMX and the eight albums released under this name so far, gained a new reputation as an elusive, wild, and above all completely independent artist. He also underpins this reputation in the video for the first pre-single 'Surrender': The artist can be seen in a performance of the song that is violently interrupted by two roller blading girls dressed in delicate lace, and then the situation ends in a sexually charged mess of chocolate cake, flour and colours.
See the 'Surrender' clip here:
The concept and the sound of 'Echo Echo' was developed in cooperation with the producer David Bottrill, who has already worked with greats like TOOL, PETER GABRIEL and MUSE and has already been awarded with the Grammy three times. Together with Bottrill, Corner entrenched himself in a studio in Pioneertown, California, which is secluded in the Mojave Desert. Chris Corner describes the collaboration there as follows: "David and I decided to create a record that had a wide, full production quality to it, but by only using an acoustic guitar and vocals. We came up with a technique using multiple effects, loop pedals and layered vocals to achieve this. It was a priority to be able to translate this into a live situation, so the setup had to be tweaked repeatedly. We eventually found something that I could play comfortably on stage without losing any of the beautiful sonic complexity."
But it was not only ensured that the songs selected for 'Echo Echo' could be implemented live. For the upcoming world tour, special locations were booked that do justice to the warm and intimate aura of the acoustic versions, as Chris Corner reveals: "To be able to play in theatres, churches and even the world biggest Planetarium is ultra-exciting for me. When I started IAMX, I was alone on stage, playing to empty rooms. This is me going back to the roots, but now being carried by the love and drive of all my beautiful fans."
In Germany, IAMX can be seen on six dates with his acoustic show
April 6, 2020 Leipzig – Haus Leipzig
April 7, 2020 Munich – Freiheizhalle
April 8, 2020 Mainz – Frankfurter Hof
April 10, 2020 Berlin – Babylon
April 14, 2020 Cologne – Gloria Theater
May 9, 2020 Hamburg – Laeiszhalle
The eleven acoustic reinterpretations on 'Echo Echo' transform electronic classics like 'Kiss And Swallow' into complex acoustic soundscapes. That give the songs a completely new and surprising dimension. From 'The Background Noise', now with a touch of flamenco and a dash of Ennio Morricone, and the epic group therapy session 'I Salute You Christopher' (which includes several singing voices by IAMX fans), to 'I Come With Knives' which is influenced by African music, 'Echo Echo' oozes inspiration and ingenuity - all within the confines of an acoustic guitar and Chris Corner's voice.
The result is a powerful, yet intimate and often heart-breaking collection of post-processing from IAMX's back catalogue: "The album started out as an EP, but it soon became clear that I had to represent a broader selection of the songs. We chose songs both randomly and songs that I instinctively felt could translate into that format. David would throw titles at me and I would just start to play something on the guitar. If it worked, we went with it. There was no deeper narrative, just gut reaction and experiment."
The name of the album comes from a line of text of the song 'Kiss and Swallow', which still has a very special meaning for Chris Corner: "It was the first IAMX song, the first IAMX album... the first step into the unknown as a solo artist. It's deeply dear to me and it deserves a special thank you for bringing me here."
Source: Press Release