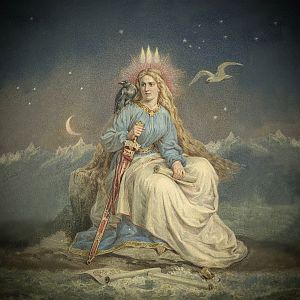 The new video for 'Drýsill' (Icelandic for demon) has been online for a few days. The video was shot and created under the direction of Kim Holm. Animation and FX by David Hall.
"This is the story of a woman who fell for someone who promised her the world with his smile. She fell captive to his mind games. His intentions were riddled with evil as he fed off of her love. Her humanity disappears as he gains power by mentally and physically torturing her, keeping her locked away in a prison of her own mind. The video illustrates her personal journey through hell as she spirals further into the darkness of captivity until what feels like the end.


But one day she is able to gather her strength and use the rest of her power towards the dark to fight her way back into the light. As she kills him with the very shovel he was going to use to bury her with, he is still smiling at her. Laughing at her. Mocking her. This song is about fighting the demons that you allow to control your mind, and breaking free. It's about rescuing yourself and finding the strength and the courage to be victorious, no matter how hurt you've been. We were excited to work with Kim Holm (Svartir Sandar album artwork) on this one as we felt he could perfectly capture the dark feelings of despair represented in this story with his art."
- Hallgrímur Jón Hallgrimsson
A quarter of a century after singer / guitarist Aðalbjörn "Addi" Tryggvason co-founded the atmospheric Icelandic Metal quartet SÓLSTAFIR, they still follow their basic rule - that there are no rules. To them, it feels natural to write an epic 10 minute song with no traditional verse / chorus swap. Your music has always flowed as you like it. "After being a Metal band for a long time and going through periods of Shoegaze, Atmospheric Black Metal and Post-Rock, I just feel privileged to be able to mix and get away with all of my favourite genres," says Tryggvason. Artists as diverse as the BEATLES, KRAFTWERK, DARKTHRONE, ENNIO MORRICONE and BILLY CORGAN swirl around in the musical cosmos of SÓLSTAFIR and seep unmistakably into the song-writing.
The cover for the new album, 'Endless Twilight of Codependent Love', is even reminiscent of a famous SMASHING PUMPKINS album cover. The water colour "The Lady of the Mountain" is the female personification of Iceland and was first published in 1864 by Johann Baptist Zwecker in a book with Icelandic folk tales, but was never shown to the public. Until recently, Icelanders only knew this picture as a black and white woodcut, when two Icelanders found the original in a Welsh museum gallery, where it was kept for a century. Now it's back home and adorns the cover of the new SÓLSTAFIR album.
"Everyone in Iceland knows this picture"
, explains Tryggvason, and suddenly the original appears and everyone says,
"Oh my god, these are the most beautiful colours I've ever seen. And why does it remind me of SMASHING PUMPKINS' 'Mellon Collie and the Infinite Sadness'? So this is purely coincidental. When we saw this photo we had to use it. It's too nice."
While the early SÓLSTAFIR texts dealt with Norse mythology and criticism of organized religion, the more recent songs explore their spiritual connection with nature and currently also with mental disorders ranging from depression to alcoholism and with the taboo that especially men talk about such topics for fear of being perceived as weak.
Tracklist

01. Akkeri (10:10)
02. Drýsill (08:52)
03. Rökkur (07:06)
04. Her Fall From Grace (06:36)
05. Dionysus (05:31)
06. Til Moldar (04:29)
07. Alda Syndanna (04:30)
08. Or (06:58)
09. Úlfur (08:49)
Bonus tracks
10. Hrollkalda Þoka Einmanaleikans (06:39)
11. Hann For Sjalfur (08:09)
Total: 01:17:49
SÓLSTAFIR - Endless Twilight of Codependent Love

Release: 6 November 2020
Label: Season Of Mist / Soulfood Music
Recording Studio: Sundlaugin, Grótta
Producer / Sound Engineer: Birgir Jón Birgirsson, Aðalbjörn Tryggvason
Recording line-up: Aðalbjörn Tryggvason (vocals, guitar), Sæþór M Sæþórsson (guitar), Svavar Austmann (bass), Hallgrímur Bárðdal (drums)
Mixing and mastering: Birgir Jón Birgirsson
Cover artwork: Johann Baptist Zwecker (The Lady of the Mountain, 1864)
Source: Press Release