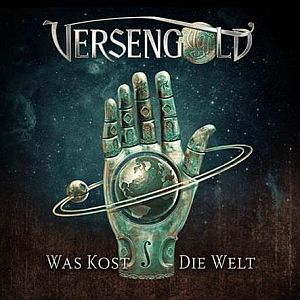 With 'Was kost die Welt', VERSENGOLD announce their tenth studio album, in order to prove their unconditional willingness to play and their unbroken optimism even after the pandemic. In VERSENGOLD fashion, the band insists on referring to the album title to create one of the dominant topics of the present - the human handling of the limited resources of this world.
The first single including a video from it is already released - the dark Rock song 'Die wilde Jagd'. After the band had publicly invited myths and legends from Eastern Germany to be submitted, the myth of the wild hunt from West Thuringia was part of the submissions and served as inspiration for the title.
'Die wilde Jagd' stands in the tradition of VERSENGOLD songs, which take place in the dark spectrum of the band's discography. In addition to 'Samhain', 'Winterflut 1717' and 'Teufelstanz', the new title stands for a variety that the band was very popular with at festivals like the Wacken Open Air or the M'era Luna Festival. With fresh ideas and in collaboration with their new producer Hannes Braun, VERSENGOLD bring this sound to a new level and cleverly weave the band's roots into the new context. Among other things, the virtuoso instrumental interludes and the sophisticated arrangement give an idea of why VERSENGOLD enjoy a reputation as an excellent live band.
With 'Was kost die Welt' the 6-member band seamlessly builds on their success with 'Nordlicht' from 2019. The top 5 album, which caused a sensation in 2019 with the hit 'Thekenmädchen', succeeded in re-entering the top 10 of the German album charts with the second edition 'Märchen von Morgen' in the crisis-plagued year 2020. 'Thekenmädchen' was the most successful VERSENGOLD single to date and reached over 11 million views on YouTube and continues to enjoy great popularity. With 'Was kost die Welt' another chapter is to be added to this success story with its release on January 28, 2022.
The album will be available in stores on January 28, 2022 and can be pre-ordered on all major portals from June 11, 2021.
PRE-ORDER
Standard: https://Versengold.lnk.to/WasKostDieWelt
Fan box: https://versengold.lnk.to/WasKostDieWelt-Fanbox
STREAM: https://Versengold.lnk.to/DieWildeJagd
Source: Press Release