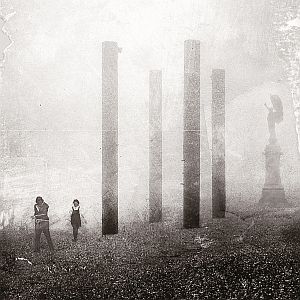 ARCHIVE, the collective from south London, announces the new album 'Call To Arms & Angels' via Dangervisit for April 8, 2022. 'Call To Arms & Angels', the band's twelfth studio album and the first since 'The False Foundation', released in 2016, is a 17-track double album recorded at RAK studios in London with Jérome Devoise.
As a mirror of the world in the year 2021 the album portrays not only the individual and collective frustrations and challenges of the band, but also the realities and daily struggles of all individuals. A dark current drives 'Call To Arms & Angels' right at the beginning, which builds up on its journey with a progressive, absorbing dynamic that turns into aesthetic simplicity and gives the album such a lovely contrast - which brings us back to dark times, but also remembers moments of calm.
"To reflect on these times as artists brought up a darkness and an anger, but also a strange kind of inspiration that was at times unsettling", tells founding member Darius Keeler about the creation. "It really made us appreciate the power of music and how lucky we are to be able to express our feelings in this way. It seems there is light at the end of the tunnel, but there are always shadows within that light."
The album's second, ambient spherical single, 'Shouting Within', is accompanied by a video in which singer Holly Martin reinforces the haunting text passages about anger, vulnerability and fear with her performance. "In the past two years we've been seeing how constant fear and uncertainty can impact human connections", tells Holly. "Writing 'Shouting Within', we were talking about how people have been feeling so angry, so paralysed and so vulnerable getting caught in the divide. Craving connection but fearing contact. So many theories, stories, highs and lows. It's hard to suppress the inner rage that grows from that."
The single's release follows the 14-minute epic yet haunting 'Daytime Coma' that the band shared back in September.
Source: Press Release