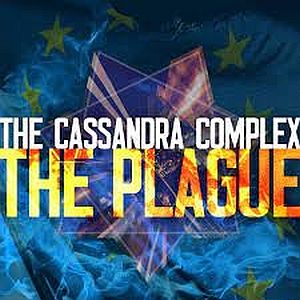 'The Plague' is not only the new album from THE CASSANDRA COMPLEX, it's also their first since their last work 'Wetware', released in 2000 - and it comes out just in time for the 40th anniversary of this band, originally founded in 1982 by mastermind Rodney Orpheus in Leeds. THE CASSANDRA COMPLEX couldn't really be pigeonholed from the start: on the one hand they were influenced by Anglo-American colleagues like SUICIDE, THE VELVET UNDERGROUND or NEW ORDER - on the other hand they were open to the continental currents that came from the German electronic pioneers or bands like DAF.
All this, combined with moving to Germany in 1987, quickly brought THE CASSANDRA COMPLEX a great reputation in various scenes from Gothic to EBM. The albums 'Grenade' (1986) and 'Theomania' (1988) became classics, as did songs like 'Moscow Idaho', 'Kill Your Children' and '(In Search Of) Penny Century'.
The perfect crossover of dynamic guitar and driving, repetitive electronics was a trademark, as was the exalted, charismatic presence of frontman Rodney Orpheus. After THE CASSANDRA COMPLEX has quieted down a bit in recent years, the band now returns with 'The Plague' all the more convincingly. Recorded during the pandemic, in which the musicians were sometimes only able to play together virtually, 'The Plague' has turned out to be an all-round, convincing, typical THE CASSANDRA COMPLEX album. Its long development process is also documented solely by the single 'The Crown Lies Heavy On The King', which is presented here and which addresses Donald Trump's re-election, which was still threatening in October 2020.
Like all classics from THE CASSANDRA COMPLEX, this album is characterized by electronic elements that are in a demanding dialogue with the two long-time guitarists Andy Booth (Manchester, UK) and Volker Zacharias (Hamburg, Germany). And 'The Plague' undoubtedly has what it takes to become a classic. Here, tradition and lovingly and knowledgeably integrated quotations (such as FROM JOY DIVISION in 'Speed Of Sound') are combined with the power and sheer dynamics of old days. So 'Old Boys Network' is already a new 'Moscow Idaho' style anthem. Of course, despite all the familiarity, 'The Plague' is not a nostalgic retro album, the themes alone are too relevant for that and the anger and joy of playing are unbroken.
And of course, the introspective ballads that are mainly gathered on the second half of 'The Plague' are not missing either: 'The Best Thing' and 'Miss You' are unsentimental, deep declarations of love in the best sense, and a track like 'The Great Sea' underscores the great Gothic elegance this band has always been capable of. So 'The Plague' is far more than a comeback that is due, but already a classic in the band's history, which is not lacking in great highlights!
Source: Press Release / http://cassandracomplex.co.uk