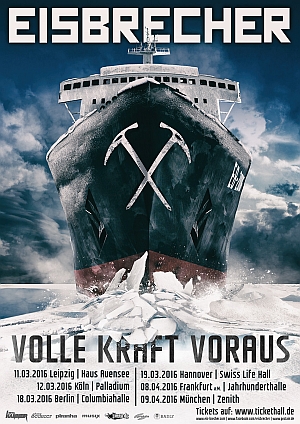 Palladium, Cologne, Germany
12th March 2016
Eisbrecher - "Volle Kraft Voraus" Tour

To some, EISBRECHER are the last true champions and pioneers of NDH ("New German Hardness"). For others, there's no one representing machinelike riffs, heaviness, and electronic catchiness better than this band around singer Alex Wesselsky and producer / guitarist Noel Pix. But now a new era dawns for EISBRECHER: With their sixth record 'Schock', which was released in January 23, 2015, they've established themselves as the ultimate voice of frosty Rock and Metal sounds that are heavy as steel and reach far beyond Germany's borders.
EISBRECHER have worked two years on 'Schock' and the result is a beautifully gritty, many-headed hydra that stages an inimitable musical spectacle between modern Heavy Metal, Electro, Neue Deutsche Welle, and great melodies of cinematic width! The gestures on the album are huge and the lyrics an emotional rollercoaster. With 'Schock' EISBRECHER have created their ultimate symphony and at the same time a monument for themselves - made of perpetual ice, of course.
And there's more good news for and from the icebreakers: Their album 'Die Hölle muss warten!' (transl. "Hell Has to Wait!") from 2012 has been sold over 10,.000 times reaching gold! It's
"a dream come true"
and the band is
"happy about this honour like polar bears about the next ice age!"
Now they want to thank their fans with a special and unique gift during the tour in April/ March: Attend their show and get your own "golden" CD for free! On it, you'll find an exclusive, new EISBRECHER track which might be Electro, Gothic, Metal, Rock, or Schlager music – they haven't written the song yet and by now we all know, with EISBRECHER you never know what you're gonna get!
BANDTHERAPEUT DR. DIRTY DIETZ, the alternative rock band ONE I CINEMA, and the dark rockers of UNZUCHT will support EISBRECHER on this tour, which will take place, without a doubt, at full speed and with full force. Be there!
Additional Concert Info
Doors: 7:00pm
Starts: 8:00pm
Tickets: available from 44.50€ (plus fees) at
www.eis-brecher.com/tickets
/
www.tickethall.de
/
www.eventim.de
Info:
http://www.eis-brecher.com
/
https://www.facebook.com/eisbrecher
/
http://www.protain.de/eisbrecher.html
/
http://www.protain.de/tourdates.html#143
Tour Dates

March 11 – Haus Auensee, Leipzig
March 12 – Palladium, Cologne
March 18 – Columbiahalle, Berlin
March 19 – Swiss Life Hall, Hannover
April 8 – Jahrhunderthalle, Frankfurt a.M.
April 9 – Zenith, München