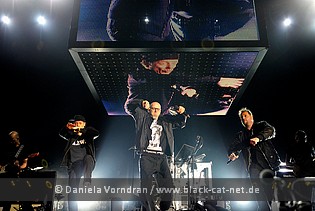 König-Pilsener-Arena, Oberhausen, Germany
21st January 2017
Die Fantastischen Vier, Seven

The way is the goal: DIE FANTASTISCHEN VIER (The Fantastic Four), who celebrated their 25th anniversary in 2014, like to focus their attention on things that are and even more on what's to come about. Celebrating their best of album 'Vier und Jetzt' (transl. 'Four and Now'), we get the chance to see the four live again! They will be on the road from the end of 2016 playing in Germany, Austria and Switzerland. Thomas D says:
"Everyone always wants our best and we have decided to give it to you. And so, in addition to the best of album, there is of course also a best of tour!"
The innovative and awarded live spectacles of Michi Beck, Thomas D, Smudo and And. Ypsilon set a high standard: After the monstrous round stage of the "Für Dich immer noch Fanta Sie Tour" and a "record" LED cube in golden stage optics of the cave concert, the MTV Unplugged II show, which weighed several tons and was the world's first 3D live broadcast in hundreds of cinemas, one can already look forward to what kind of audio-visual highlights the four will come up with next.
The long-player 'Vier und Jetzt' was released in various forms and a fan box on November 6th, 2015, and includes the best of the FANTA4 ranging from 'Jetzt passt auf', the first song from the 1991 debut album 'Jetzt geht's ab', to the new single 'Name drauf' featuring the Swiss artist SEVEN! As a special guest, the FANTAS will bring along SEVEN who declares that Funk and Soul is his life. SEVEN has already impressed the four at the big summer open airs. Smudo about the artist:
"Seven, this surprise bag! How come that such a multifaceted, good-looking and likeable all-rounder has already released ten albums with a super funky band and has rocked every crowd is being discovered in Germany only now?! We have gotten to know SEVEN as an amazing entertainer, colleague, and friend."
Additional Concert Info

Doors: 6:00pm
Starts: 7:45pm
Tickets: available for 55.55€ (plus fees) at
www.eventim.de
Info DIE FANTASTISCHEN VIER:
https://diefantastischenvier.de
/
https://www.facebook.com/DieFantastischenVier
Info SEVEN:
http://www.sevenmusic.ch
/
https://www.facebook.com/sevensoul
Info:
http://prime-entertainment.de/index.php?id=34&eventid=3681
Event on Facebook:
https://www.facebook.com/events/1689337744618062