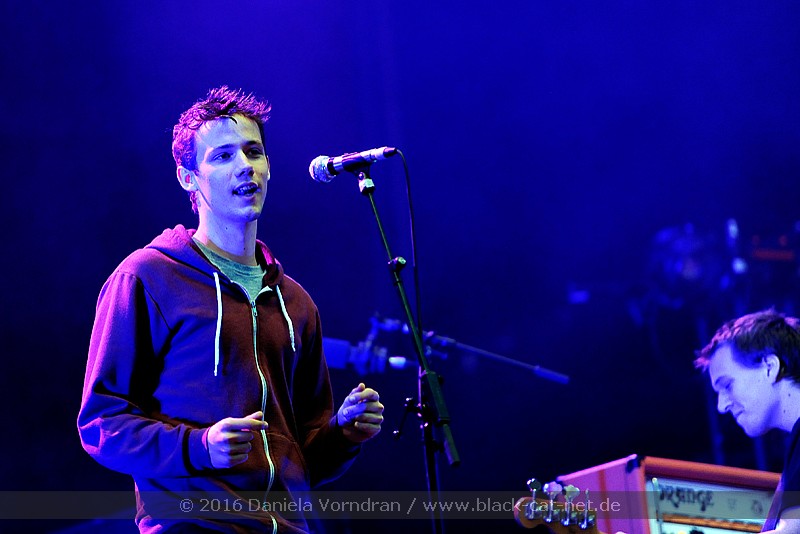 MCC Halle Münsterland, Münster, Germany
9th April 2017
AnnenMayKantereit

ANNENMAYKANTEREIT takes a second round of a big tour, which will start on 23rd January 2017 in Cologne. ANNENMAYKANTEREIT was born on the streets of Cologne. In the beginning there were three young men Christopher Annen (guitar), Henning May (vocals and piano) and Severin Kantereit (drums and percussion). Their heart-breaking love songs were hard-tempered with rain and wind, snow and irrelevant passers-by for several years. After they started to download videos on YouTube and decided to make a real deal of the band, the bassist Malte Huck joined them. It hasn't been a year after the release of their debut album 'Alles Nix Konkretes' and their concerts all over Germany go sold out within couple weeks.
How much wisdom and passion can hide songs of a 20 something year old boys? Somewhat between The Beatles and German chanson those songs will remind you on your happiest moments, buried under the light sorrow and dust of the years passed by. It hurts, but it will be good somehow. Quite simple, but honest stories about love, friendship and life challenges are told in German and wrapped with the best possible arrangements of piano, acoustic and electronic guitars, drums, Cajon and bass, but also spiced with harmonica, trumpet and other small neat details. If you still haven't heard the vocals of ANNENMAYKANTEREIT, well, you've missed the whole hype that's going on in German music scene. The only warning before listening - put your phone somewhere far away, because overwhelmed and drunk of the emotions you might want to call your past lovers.
Confirmed dates

04-Mar - Frankfurt Am Main, Germany - sold out
05-Mar - Cassel, Germany - sold out
07-Mar - Zurich, Switzerland
09-Mar - Innsbruck, Austria
11-Mar - Graz, Austria
13-Mar - Munich, Germany - sold out
23-Mar - Ravensburg, Germany
24-Mar - Chemnitz, Germany - sold out
26-Mar - Leipzig, Germany - sold out
27-Mar - Leipzig, Germany
06-Apr - Saarbrucken, Germany
08-Apr - Düsseldorf, Germany - sold out
09-Apr - Münster, Germany - sold out
11-Apr - Bremen, Germany
13-Apr - Berlin, Germany - sold out
01-May - Tubingen, Germany - sold out
03-May - Zurich, Switzerland - sold out
04-May - Munich, Germany - sold out
06-May - Linz, Austria - sold out
08-May - Jena, Germany - sold out
10-May - Berlin, Germany - sold out
11-May - Hamburg, Germany - sold out
14-Aug - Wien, Austria
Additional Concert Info

Doors: 18:00
Start: 20:00
Tickets: 36.25 euros plus charges (pre-sale) via
https://krasserstoff.com/event/104068
– The show is sold-out!
Info AnnenMayKantereit:
http://annenmaykantereit.com
/
https://www.facebook.com/AnnenMayKantereit
Info:
http://www.mcc-halle-muensterland.de/besucher/veranstaltungen/2017/4
/
http://www.kingstar-music.com/shows.php?showDetail=647
Facebook Event:
https://www.facebook.com/events/729316950503996/