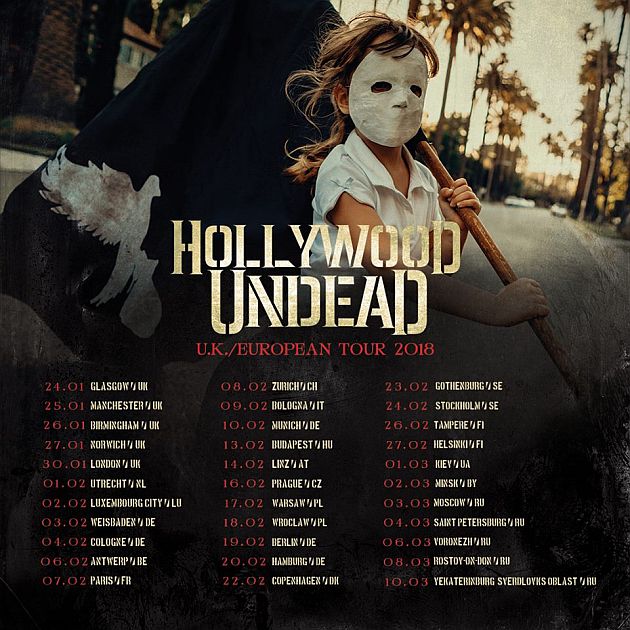 Den Atelier, Luxembourg, Luxembourg
2nd February 2018
Hollywood Undead, Astroid Boys

HOLLYWOOD UNDEAD is an American Rap-Rock band from Los Angeles, California, formed in 2005. All of the band members use pseudonyms and wear their own unique mask, most of which are based on the common hockey goaltender design. The band members currently consist of Charlie Scene, Danny, Funny Man, J-Dog, and Johnny 3 Tears.
Along the way, the group's unmistakable and inebriating distillation of Rock, Hip-Hop, Industrial, and Electronic incited the rise of a bona fide cult audience comprised of millions. They released their fifth record, 'Five' (or 'V') in October 2017, which was already promoted by the first single from the album, called 'California Dreaming', in July 2017. The number five holds a deep significance. We have five senses. Five points adorn a star. Five represents man in theology. For the five members of Hollywood Undead, the digit perfectly encapsulates their fifth full-length offering: 'Five'.
"We're five brothers, and this is our fifth record," affirms Johnny 3 Tears. "Nothing gets to the essence of the music like this number does. Numerology has a lot of power. When we said Five, it just made sense. The fact that we could all agree on one word codifies who we are. It also nods back to 'No. 5' from our first album, because it was our fifth song. Moreover, it hints at this secret society of fans supporting us for the past decade. The number is significant, and this is a significant moment for us."
So let's make a remarkable evening at the den Atelier on the 2nd February 2018.
Additional Concert Info

Doors: 19:00
Start: 20:00
Tickets: are available from 31.00 euros plus charges (pre-sale) via
Ticketmaster
and
Eventim
Info: http://www.atelier.lu/Upcoming-Shows/Hollywood-Undead
More on
Hollywood Undead
&
Astroid Boys